Better Call Saul May Be Ending, But Slippin' Jimmy Will Live On In New Spin-Off
AMC/Netflix
Fans who were crushed by the ending of "Breaking Bad" in 2013 didn't have to wait all that long to revisit Vince Gilligan's vision of the grimy underbelly of Albuquerque, New Mexico. The show's prequel, "Better Call Saul," premiered on 2015, and proceeded to last longer than its parent series. 
Now, however, the adventures of Jimmy "Saul Goodman" McGill  (Bob Odenkirk) and his motley crew of allies, enemies, clients, and contacts is finally nearing its end. "Better Call Saul" Season 6 is looming on the not-too-distant horizon, and while Odenkirk has a pet theory about his character's future, it's really quite hard to see a particularly happy ending for the man who goes on to become mild-mannered Cinnabon manager Gene Takovic. 
Still, just like "Better Call Saul" rose from the ashes of "Breaking Bad" like a phoenix — or, rather, a sleazy legal eagle — it appears that "Better Call Saul" won't be the last show based on the "Breaking Bad" universe. See, "Better Call Saul" might be ending, but there's a period of the lawyer's life the show hasn't focused all that much on. Yes, Jimmy McGill's youthful days as "Slippin' Jimmy" are the focus of an upcoming "Better Call Saul" spin-off. 
Slippin' Jimmy gets an animated miniseries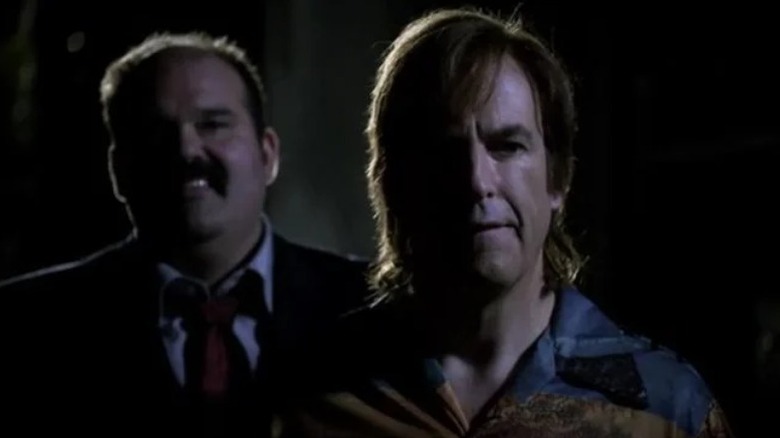 AMC/Netflix
"Better Call Saul" explores Jimmy McGill's past as fast-talking con man "Slippin' Jimmy" a few times, and his antics with childhood friend and partner-in-crime Marco Pasternak (Mel Rodriguez) receive enough attention to establish Saul Goodman's Slippin' days as good, if somewhat dishonest entertainment. Per Variety, the show based on this part of Jimmy's life will be a six-part animated series by the "Rick & Morty" animation house, Starburns. It seems that the show won't be quite as grim and gritty as "Breaking Bad" and "Better Call Saul." Instead, every episode will have a different theme — such as "The Exorcist" and spaghetti Western. 
"Slippin' Jimmy" is set to drop on AMC's digital platforms during spring 2022, and "Better Call Saul" Season 6 won't premiere until April 18. As such, the odds are that the miniseries will mostly be a fun way to hype up "Better Call Saul" proper, as opposed to a long-running spin-off. Still, more "Better Call Saul" content is hardly a bad thing, right?