The Most Heartbreaking Moment From Chicago Med Season 4
As is the tendency with many medical dramas, NBC's "Chicago Med" is filled to the brim with heartbreaking moments, triumphs, and high-velocity thrills. The doctors and nurses who populate Gaffney Chicago Medical Center's halls have suffered through some pretty awful events, from illness and injuries to breakups to the loss of parents and spouses. 
During Season 4 alone, the doctors end up in lockdown twice — once due to an active shooter and once after a nasty chemical spill threatens the city. Elsewhere, Dr. Natalie Manning (Torrey DeVitto) and Will Halstead (Nick Gehlfuss) plan their wedding, but their big day is ruined when Will is forced to enter protective custody and Natalie is later injured in an attack. Pat Halstead (Louis Herthum), Will and Jay (Jesse Lee Soffer)'s father, dies after an apartment fire. Dr. Sarah Reese (Rachel DiPillo) leaves the hospital, and April Sexton (Yaya DaCosta) is injured in a shooting.
That's a lot of tears for 22 episodes. But what was the most heartbreaking moment of them all? 
Connor's reaction to his dad's death saddened fans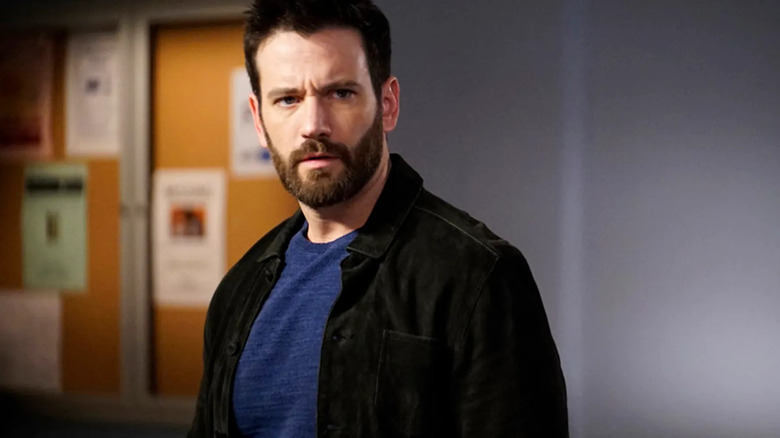 Elizabeth Sisson/NBC
During Season 4's finale, "With a Brave Heart,"  Dr. Connor Rhodes (Colin Donnell) tries to process the sudden death of his father Cornelius (D.W. Moffett) due to suspected heart failure. He had desperately tried to revive the man after he coded, all for naught. The long-estranged twosome have had a hard time coming to grips with one another – Connor blames the death of his mother, and recent events between Connor, Cornelius and Dr. Ava Bekker (Norma Kuhling), on his pop. After all, Cornelius had accused Ava of sleeping with him to gain funding for Connor's new mobile OR.
But, while alone with his father in the morgue, suddenly all of Connor's problems with his dad melt away and he breaks down in regret. "I hated you," he chokes out through a throat clogged with tears. "You weren't the best dad but maybe if I had been a better son, you'd have been a better father. I'm sorry." His guilt is compounded when he learns that his mother's illness and death weren't his father's fault, per a conversation with the family's maid.
But the worst is yet to come for Connor. He figures out at the end of the episode that Cornelius died of an insulin overdose and suspects Ava did his dad in through an act of revenge, a notion which will prove to be correct in Season 5 and has major repercussions for the show.
The scene gripped fans of the show as well. "Connor's dad just died and my eyes are sweating," tweeted @BrilliantBreee. "Did Connor's dad just die on his birthday? Absolutely heartbreaking," agreed @kiraandkonnor.