The Barney Storyline That Still Has How I Met Your Mother Fans Scratching Their Heads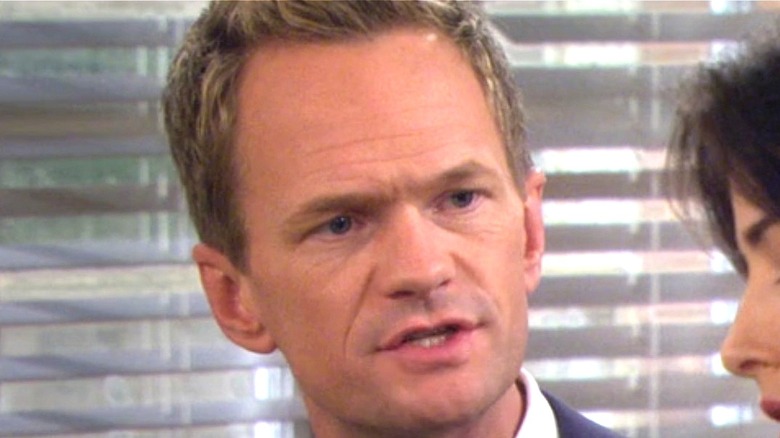 CBS/Hulu
CBS created a standout sitcom character in Barney Stinson, who grew synonymous with the dating term "player" during the nine-season run of "How I Met Your Mother." Of the series' five main characters, Barney (Neil Patrick Harris) kept the show's episode-to-episode events lively with his relentless and often immoral approaches to picking up women, which frequently receive varying reactions from his friends. From basically imposing his friendship on Ted Mosby (Josh Radnor) and the rest of the gang to revealing stereotypically childish (and surprising) interests in laser tag and magic, Barney's antics often helped take the show from a run-of-the-mill New York City sitcom to a frequently bizarre exploration of unreliable narration from Future Ted.
Of course, "How I Met Your Mother" wasn't perfect. Season 9 and the series finale have received criticism for wasting years of character development in order for Ted and Robin (Cobie Smulders) to end up together, while Barney remains divorced until he has a child after a one-night stand. The previous eight seasons track Barney's journey from cold, almost sociopathic womanizer — at one point, he claims to have potentially sold a woman — to devoted husband, and he does have multiple long-term romantic relationships throughout the series.
Given that the character does not wind up with Robin in the "How I Met Your Mother" series finale, some fans still wonder whether Barney should have stayed with a different ex-girlfriend.
How I Met Your Mother fans wish Barney stayed with Nora
In the Season 6 episode "Desperation Day," Barney meets a woman who makes a quality match of wits for him in Robin's co-worker, Nora (Nazanin Boniadi). Nora is a rare love interest who sees right through Barney's lies to attract her, but the pair wind up bonding over Barney's love for laser tag, which Nora takes an interest in. Their relationship evolves slowly throughout Season 6; Barney's habitual lies frequently prevent Nora, a self-described hopeless romantic, from fully trusting him. After Barney does finally gain her trust, he throws it all away in Season 7 when he and Robin sleep together, each cheating on significant others. Their relationship ends in the episode "Tick Tick Tick," when Barney confesses to cheating on her and tells her it did mean something.
While Barney and Nora's relationship lays the groundwork for Barney and Robin's final relationship, some "HIMYM" fans out there have expressed a wish that Barney could have stayed loyal to rather than jump ship yet again just so the show could continue Barney and Robin's will-they-won't-they storyline. In a discussion on the show's Reddit community, user u/outerspace_castaway described Nora as Barney's healthiest relationship.
"[Barney] truly liked her and she truly liked him," they wrote. "She didn't try to change him, he changed himself just because of how much he cared for her. And then the writers f***ed it up by having him cheat with Robin." u/BellicoseBear chimed in with a similar observation, noting that Nora was an "absolutely perfect" match because of how she was the only woman to "[compel] Barney to change."