What Is The Song In Pringles' Super Bowl 2022 Commercial?
It's always a delight to see a company display self-deprecating humor in the form of a commercial. This was put on full display a few years ago when Domino's launched an extensive campaign basically admitting that their pizza wasn't that great, but they were going to do better going forward. It seems as though Pringles also wants to get in on the fun by poking fun at the fact no one can fit their hands inside of their cans. As the great Bo Burnham once said, "I have a huge amount of trouble fitting my hand inside of a Pringle can."
He's not alone in that endeavor. The latest Pringles ad shows a man getting his hand stuck inside of the infamous can, and being unable to get it off, he proceeds with the rest of his life with the can on. He gets married, has a child, and dies, all while getting crumbs on his fingers from those delicious chips. As that takes place, an appropriate song plays in the form of "Stuck on You" by Lionel Richie.
Lionel Richie isn't the only one getting stuck around here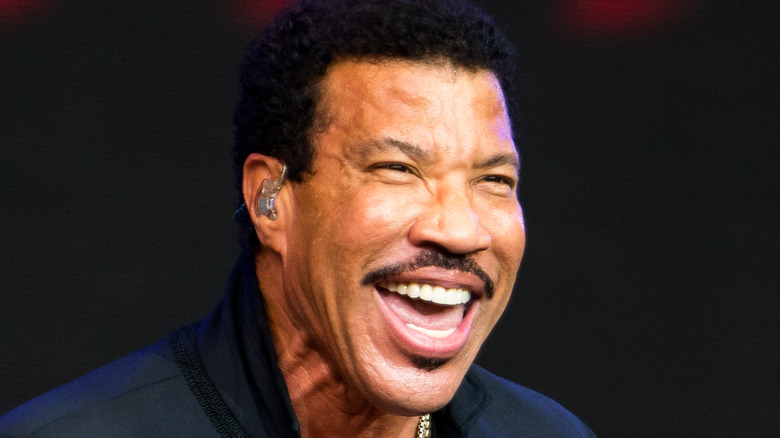 Anthony Mooney/Shutterstock
"Stuck on You" comes from Lionel Richie's second studio album, "Can't Slow Down." It tells the story of someone still holding a candle for an old flame, and no matter how hard they try, they just can't shake the feeling they're supposed to be with them. It was another smash hit for Richie, ultimately landing at the number one spot on the Billboard Adult Contemporary chart and making its way to number three on the Billboard Hot 100.
"Stuck on You" also holds the distinction of being Lionel Richie's first crossover hit into the country music scene. While most of the singer's tracks draw influence from R&B stylings, he adopted country-pop sensibilities for "Stuck on You." It proved to be a hit as the song peaked at number 24 on the Billboard Hot Country Singles.
It's not the first time "Stuck on You" has been used to great effect in the visual medium. You can also find it in the soundtrack for the 2009 comedy "Couples Retreat" starring Vince Vaughn. Surprisingly, it's not on the soundtrack to the 2003 Matt Damon film also titled "Stuck on You."