Hulu Will Bring This Beloved Animated Comedy Back To Life For The Second Time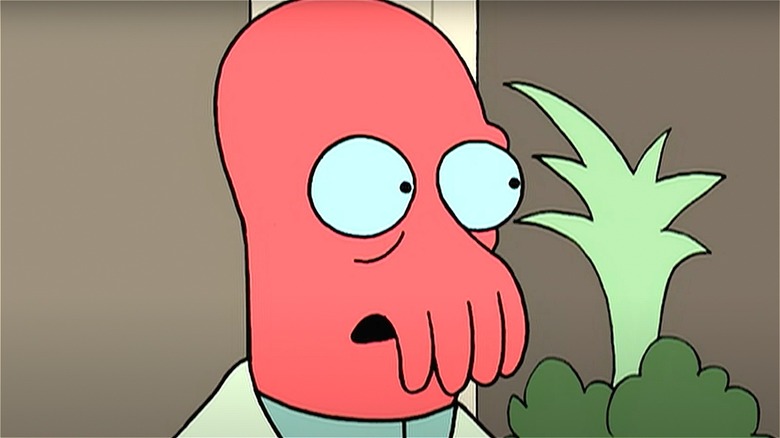 Fox/YouTube
These days, if an animated sitcom from the last few decades was popular and still has an active online fanbase, chances are good that it will get a revival. Lately, cartoons like "The Boondocks," "Animaniacs," and "The Smurfs" have all received series orders for new episodes, just to name a few examples.
Some shows are so popular that they even warrant multiple reboots, like "Futurama." The series about a 25-year-old pizza delivery guy named Fry (Billy West) who accidentally freezes himself and wakes up 1,000 years in the future originally premiered on Fox in 1999 and ran for four seasons. Then, when "Futurama" reruns proved to be popular on Adult Swim, four direct-to-video "Futurama" videos were released. Comedy Central recut those films and aired them as a fifth season in 2008. After that, Comedy Central brought the show back for two more seasons that aired between 2010 and 2013 (via Variety).
That's already a lot of "Futurama," but now, it looks like the show has a bit more juice left.
Rejoice! Futurama is coming back to TV!
That's right. As reported by Variety, Hulu has ordered 20 new episodes of "Futurama." Production is set to begin some time during this month, February 2022, with the premiere scheduled for some time in 2023. Creator Matt Groening of "The Simpsons" fame will be back, as will David X. Cohen, who developed the series.
Even better, most of the original voice talent will be returning. Variety has confirmed that cast members ​​Billy West, Katey Sagal (Leela), Tress MacNeille (Linda), Maurice LaMarche (Morbo and various other characters), Lauren Tom (Amy Wong), Phil LaMarr (Hermes Conrad) and David Herman (Scruffy and various other characters), will all be back.
John DiMaggio, who voiced fan-favorite Bender, isn't yet attached. According to the report, producers are hopeful that DiMaggio will be back, but if not the role will be recast.
It's difficult to imagine the show without John DiMaggio, but either way, it's still great news that there will be more "Futurama" in the near...future.