Is Silver Linings Playbook Based On A True Story?
Though Bradley Cooper and Jennifer Lawrence have gone on to star in many movies together, David O. Russell's 2012 film was the first. "Silver Linings Playbook" is a dramedy focusing on Pat Solitano Jr.'s (Cooper) bid to get his wife back after his stint in a psychiatric facility. The fracture in the marriage occurred because of infidelity, which triggered Pat's bi-polar disorder. 
Pat's goal is thrown into chaos when he meets Tiffany (Lawrence) who has suffered a loss of her own. Tiffany only lives by her own rules and even though she shows affection for Pat, he continues to push her away. Like any good romance, the ending of "Silver Linings Playbook" ensures that the two find happiness together. But the resonant themes are what make the film a success. The portrayal of mental illness mixed with humor makes the film feel realistic, making some wonder: Is it based on a true story?
Silver Linings Playbook is based on a book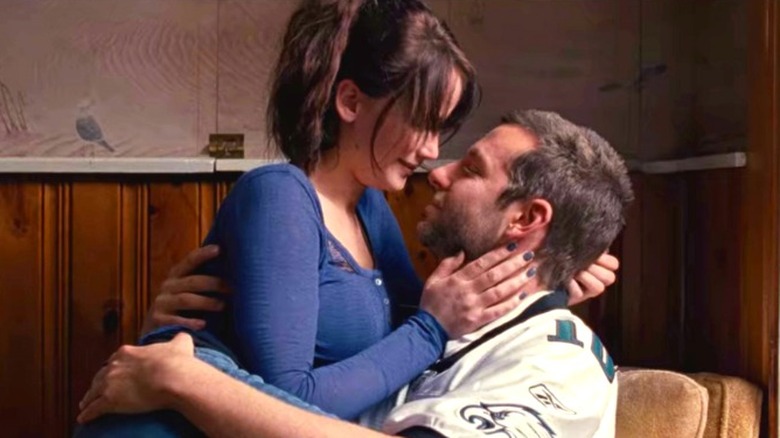 The Weinstein Company/Netflix
The love story between Pat and Tiffany is not based on reality. However, it was adapted from a novel penned by Matthew Quick in 2008 (via USA Today). The film varies slightly from the novel; originally, Pat's surname was Peoples, instead of Solitano, as in the film. The movie also adds subplots, such as Pat Sr.'s (Robert De Niro) gambling in attempt to open a Philly cheesesteak restaurant, perfect for the Philadelphia setting.
But no matter how many elements were changed, the most important aspects of the film remain true to the subject material. Pat realizes that he can never get his wife back, but that is not a bad thing. His work on his mental health and his relationship with Tiffany has made him a better person. Pat is even given the chance to reconnect with Nikki, but chooses Tiffany instead. The film deserves its Oscar nominations, as well as Lawrence's first win for her role (via Indie Wire). Not just because of the happy ending, but the portrait of how people deserve a happy ending.