Here's How You Can Catch An Early Screening Of The Batman
The time is once again drawing near. The latest incarnation of Batman — one that's spelled with a "the," but that's likely destined to be known as "Battinson" — is about to debut on the big screen, and with an actor like Robert Pattinson donning the cape and the cowl, fans of the Dark Knight could be in for something truly special. After all, Pattinson's thespian path from big-budget wizards and vampires to gloomy arthouse lighthouse keepers is virtually custom designed to portray the various nuances of Bruce Wayne and his crime-fighting alter ego — and the noir tone of Matt Reeves' "The Batman" should be an excellent fit for him.
Combine this with the promising-looking creepiness of Paul Dano's Riddler, the wild Penguin prosthetics Colin Farrell's visage disappears into, and Zoë Kravitz's femme fatale take on Catwoman, and no one would blame you for wanting to see "The Batman" a little bit before everyone else. Let's take a look at how that might just be possible. 
The Batman is coming early to the Imax theater near you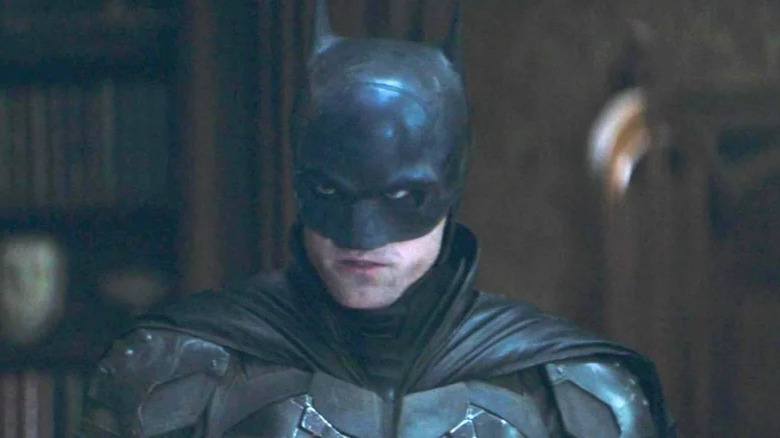 Warner Bros. Pictures
If you have an Imax theater near you, you might very well have a chance to check out "The Batman" before the masses. Per The Hollywood Reporter, Warner Bros. is unleashing the movie in over 350 Imax theaters on March 1, allowing a whole bunch of fans to experience the movie in all its glory ... and a few crucial days before the movie's official March 4 release date. 
"Matt [Reeves] has created a must-see big-screen experience with 'The Batman', and audiences around the country have proven they really can't wait to see it on the biggest screen possible," Warner Bros. President of Domestic Distribution, Jeff Goldstein, said about these advance screenings. 
Beware, though! As you can probably expect, early showings of a massive Batman movie will likely be quite popular, to the point that Warner Bros. notes that there are already plenty of sold-out screenings. As such, well ... if you're into the idea of grabbing an early ticket, now might be a good time to spring into action.