Legion Creator Noah Hawley Announces Doctor Doom Movie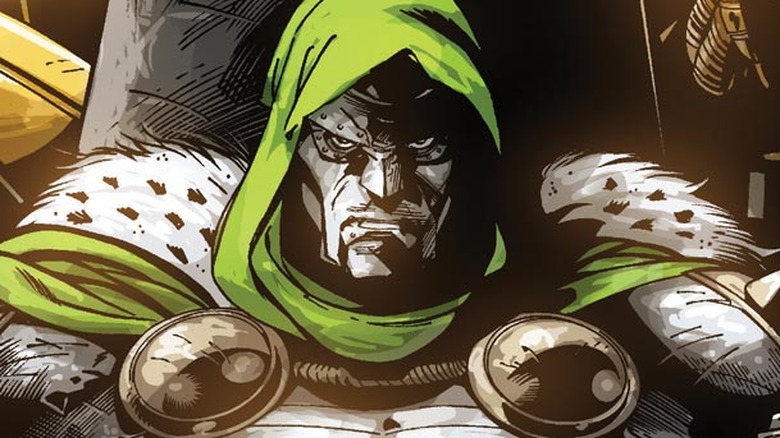 Marvel Comics
At the Legion panel during this week's Comic-Con, series creator Noah Hawley had just two words for us: "Doctor. Doom."
Hawley, the mind behind FX's Fargo in addition to Legion, is developing a feature film centered around one of Marvel Comics' most iconic villains. Sources told The Hollywood Reporter that Hawley is aiming to direct the flick as well.
The purveyor of evil is a primary antagonist of Marvel's Fantastic Four, the superhero squad dreamt up by studio legends Stan Lee and Jack Kirby. Real name Victor Von Doom, Doctor Doom is a gifted scientist and the totalitarian ruler of the Kingdom of Latveria, a fictional country said to be nestled somewhere in eastern Europe. Plagued with facial disfigurements, the villain hides his face from the outside world with a metal mask. To cover up his insecurities, Doctor Doom rules over his land with an iron fist. 
Fox currently holds the movie rights to any adaptations of the foursome, but their history on the silver screen has been quite troubled. Fantastic Four was released in 2005, with a follow-up titled Fantastic Four: Rise of the Silver Surfer coming two years later. At the box offices, the pair of pics scored big, but in the arms of fans, they weren't warmly embraced. The most recent Fantastic Four flick, a reboot directed by Josh Trank, debuted in 2015. Unfortunately, that one was perhaps the worst of the bunch, bombing both critically and commercially. Helmer Trank is still feeling the aftereffects of the film's failure, as he was recently fired from a Star Wars spinoff (via THR).
It's too early in the game to know who will play the titular evil-doer, but the actor that does will follow in the footsteps of Julian McMahon and Toby Kebbell who previously portrayed the character. McMahon starred in the first two Fantastic Four movies, and Kebbell refreshed Doctor Doom in the 2015 reboot. 
As Comic-Con rages on, we may learn a bit more about the upcoming Doctor Doom movie before the event wraps. To tide yourself over until more news breaks, check out the comic book villains Marvel isn't taking advantage of.