The Character Everyone Likely Forgets That Paul McCartney Played In Pirates Of The Caribbean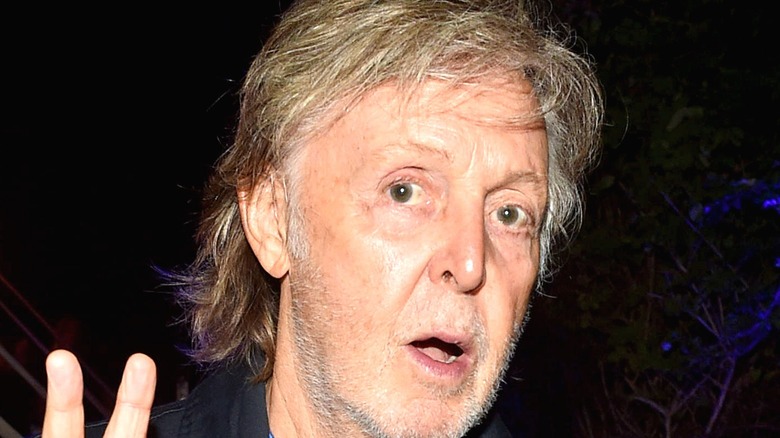 Bryan Bedder/Getty
Besides incredible sword fights and spectacular ship scuffles, one of the most outstanding attributes of "Pirates of the Caribbean" is how its massive stars are hidden behind some very intense makeup. Underneath the beards, battle scars, and impressively big hats, Disney's epic franchise has various well-known names come aboard and be barely recognizable in doing so: Stellan Skarsgård as the cursed Bootstrap Bill, Ian McShane as the legendary Blackbeard, and Naomie Harris as the enigmatic deity in human form Tia Dalma. All of them have remained fairly well hidden within every sequel to the treasure-hunting, sea-dwelling, groundbreaking Pirates film series. It almost makes it easy to forget that the franchise also managed to unexpectedly sneak an unexpected musical legend into a crew like this. 
Besides the ingenious casting of Keith Richards (Johnny Depp's inspiration for Jack Sparrow) as the father to the worst pirate you've ever heard of, "Pirates of the Caribbean: Dead Men Tell No Tales" managed to rope in former Beatle and music legend, Sir Paul McCartney for a cameo. Much like Richards' role, this isn't some throwaway appearance that doesn't leave a mark but is significantly connected to the legendary Sparrow family nest.
Sir Paul McCartney played Jack Sparrow's uncle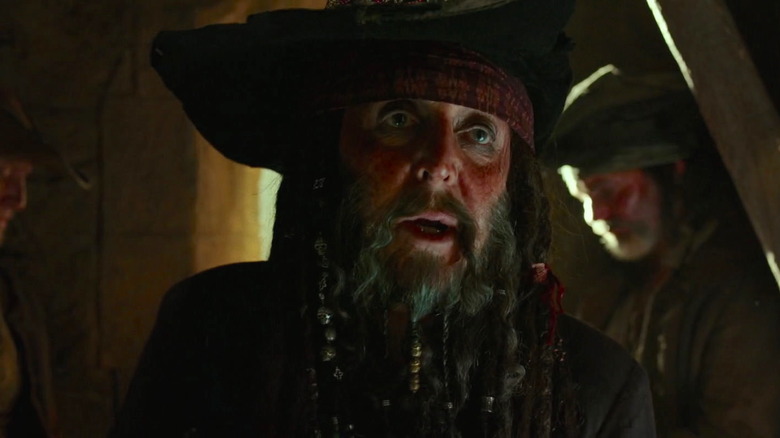 Walt Disney Studios Motion Pictures
If you've already had one music icon acting as the father to Jack Sparrow, it only makes sense to have one as his uncle as well. In Joachim Rønning and Espen Sandberg's "Pirates of the Caribbean: Dead Men Tell No Tales," the film sees Jack thrown into prison (no surprise there), where he's dragged down a dark and dingy hall past some prison cells. His trip is briefly interrupted by an encounter with his relative and namesake, Uncle Jack (Paul McCartney), playing cards with two other prisoners. The two have a quick catch-up before our hero is quickly carried away.
In joining the franchise, McCartney explained on set (via YouTube) that he made an appearance as a favor to his famous friend, Johnny Depp. "I've known Johnny a while, I've always admired him as Jack Sparrow," he said. "He's done me a lot of favours in the past. He's been in some of my music videos, so it's my way of repaying him." So there is honor among pirates, after all.