Hulu Sets Fall Premiere Date For Marvel's Runaways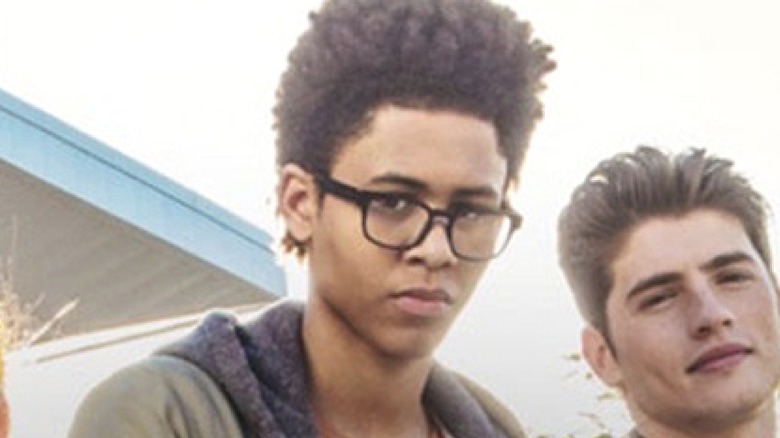 Marvel's Runaways will hit Hulu earlier than expected. Deadline reports that the streamer has set a Nov. 21 premiere date for the series, which will tell the story of six super-powered teenagers forced to unite against a common enemy– their parents.
The 10-episode series, which was initially set to premiere at some point in 2018, comes from Gossip Girl and The O.C. alums Josh Schwartz and Stephanie Savage. The show, one of many exciting upcoming projects Marvel has planned, will mark Hulu's first collaboration with Marvel and will adapt the popular comic series in which the teens must adapt after realizing their parents are part of an evil crime organization called The Pride.
Faking It's Gregg Sulkin leads the teenage cast as Chase Stein, a high school hottie and lacrosse player with a secret talent for engineering. His villainous parents will be played by Buffy the Vampire Slayer's James Marsters and The Handmaid's Tale's Ever Carradine, with Masters' Victor described as an "engineering genius" with high expectations for his son, and Carradine's Janet listed as the "perfect PTA mom" who is secretly looking for more out of life.
Ariela Barer (One Day At A Time) will play Chase's comic book love interest Gert Yorkes, a rebel and social justice warrior, who, in the comics, has a telepathic bond with a genetically engineered dinosaur named Old Lace. Alias' Kevin Weisman will play her father Dale, a science-minded engineer, while Army Wives' Brigit Brannagh will play her mother, an absent-minded bioengineer. 
Lyrica Okano (The Affair) will play Nico Minoru, a tough but angsty Wiccan who is the comics' leader of the group. Teenage Mutant Ninja Turtles: Out of the Shadows star Brittany Ishibashi will play her "tiger mom" Tina, while Broadway actor James Yaegashi will play her gentle and brilliant father Robert.
Rhenzy Feliz (Casual) will play Alex Wilder, a video game nerd who, in the comics, is a child prodigy who excels at strategy. His parents will be played by The Wire's Ryan Sands and The People v. O.J. Simpson: American Crime Story's Angel Parker, with Sands' Geoffrey is a strategic "hulking presence" and Parker's Catherine a successful and calculating lawyer.
Virginia Gardner (Project Almanac) will play Karolina Dean, a privileged teen who, in the comics, is shaken to find out that she is actually an alien. Remember the Titans actor Kip Pardue will play her father Frank, an insecure former teen star struggling with launching an adult acting career. Her mother Leslie, a charismatic and charming leader, will be played by Castle's Annie Wersching.
Allegra Acosta (100 Things To Do Before High School) rounds out the group of young heroes as Molly Hernandez, the team's peppy youngest member. In the comics, the character is called Molly Hayes, and she has super-strength and invulnerability. 
Marvel has yet to release an official teaser online for the series, but footage shown at various presentations has received critical acclaim. Hopefully, a trailer or teaser for the show will be released at San Diego Comic-Con. Keep checking back with Looper to see more information about your favorite shows and movies released at the convention.