Why Mo From Yellowstone Looks So Familiar
Paramount Network's "Yellowstone" is ostensibly the story of John Dutton (Kevin Costner) and his family, as they work to keep control of the vast Yellowstone Dutton Ranch in picturesque Montana. However, like all the best shows, it also provides plenty of other points of view, all with their own sound logic and motivations. For instance, the Duttons have a complicated history with the nearby Confederated Tribes of Broken Rock and their most recent chairman, Thomas Rainwater (Gil Birmingham), who's on the lookout for expanding the reservation's lands.  
Rainwater is ambitious and intelligent, and while his plans don't always have the full support of the tribal council, he can always rely on one person: His driver and enforcer, Mo. Unlike Rainwater, Mo grew up on the reservation, and is well-versed in the area's power dynamics. With his calm demeanor, smart advice — which he refuses to call advice, since he insists advising isn't technically part of his job description — and propensity for physical troubleshooting when push comes to shove, Mo has turned out to be far more than a minor one-note character. But who is the oddly familiar-looking actor playing the role? Let's take a look at where you might have seen him before.  
Mo Brings Plenty has portrayed Native American characters in many films and TV shows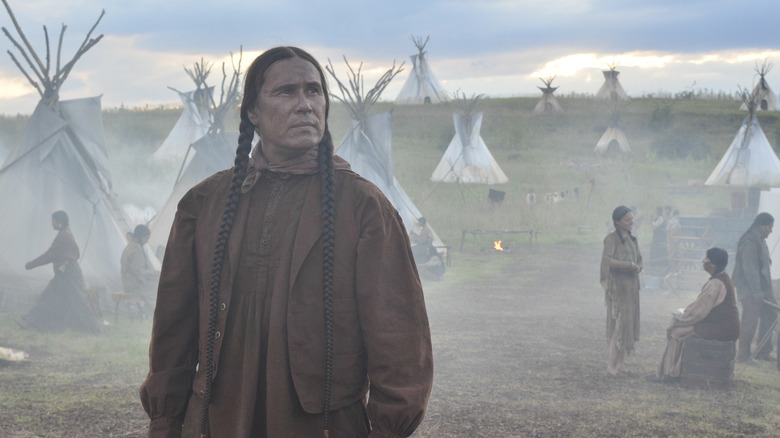 AMC
Mo Brings Plenty comes from a historically notable Oglala Lakota family (via Outsider), and makes a point of embracing his cultural heritage, both in his acting projects and outside them. "The representation of it in front of the camera, it's not just an important part, it's the representation off-camera as well in everyday life," Brings Plenty has told Verve Times. "I try to incorporate it and put it into action. That's the most important language in our culture's movement. It's the language of action. And so we really incorporate our language and action."
As such, you may have seen Brings Plenty in a number of Native American roles, from various warrior roles ("Deadliest Warrior," "Cowboys & Aliens) to real-life figures like Crazy Horse ("The Wild West," "American Experience"), Sitting Bull ("The American West"), and Charlie Soap ("The Cherokee Word for Water," "The Glorias"). He has also appeared in episodes of "House of Cards" and "Hell on Wheels."
Mo Brings Plenty is Ottawa Jones in The Good Lord Bird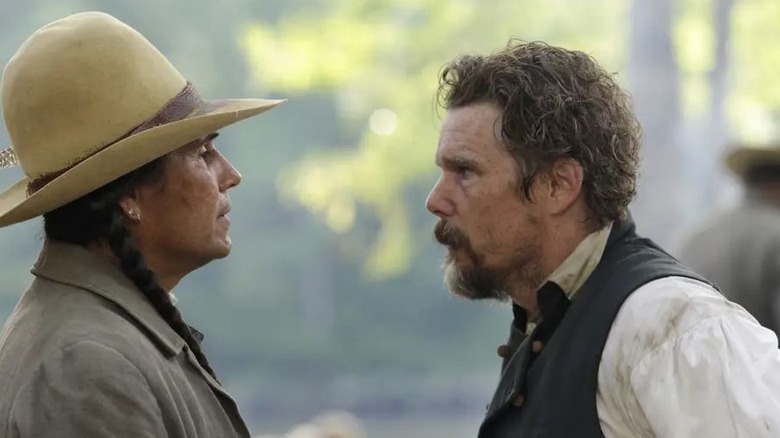 As Mo has been rising to more and more prominence in "Yellowstone," Mo Brings Plenty has been busy with other high-profile projects, as well. In 2020, he starred in Showtime's "The Good Lord Bird." The miniseries is an adaptation of a novel of the same name by James McBride, and tells the story of real-life militia leader and abolitionist John Brown (Ethan Hawke) through the eyes of young Henry "Onion" Shackleford (Joshua Caleb Johnson). 
The series features several real-life historical characters like Frederick Douglass (Daveed Diggs) and Harriet Tubman (Zainab Jah), and as Kansas State Historical Society notes, Brings Plenty's character, Ottawa Jones, also has a historical counterpart. An influential figure in his day, John Tecumseh "Ottawa" Jones was a highly educated and wealthy ally of Brown who was known to join him on various missions. 
Jones appears in all seven episodes of "The Good Lord Bird" as one of Brown's most trusted fighters, and an extremely capable and dependable man. Of course, since this is a work of historical fiction, there are some differences between the show's version of Jones and the real man — including the fact that being a rich guy with a nice house, the historical figure didn't actually sneak around with Brown's team on the regular, and he also didn't take part in the famous raid at Harper's Ferry (via Slate).