The One Scene That Nearly Ruined Star Wars: The Rise Of Skywalker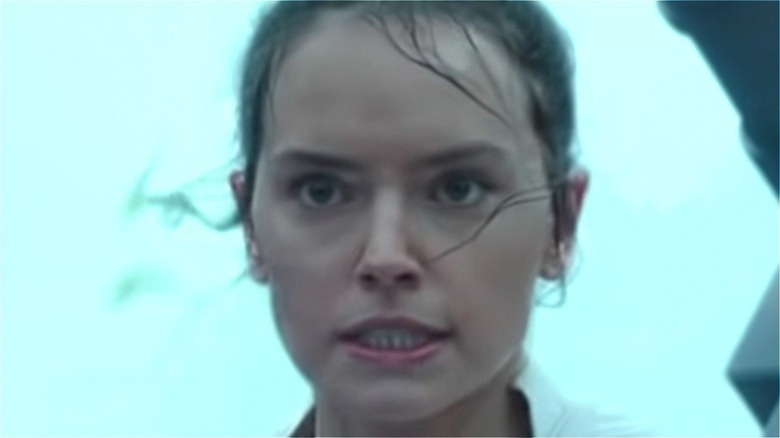 Walt Disney Studios/YouTube
2012 saw the Walt Disney Company purchase Lucasfilm for a staggering $4 billion, ushering in a new era for "Star Wars" in the process. In no time at all, the news broke that a brand new trilogy of films set in the galaxy far, far away was in development and would kick off in 2015. As expected, director J.J. Abrams' "Star Wars: Episode VII – The Force Awakens" arrived on the big screen that year, followed by its sequel, "Star Wars: Episode VIII – The Last Jedi," in 2017 courtesy of director Rian Johnson.
It's no secret that "The Last Jedi" stirred up a fair bit of controversy upon its release for a number of reasons. Some fans voiced their displeasure in the film's portrayal of Luke Skywalker (Mark Hamill), while others lashed out at franchise newcomer Kelly Marie Tran, who played Resistance fighter Rose Tico. Regardless of the rationale behind this emphatic anger, Disney had to make a critical choice: maintain the current course at the risk of further backlash, or attempt to course-correct in hopes of getting these vocal moviegoers back on their side?
"Star Wars: Episode IX – The Rise of Skywalker" gave us the answer when it premiered in 2019 and attempted to offer fans a reconstructed pre-"Last Jedi" status quo — disappointing critics in more ways than one while simultaneously pleasing fans with cameos, callbacks, and Easter eggs aplenty. However, it could have been much worse overall had this one crucial scene remained relatively unexplained.
Love wasn't actually in the air between Ben Solo and Rey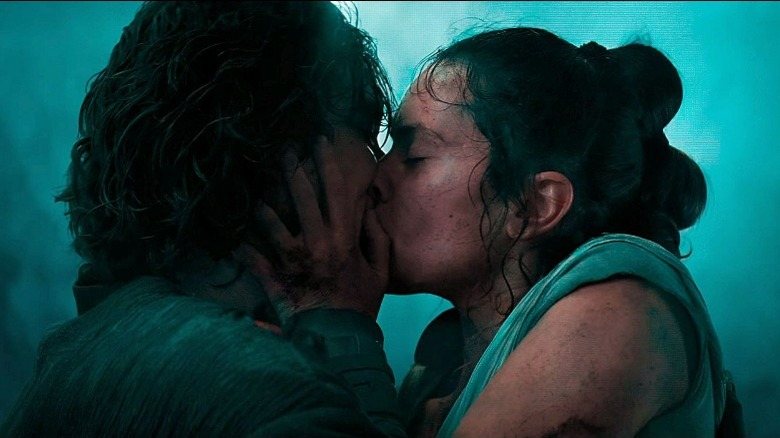 Disney/Lucasfilm
Throughout the "Star Wars" sequel trilogy, Rey (Daisy Ridley) and Ben "Kylo Ren" Solo (Adam Driver) shared in an odd dynamic. They were on opposite sides of the war, yet their Force dyad connected them personally. In fact, many of their scenes prompted fans to speculate on a potential romance between them, though the films never exactly went to great lengths to depict this bond in such a way. That is unless you count Rey and Ben's impromptu kiss on Exegol during the final act of "The Rise of Skywalker" as an expression of their hidden love.
For some time after the theatrical debut of "The Rise of Skywalker," Rey and Ben's kiss spawned heated debate among "Star Wars" fans. Supporters thought it was a touching moment that solidified Ben's return to the light — something Rey had fought for since "The Last Jedi" –, or at least celebrated it as confirmation of "Reylo" in canon. The opposite side found the scene uncomfortable and out of place, seeing as Ben had done some terrible things to Rey, ranging from nonconsensually entering her mind using the Force to telling her she's "nothing."
As it did with many of the film's story elements, the official "Rise of Skywalker" novelization by Rae Carson (via Men's Health) gave some much-needed context to Rey and Ben's emotional moment. It describes it as "A kiss of gratitude, acknowledgment of their connection, celebration that they'd found each other at last," dispelling any hints at romantic undertones. This doesn't totally rid the kiss of its weirdness, but unlike the movie, at least the book makes it clear why it happened in the first place.
At the end of the day, "The Rise of Skywalker" is far from a perfect movie and is even farther from a good ending to the Skywalker saga. Still, the fact that it didn't try to shoehorn in a Rey and Ben Solo romance at the end with their kiss certainly helped its case.