The Stormfront Scene That Went Too Far On The Boys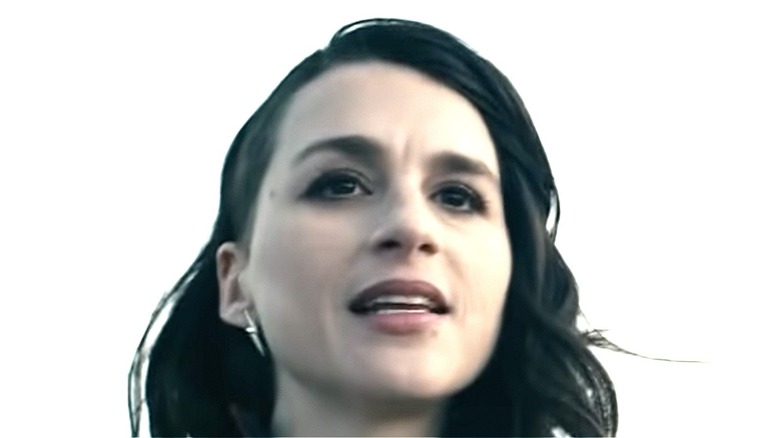 Amazon Studios
When discussing a controversial character on Amazon Studios' superhero satire series "The Boys," there's an immediate need to clarify: which one are we talking about? Ostensibly on the side of good we have a foul-mouthed, murderous sociopath named Billy Butcher (Karly Urban) whose personal mission is to pull back the curtain and expose super-powered individuals — Supes, in the show's vernacular — as the dangerous and dishonest frauds they really are. He leads a team of like-minded people, some of whom have experienced collateral damage in one form or another, by deception and manipulation, in addition to just flat-out keeping them in the dark. While this doesn't exactly fly well with Hughie Campbell (Jack Quaid), he believes in the mission well enough to stick around. On the opposite side of that equation is Homelander (Antony Starr), another foul-mouthed, murderous sociopath, though this one wears a cape and is adored by a loving public that has a well-groomed, polished image of him extensively curated by a public relations army. Fighting alongside Homelander are fellow members of the corporate Supe team The Seven, most of whom aren't much better than he is. 
And while most of the Supes have their respective dark sides, there's none that can compare to the one we meet in Season 2 of "The Boys," Stormfront (Aya Cash). Presenting herself as a brash progressive disrupting the corporate culture at Vought International and condemning the apparent virtue-signaling in which the company engages, Stormfront is eventually revealed to be a white supremacist, a former WWII-era Nazi, and the original Supe. While her past misdeeds were horrible enough, the Supe formerly known as Liberty has plenty of misdeeds in the present to pick from and her character was so convincing that Cash told Refinery 29 that she's been threatened as a result. This is the Stormfront scene that went too far on "The Boys."
The Stormfront scene in which she tracked down Kimiko's brother Kenji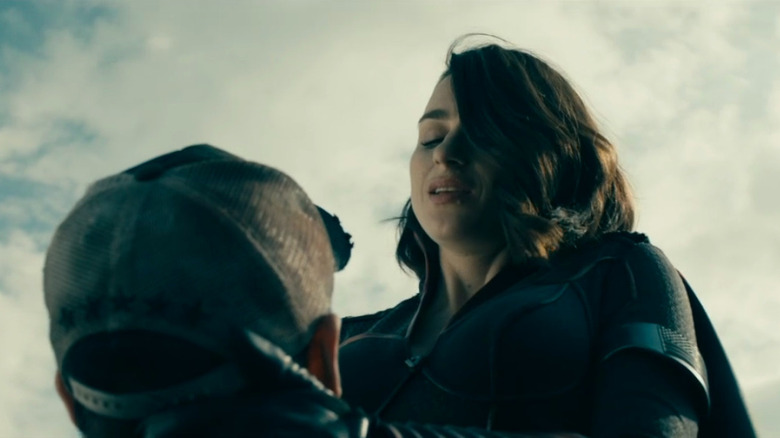 Amazon Studios
The Stormfront scene that went too far comes in "The Boys" Season 2, Episode 3, an installment entitled "Over the Hill with the Swords of a Thousand Men." The order of the day is to bring Kimiko's (Karen Fukuhara) telekinetic brother, Kenji (Abraham Lim), to a CIA safehouse, a plan that's ruined when The Deep (Chace Crawford) sics his aquatic friends on their boat. After Billy Butcher rams the sperm whale with their dinghy and the Boys escape into the sewer, Homelander (Antony Starr) calls off the Seven's pursuit — but Stormfront doesn't listen.
In typical Supe fashion, Stormfront blasts Kimiko and Kenji through the walls of a residential building, seemingly unconcerned with how the destruction she's caused affects the innocent civilians who live there. Then she kills the unfortunate people who live there without hesitation; whether it's to avoid leaving any witnesses to the murder she's about to commit or if it's actually a crime motivated by prejudice and hate — the family is Black — is not clear, though she does throw another Black man out the stairwell window in pursuit of the brother and sister duo. 
What happens next requires no social analysis. After chasing Kimiko and Kenji to the roof of the building, Stormfront subdues them both before violently breaking Kenji's hands. She then proceeds to strangle him, urging Kenji to open his eyes because she likes to "see the light go out" when killing someone. She also calls him a "f***ing yellow bastard," before violently breaking his neck. While the graphic and very personal violence of this scene is crazy enough, Stormfront's use of a racial slur before committing murder puts it over the top — in addition to laying the groundwork for her reveal as a Nazi Klara Risinger. Thankfully, courtesy of Ryan Butcher's (Cameron Crovetti) eye beams, we're unlikely to see Stormfront in "The Boys" Season 3.