Why Chloe From Uncharted Looks So Familiar
As far as movies go, few are as anticipated as the upcoming "Uncharted" film. Based on the popular video game series of the same name by Naughty Dog, the "Uncharted" movie has been in the works since as early as 2008 (via Kotaku). Development continued for most of the next decade, but it wasn't until 2017, when "Spider-Man: Homecoming's" Tom Holland was cast as Nathan Drake (via Deadline), that the project started to feel like it actually would happen. Now, the premiere is less than two weeks away, scheduled for February 18, 2022.
The movie will serve as a prequel to the video game series. The story begins when Victor "Sully" Sullivan (Mark Wahlberg) recruits a street-smart Drake to help him track down the legendary treasure of Ferdinand Magellan, before the villainous aristocratic treasure hunter Moncada (Antonio Banderas) can stop them. Along the way, they team up with Sully's associate, Chloe Frazer, who becomes Drake's love interest.
Chloe is played by Sophia Ali, an up-and-coming Pakistani-American actress who hails from San Diego. She's been working since she was just eight years old (via IMDb), and she's appeared in several movies and TV shows you've probably seen before. Here's where you may know her from.
She was the one Amy ended up with on Faking It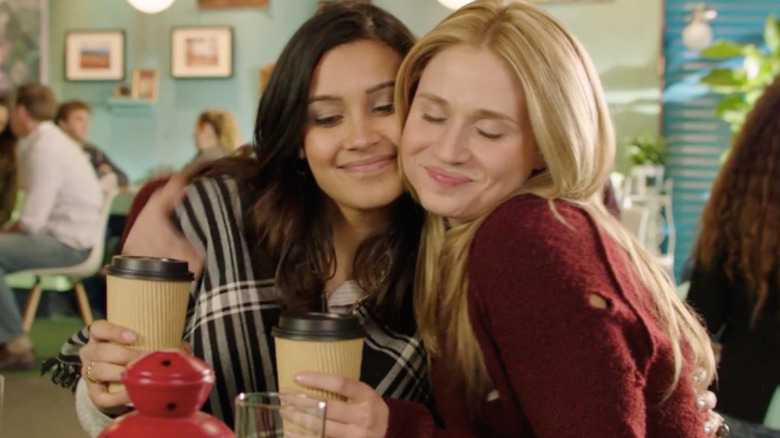 MTV
"Faking It" is the MTV series that premiered in 2014 and starred Katie Stevens and Rita Volk as Karma and Amy, two best friends in high school who decide to fake a relationship for social cred, only for Amy to realize that she actually has feelings for Karma. Karma doesn't reciprocate, but the two decide to remain pals. 
Ali shows up towards the end of the series, first appearing in Season 3 episode 6 "Spooking It." Ali's character, Sabrina, is Amy's old best friend from their younger days at summer camp, and she transfers to Hester High. When she does, she realizes that she might actually have feelings for Amy. That causes friction with Karma, whom Sabrina sees as a threat. Eventually, Sabrina confesses everything to Amy and apologizes for her possessiveness. Amy forgives her, the two kiss, and they end up together at the end of the series.
Even though she only appeared in a handful of episodes, Sabrina was a major character in the show's run. It's difficult for any actor to join an established show midseason and not disrupt the existing dynamic. Ali pulled it off with skill.
She had a recurring role from Season 14 to Season 16 on Grey's Anatomy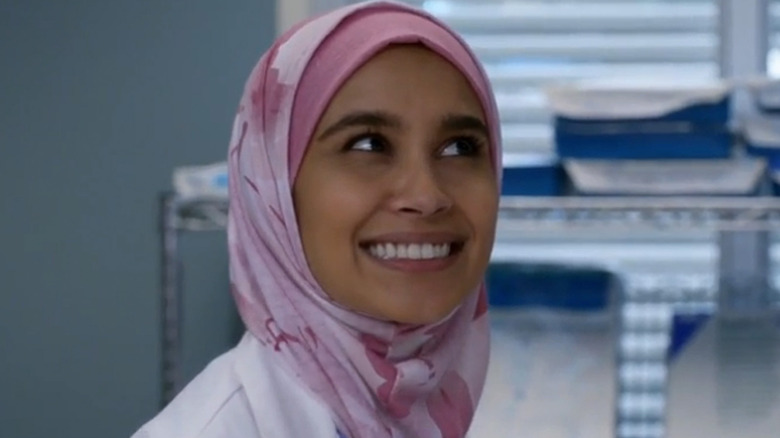 ABC
In 2017, Sophia Ali joined the cast of the long-running Seattle-based medical drama "Grey's Anatomy" as Dr. Dahlia Qadri. For Ali, this job was uniquely challenging in multiple ways. For starters, she was just 23 when she landed the role. Before "Grey's Anatomy," Ali mostly starred in teen-driven content with actors around her own age. This time, she had to jump into a show mid-run and then act alongside established performers like Ellen Pompeo. For Ali, it was a great learning opportunity.
"It is an interesting learning experience working with such established actors," Ali told Parade. "A lot of the women on our show are inspiring because they've all got such great heads on their shoulders, such an amazing understanding of the industry and how it works, and the effects that it has on you. Normally, I don't really get a chance to learn from people like that. So, getting a chance to work with this cast and learning about their resilience and the respect that they have for each other and for themselves is so inspiring for me as a young actor."
The other challenge was playing the show's first Muslim doctor, which included wearing a hijab. In one memorable moment, Dr. Qadri removes her hijab and ties it to a patient's leg as a tourniquet. "[Dr. Qadri] would rather do that than wear it because that person is dying and that's more important," she explained of the character. "I think it shows the true dynamic of what it means to wear a hijab."
She plays Fatin on The Wilds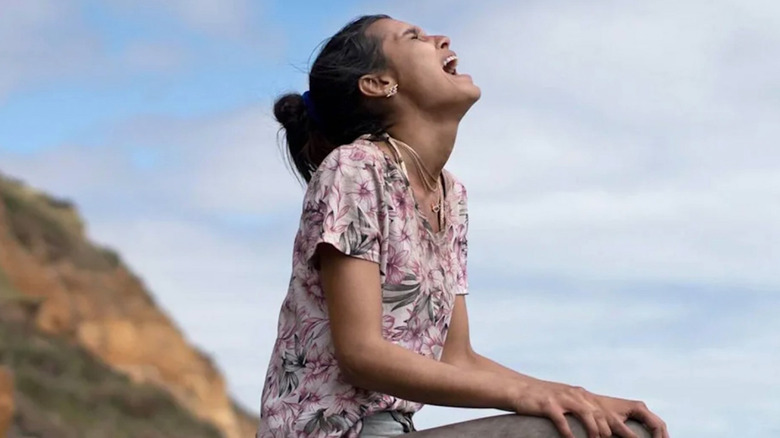 Amazon Prime
Currently, Sophia Ali stars in the Amazon Prime survivalist series "The Wilds," about a group of eight teenage girls who get stranded on a remote island in the middle of the ocean. Her character, Fatin, is the polar opposite of her character Dr. Qadri–she's a fashion-forward, flirty, and confident teen who plays the cello and comes from San Francisco.
For Ali, playing Fatin again challenges her on many levels. First, there's the physical challenge of acting in a harsh environment. As she told Yahoo, it takes Ali about an hour in the makeup chair to get ready for the camera. Mostly, this involves installing her hairpiece and covering up her tattoos, but it also requires extensive makeup to simulate sunburn and dehydration.
Then, there's the challenge of portraying a character whom she intends to be inspirational. "I really just want to represent those people who don't feel represented and be that example for people who aren't exposed to someone like me in their everyday life," she told Elite Daily. "Showing those layers, showing how different people — especially of the Islamic state or from that region — can be allows room for normalcy."