The Worst Storyline In NCIS Season 7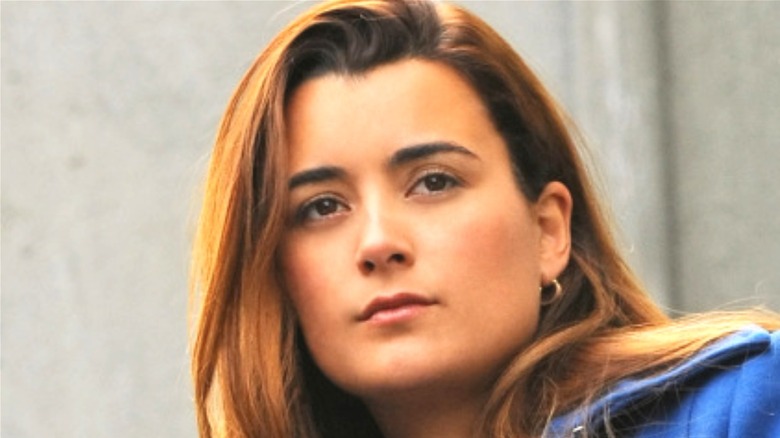 Ron P. Jaffe/CBS
Season 7 was certainly an eventful year for "NCIS." At the beginning of the season, NCIS Special Agents Gibbs (Mark Harmon), DiNozzo (Michael Weatherly), and McGee (Sean Murray) rescue NCIS-Mossad liaison Ziva David (Cote de Pablo) from a group of Somalian terrorists. Of course, the Naval Criminal Investigative Service's perilous journey is only just beginning once this mission is complete. Over the course of the next 23 episodes, the team members manage to solve a variety of grizzly cases, including one that signals the return of a ghost from Gibbs' past. 
Towards the end of the season, "NCIS" introduces Paloma Reynosa (Jacqueline Obradors) and Alejandro Rivera (Marco Sanchez), the vengeful children of the late Pedro Hernandez (Thomas Rosales Jr.). Though Hernandez is dead long before the series begins, their father's name should sound familiar to "NCIS" fans. Hernandez is the drug dealer who killed Gibbs' wife and daughter prior to the main events of the series. In Season 3, it is revealed that Gibbs made ample use of his Marine Corps sniper training and executed Hernandez in revenge.
Before Gibbs rendezvouses with the living members of the Hernandez crime family, however, he meets one of the stranger recurring characters in the history of "NCIS." Season 7 presents Gibbs with something his gut tells him to hate only slightly less than a drug dealer or a terrorist: a lawyer. Surprisingly, Gibbs discovers he might have a soft spot for this one.
Margaret Allison Hart got a little close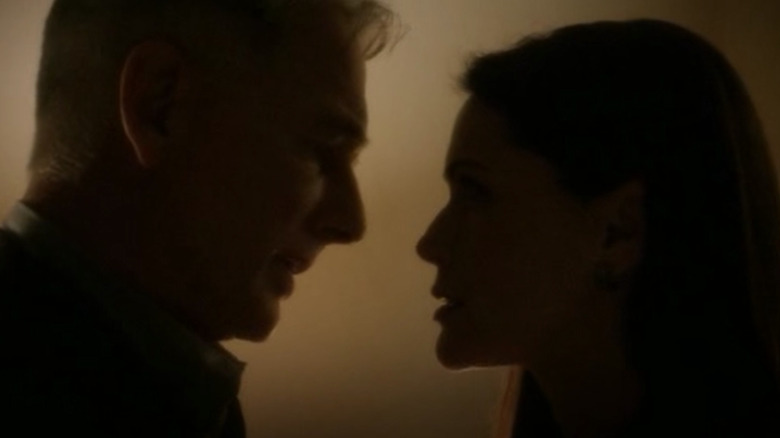 CBS/Netflix
Rena Sofer makes her first appearance on "NCIS" in Season 7, Episode 11 ("Ignition") (via IMDb). Initially introduced as M. Allison Hart, the lawyer of Victor Tillman (Marcus Giamatti), it is quickly revealed that Sofer's character is going to be a continual problem as a result of her representation of Colonel Merton Bell (Robert Patrick), a wealthy mercenary who poses a threat to the NCIS team. Hart later returns in Episode 14 ("Masquerade") and picks up a pro-bono case involving Gibbs with the sole intention of causing problems for the NCIS team. During the investigation, Hart takes efforts to get as close to Gibbs as possible, even going so far as to inquire about who cuts his hair.
After the NCIS team manages to prevent a major terrorist attack, Gibbs returns home and is surprised to find Hart sitting in his living room. The two briefly argue, but the arguments turn to aggressive flirtations when Gibbs points out that Hart is only taking cases involving him. While Hart calls the remark "conceited," she doesn't appear too eager to leave the home of the special agent. As the two get closer and closer, they both glance at each other's lips just as the episode ends. A romantic relationship between the two is later alluded to. While Hart proves to be an important ally for Gibbs in dealing with the Hernandez crime family, it seems somewhat out of character for Gibbs to make such advances on an adversary. 
"NCIS" fans on the main r/NCIS subreddit would seem to agree. In a post to the r/NCIS subreddit, u/g8rBfKn wrote, "Small rant. I hated that lawyer that always called Gibbs Mr. Gibbs." Responses to the post were mostly in agreement. U/oceanjulep responded that they found the whole storyline "odd" and added, "I really couldn't figure out why Gibbs would let her get anywhere close to him!"