Does Elliot Page Actually Play The Violin In The Umbrella Academy?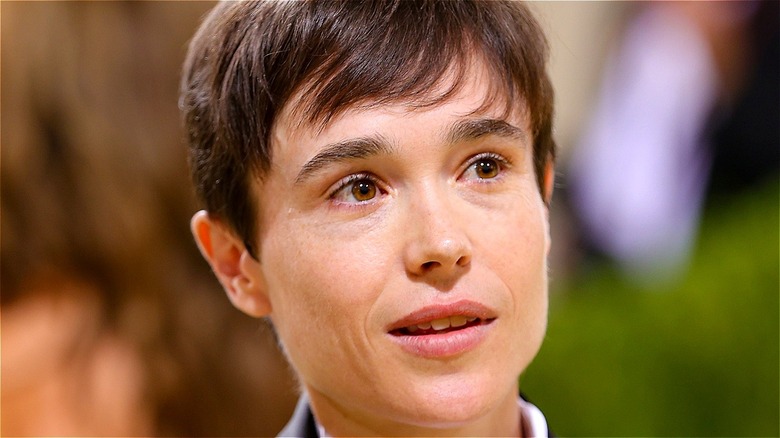 Theo Wargo/Getty
Netflix's "The Umbrella Academy" introduced a new audience to Gerard Way-penned Dark Horse comic series. Season 1 of the show begins with a large number of children born around the world at the same time. In the wake of this unique phenomenon, wealthy and mysterious Reginald Hargreeves (Colm Feore) makes it his mission to collect those children who he believes have unique potential. The seven children he adopts grow up and begin to display different powerful gifts. The Hargreeves family patriarch then molds each child, weaponizing them by turning them into an adolescent crime-fighting team called The Umbrella Academy. Some of the children's powers are simple, like Allison Hargreeves' (Emmy Raver-Lampman) ability to control others through the power of suggestion, but other siblings have terrifying abilities that go beyond the scope of human understanding.
In the Season 1 finale, Vanya Hargreeves (Elliot Page) realizes she is the most powerful member of The Umbrella Academy. Her control over soundwaves has many applications but the full extent of her power is revealed when she plays her violin after embracing her full range of power. Season 1 concludes as Vanya plays the violin, creating a cataclysmic event that will end the world. With such an impressive display of violin playing in the episode, fans may be wondering if Page is actually playing the classical instrument.
Page is not as accomplished as their Umbrella Academy character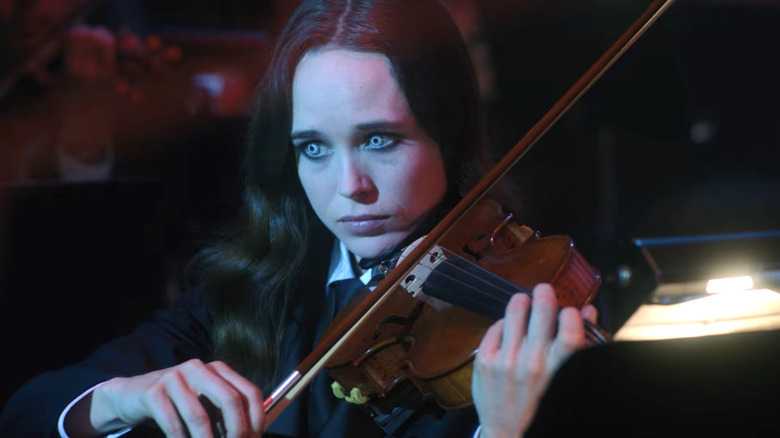 Netflix
When originally cast as Vanya, Elliot Page did not have the necessary skills to play accomplished violinist Vanya Hargreeves. In "The Umbrella Academy," Vanya is a child prodigy who grows up and finds employment playing in a prestigious orchestra. As detailed by USA Today in 2019, there was a teacher on set that helped in Page's musical education during filming, but the actor did not become a master. He said that the goal was to make him "look as comfortable as humanly possible," but to help sell Vanya as a masterful violinist, more help was required. 
When it came time to really play the violin on "The Umbrella Academy" Season 1, most of the heavy lifting was done by Imogen Sloss, a Canadian violinist who doubled for Page and was only 16 years old during filming (via Classic FM). Page complimented the young musician, stating that "it was a gift to listen to her play." It takes years to master the complex instrument and this was integral to the finale of Season 1. With the help of the young musician, Page could portray Vanya with confidence and convince audiences that Vanya is indeed an skilled musician. And, even though they were doubled by a professional, Page did emerge from Season 1 able to play a rough version of "Twinkle, Twinkle Little Star," but that was the extent of their violin prowess, as revealed in a 2019 PopBuzz interview (via Cheatsheet).