The One Role That Changed The Course Of Nicolas Cage's Career Forever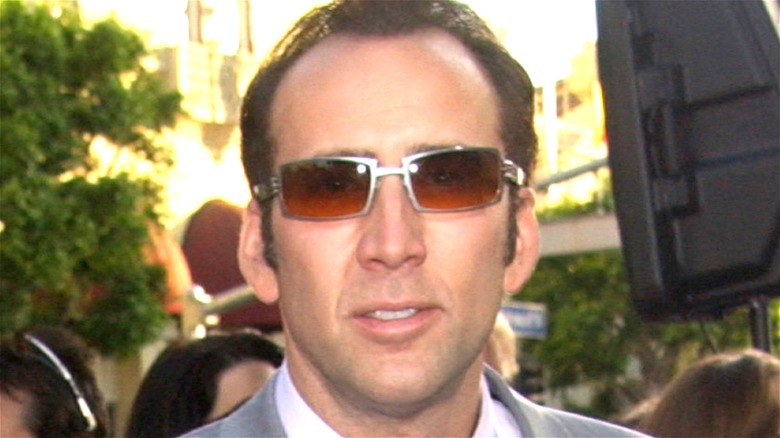 Featureflash Photo Agency/Shutterstock
Eccentric actor Nicolas Cage has had a storied career comprised of myriad disparate roles. If there's a character archetype, chances are he's played it, maybe more than once, after kicking off his film career in a cameo role as a friend to Brad Hamilton (Judge Reinhold), protagonist of the seminal coming-of-age drama "Fast Times at Ridgemont High." With a mixture of dramatic films and various comedies comprising the early part of his career — including a handful of films directed by his uncle, Francis Ford Coppola — Cage was able to demonstrate his acting chops in quite a range leading up to his Oscar-winning performance in "Leaving Las Vegas," in which he starred as down-on-his luck, alcoholic screenwriter Ben Sanderson. The role, based on writer John O'Brien — who wrote the semi-autobiographical novel of the same name — also nabbed Cage the Golden Globe award for best actor in a motion picture drama.
The late '90s saw an abrupt shift in Cage's career toward big-budget action fare, with him taking on the role of an ex-Green Beret in "Con Air" and a terrorist who borrows the face of his FBI nemesis in "Face/Off." From there he rounded out the decade as a police detective in the action thriller "Snake Eyes" and a private investigator in the disturbing thriller "8mm," before playing a burnt-out EMT in "Bringing out the Dead." Cage kept things going a mile a minute with 2000's action heist flick "Gone in 60 Seconds," appearing alongside an ensemble cast as a retired car thief who's family drama drags him back to a life of crime. Shortly thereafter, he launched the "National Treasure" franchise of heist thrillers, appearing as treasure hunter Benjamin Franklin Gates.
One film stands out among his credits as a definitive shift in his filmography. This is the one role that changed the course of Nicolas Cage's career forever.
The Rock altered the path of Nicolas Cage's career forever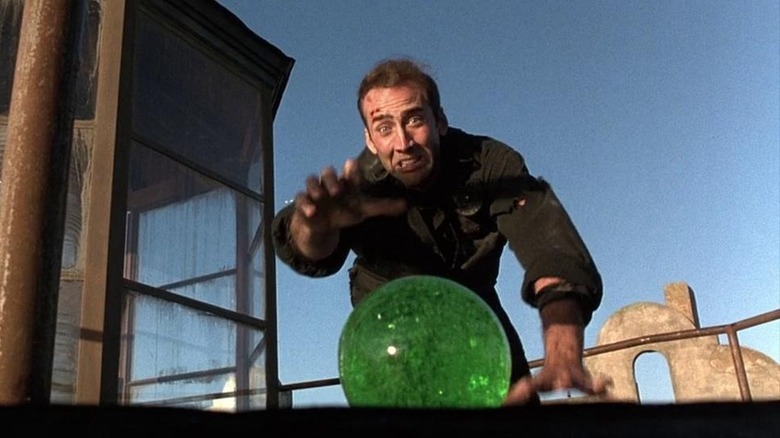 Buena Vista Pictures Distribution
Michael Bay's 1996 action thriller "The Rock" marked the definitive shift in Nicolas Cage's filmography toward more action-heavy roles. Fresh off his Oscar win, in his very next film, Cage played chemical weapons "super freak" Stanley Goodspeed, a nerdy FBI lab rat. When rogue general Francis Hummel (Ed Harris) of the United States Marine Corps steals a cache of chemical weapons and threatens to launch them at the civilian populace of San Francisco, Stan the man is paired with a senior citizen prison inmate and a team of Navy SEALs to try to save the day. The SEALs' presence should seem self-evident; as for the prisoner, former British spy John Mason (Sean Connery) is the only inmate to ever escape the prison on Alcatraz Island, which is where Hummel's set up shop, holding a group of tourists and an entire city hostage for millions in order to repay the families of the Force Recon Marines who've died under his various commands.
Following his performance in "The Rock," the floodgates opened, with adrenaline-fueled roles ready to come pouring into Cage's career. Seemingly fully embracing the summer popcorn action vibe, Cage would go on to team with "Face/Off" director John Woo in the 2002 war film "Windtalkers," play arms dealer Yuri Orlov in the crime dramedy "Lord of War," and take on the role of New York City port authority police sergeant John McLoughlin in "World Trade Center," a disaster drama about the September 11 terror attacks — all within the next decade, as well as the above-referenced roles. In addition to straightforward action fare, Cage has veered into supernatural action with films like "The Sorcerer's Apprentice" and "Season of the Witch," as well as taking on the role of Johnny Blaze, a.k.a. Ghost Rider from Marvel comics in the film of the same name, and numerous other action roles in the time since.