Morgan Freeman's Directorial Debut That You Likely Never Knew Existed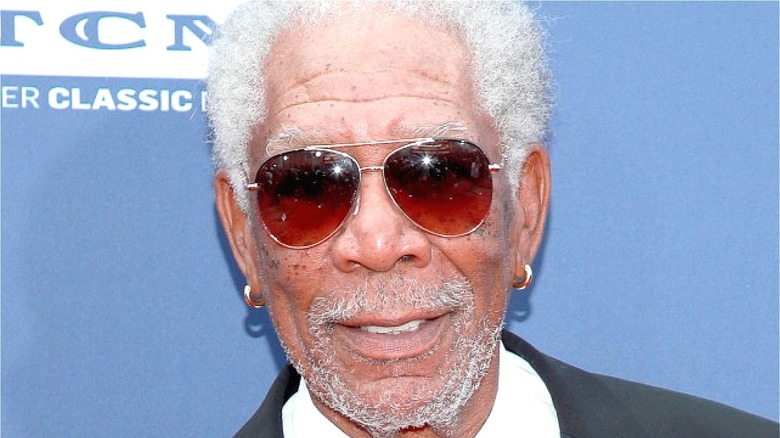 Rich Fury/Getty
Morgan Freeman is known for his acting chops over a long career, which has lasted more than five decades. That deep, sonorous voice, which has made him the narrator of choice for any number of fictional and non-fictional projects (think "March of the Penguins"), doesn't hurt. The list of awards he's won is imposing, as well, considering it includes one Academy Award and Lifetime Achievement Awards from multiple organizations, including the Screen Actors Guild (via Variety). His filmography includes many high-profile films from the past few decades, some of which have become indelible parts of the world's collective culture — think movies like "Driving Miss Daisy," "The Shawshank Redemption," "Glory," "Unforgiven," "Seven," and "Amistad." 
Freeman's status as an actor and producer of shows like "Madam Secretary" and "The Story of Us with Morgan Freeman" (and the tumult that has surrounded his personal life) has somewhat obscured the fact that back in the day, he also tried his hand at directing. Back in 1993, he was the director of a film called "Bopha!"
Bopha! had good to mixed reviews, but was a box office flop
Based on a 1986 semi-autobiographical play by Percy Mtwa, "Bopha!" takes place in an increasingly polarized apartheid-era South Africa. Danny Glover plays Micah Mangena, a Black police officer who finds himself increasingly at odds with his son, Zweli (Maynard Eziashi), who becomes part of an anti-apartheid group. 
Many critics liked — but didn't love — the PG-13 movie — Roger Ebert praised the fact that it viewed apartheid through a Black person's eyes and gave it 3.5 out or 4 stars. The Chicago Tribune called it "good, but a little disheartening" because "you want it to be better." And it clearly had its detractors as well: The Seattle Times said it was "well-meaning tedium" and a "surprisingly uninvolving drama." Today, the movie has an 82 percent Tomatometer Score and a 63 percent Audience Score on Rotten Tomatoes. 
The movie, which also starred Alfre Woodard and Malcolm McDowell and had Arsenio Hall as an executive producer, earned just $212,483 in theaters, according to Box Office Mojo, probably a result of the fact that it opened in just 26 theaters. Considering it cost a not insignificant $11.6 million to make (via the L.A. Times), you could fairly consider it a box office bomb. 
Morgan Freeman said he found filmmaking to be easier than he thought
Freeman later played down the effect his directing would have on the zeitgiest, saying he had no illusions that his film would change anything, and also said he found the experience in making "Bopha!" was less difficult than he might have expected beforehand. "It was a revelation to find out that, as a director, you don't really have that much to do," he told The Morning Call in 1994. "I have respect for directors, but what's the big deal? And that's what the best of them have always said. It's really not a big deal to direct, you just have to be there. Somebody has to keep it all aimed toward that one point on shore."
So why hasn't he done it again? Freeman has only directed a few times since, for three episodes of "Madam Secretary." While it might be tempting to think the lack of success of "Bopha!" was a factor in this, that doesn't appear to be the case.  He just isn't interested in directing, he told The Flashback Files in 2000. "Directing is not a career shift I'm trying to make. Having done it, I've satisfied myself that I can. If it falls to me to do it, I can. Or if a project comes my way that I want to do myself, I know I can."
His greatest hesitation, as he described it, was the sheer length of time it takes to serve as the director on a feature film, a process that demands much more than being an actor. "It's a year out of your life. A year. In a year I can do any number of things. Two movies and six months vacation. So, I'm not anxious to jump into it again, but it's always there."