The Classic Sci-Fi Movie That Earned Steven Spielberg His Only Writing Credit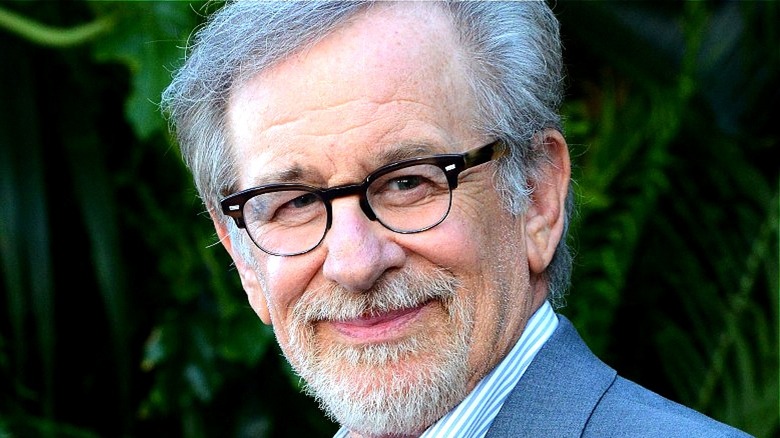 Albert L. Ortega/Getty
Steven Spielberg is one of the most venerated storytellers of the last century, with a directorial oeuvre that is incomparable in both artistic and commercial achievement. His visual storytelling is so strong that even his most ardent imitators usually find themselves unable to match it, and it might be the case that someone with as sharp a visual imagination as his might not do their best work on the printed page.
Unless you're intimately familiar with Spielberg's filmography, it would be reasonable to guess that he would have more than one sole writing credit over the course of his 50+ years as a filmmaker. But since his skills as a producer are so in demand, it's not really a surprise that Spielberg hasn't done much work in the screenwriting field. Only one film in history was written solely by Spielberg, and as it happens, it's one of the most revered science-fiction films ever made.
Spielberg wrote Close Encounters of the Third Kind
While Spielberg does have story or screenplay credits on a couple of films he didn't direct, like "The Goonies" and "Poltergeist," as well as on some of his own films, like "The Sugarland Express" and "A.I. Artificial Intelligence," only one film in his expansive filmography carries a single writing credit for Spielberg alone.
That would be "Close Encounters of the Third Kind," the 1977 film starring Richard Dreyfuss, Teri Garr, and François Truffaut (himself a master filmmaker in his own right). The movie was Spielberg's directorial follow-up to the massively successful "Jaws," and he took the opportunity to tell a personal story about one of his lifelong obsessions: the possibility of life in outer space and what could happen if that life were to visit Earth.
It's fitting, then, that "Close Encounters" would be Spielberg's only sole writing credit, and it's interesting to note that he's never attempted such a project since. Even his upcoming film "The Fabelmans," which will be based directly on his own childhood, will be co-written with frequent collaborator Tony Kushner (via Deadline). Clearly, as masterful as Spielberg is behind the camera, he prefers to have others with him behind the word processor.