The Worst Boss On The Office According To Fans
It's been quite a while since the series finale of "The Office," but the mockumentary series that chronicles the employees' lives at a failing paper company still resonates with viewers. "The Office," which aired for nine seasons on NBC and is currently available for streaming on Peacock, turned the mundanity and frustrations of working at a mediocre job into comedy gold.
Steve Carell played Michael Scott, the salesman-turned-regional-manager of Dunder Mifflin's Scranton branch. The self-identified "World's Best Boss" is racially insensitive, self-centered, lazy, a tad homophobic, often inappropriate, and at times, completely delusional. However, Michael's most cringeworthy moments are often forgivable, given his affection for his employees and his pitiful neverending quest for validation.
Perhaps, the only people more inept at their jobs than Michael are the corporate head honchos who constantly overlook his missteps and the colorful array of characters who tried to fill Michael's shoes throughout the show's final two seasons. If there were a Dundie for the "World's Worst Boss," the nominees would be as long as Michael's conference room meetings. Fans of "The Office" took to Reddit to debate the show's worst boss, and while there are some notable runners-up, one character seemingly stands out among the rest.
One fan called Robert California 'the worst'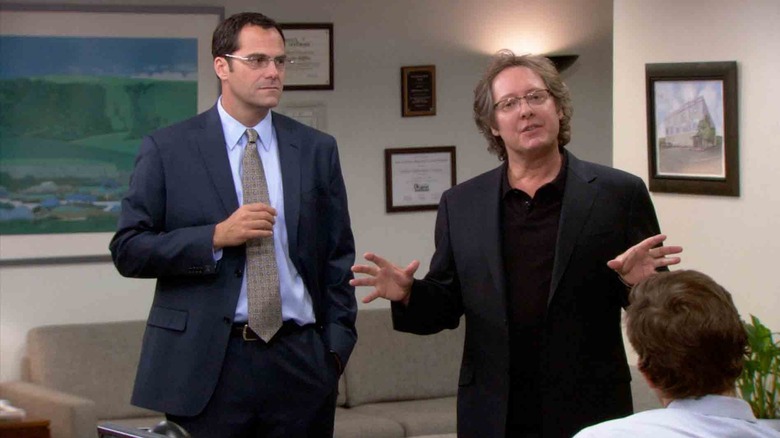 NBC
Robert California (James Spader) interviews for Michael Scott's position at the end of Season 7. He gets the job, but he sets his sights higher, mysteriously convincing Sabre CEO Jo Bennett (Kathy Bates) to give him her job. Although Robert appoints Andy Bernard (Ed Helms) as the new branch manager, he remains an enigmatic presence in the office throughout Season 8.
Although u/youenvymyusername didn't explain why Robert is "the worst," we can offer some examples of his questionable leadership. Robert pits the staff against one another when he comprises a list splitting them into "losers" and "winners," he holds a low opinion of his employees, his libido often rules his actions, he's condescending, creepy, weirdly manipulative, and he closes a branch on a drunken whim. Spader's Robert California is the middle-aged version of his "Pretty In Pink" character minus the linen suit and family fortune.
Not all fans agree that Spader's creepy California is the worst boss. "He [Robert California] is in my top 3 favorites next to Michael and Dwight," responded u/Dr_Polo. "The more times I rewatch the more I appreciate his character. Perfectly written and acted. He cracks me up," wrote u/crazyira-thedouche.
Most viewers agree Nellie Bertram is the worst boss on The Office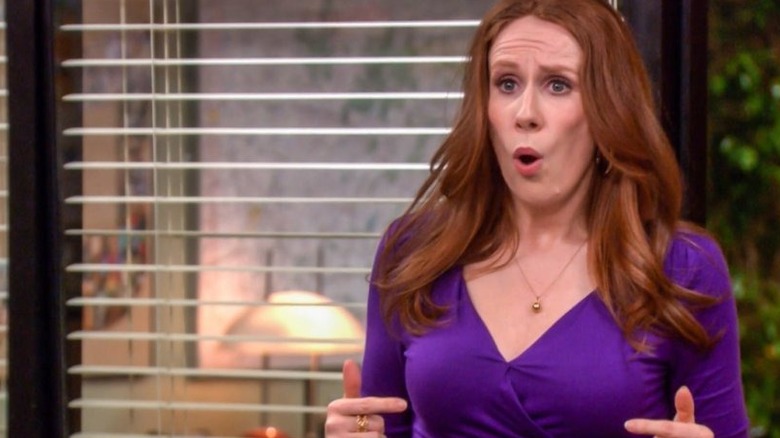 NBC
So, if not Robert California, who do fans think is the worst boss on "The Office?" Redditor u/JSTARR356 stated, "Andy and D'Angelo [sic] in no particular order." Sabre hires Deangelo Vickers (Will Ferrell) in Season 7 as Michael's replacement. During his short tenure, Deangelo's misogyny alienates all of the female employees. Meanwhile, Andy abandons his job for most of Season 9 to go sailing with his brother, returning for a short time only to quit again to pursue his dream of becoming a successful a cappella singer.
However, despite the bad behavior of the aforementioned bosses, most fans agree Nellie Bertram (Catherine Tate) is the absolute worst. "HATED Nelly," wrote u/OutOfSpite20. Nellie arrives in Scranton in Season 8, Episode 19, "Get the Girl." With Andy in Florida trying to win back Erin Hannon (Ellie Kemper), Nellie seizes the opportunity to steal his job. She even admits that's she's not qualified but bribes the employees with pay increases to buy their loyalty. Robert California allowing Nellie to usurp Andy is further evidence that maybe she is the worst boss after all. When Andy returns, Nellie refuses to back down, and she humiliates and undermines him at every turn. "Nelly by far is the worst. Adding her to the show didnt make sense to me," stated u/babe_ruthless3.