This Lone Ranger Scene Almost Put An End To Johnny Depp's Stunt Career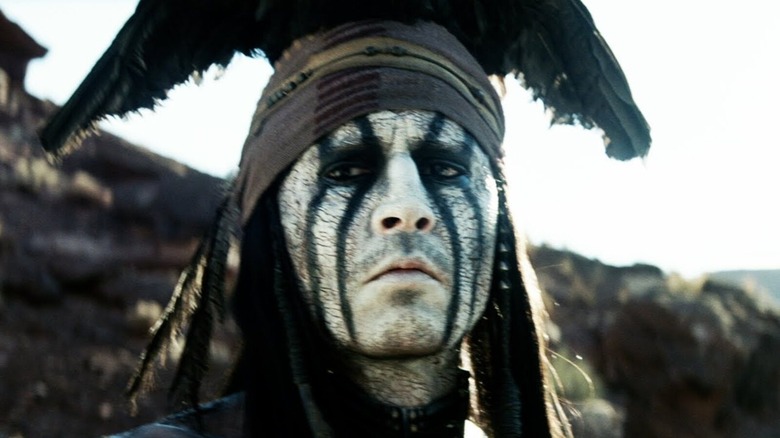 Disney
When one considers Johnny Depp's filmography as a whole, it's fair to say that he's had a pretty successful career. Since arriving on the scene in 1984 courtesy of the horror classic "A Nightmare on Elm Street," the enigmatic actor has gone on to star in a slew of critically acclaimed classics and massive blockbusters, including "Fear and Loathing In Las Vegas," the "Pirates of the Caribbean" franchise, and the majority of Tim Burton's directorial efforts. Of course, like most performers with longevity in Hollywood, Depp has also starred in some cinematic failures that people would rather forget about.
2013's "The Lone Ranger" is a movie that won't go down in history as one of Depp's finest hours. As Variety notes, Disney and Jerry Bruckheimer hoped the Western would spawn a franchise and pull in a younger audience. Depp's Tonto character was supposed to be the new Jack Sparrow. Unfortunately, those plans never came to fruition as "The Lone Ranger" bombed at the box office (via The Numbers) and received mostly negative reviews (per Rotten Tomatoes).
To make matters worse for Depp, filming the movie was a huge risk to his acting career — and not because it was poorly received. "The Lone Ranger" required the veteran actor to get physical during the shoot, and one action sequence didn't go according to plan.
Johnny Depp fell of his horse while shooting The Lone Ranger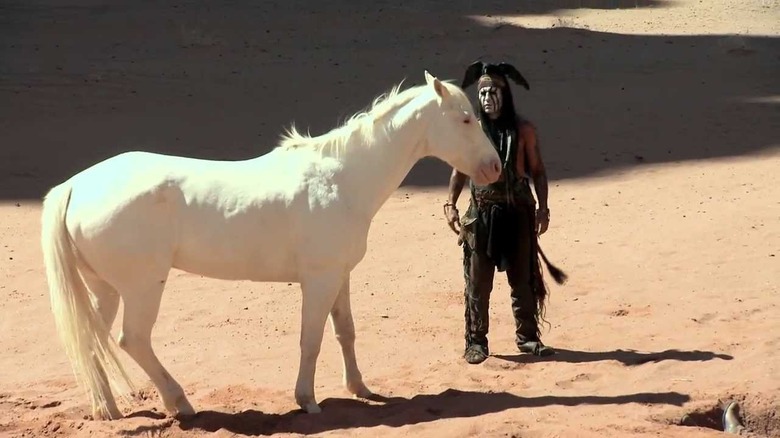 Disney
What's a Western without some good old-fashioned galloping through the high plains? As is the tradition with movies of this ilk, "The Lone Ranger" required the cast to ride horses to bring the high-speed action sequences to life. Johnny Depp was up for the challenge, but one outcome was a neigh, as opposed to a yay.
A video released by Entertainment Tonight shows the actor falling off his horse while shooting a scene, though he didn't seem too fazed by the accident at the time. When asked what was going through his mind as he hit the ground, Depp revealed that it was an "adrenaline-filled moment" and there was "no fear whatsoever" as a result.
That said, the actor noted that it could have been much worse. "I was very lucky. Because it could've been horrific," he added. "So, I just stood up, and had a couple of cuts, a couple of bruises, and that was it."