Why Spider-Man Fans Can't Stop Watching This Viral Tom Holland Interview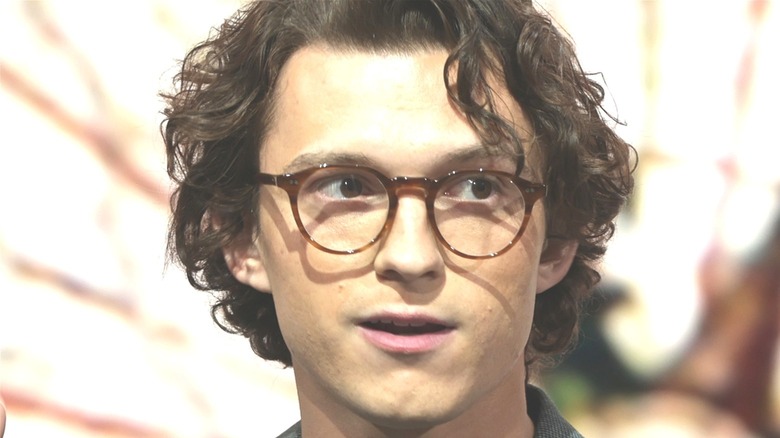 Alex Wong/Getty
"Spider-Man: No Way Home" — the third installment by director Jon Watts with Tom Holland as Peter Parker — was released to theaters in December of 2021. Picking up where 2019's "Spider-Man: Far From Home" left off, this film finds Peter reeling from the public finding out about his identity as Spider-Man. Looking to return to normalcy, Peter asks Dr. Strange (Benedict Cumberbatch) to use magic to restore the secret. However, in the process, the two accidentally open the multiverse, letting in villains from other realities who have fought Spider-Men of franchise's past. 
Considering that this film brings back a slew of fan-favorite heroes and villains from previous installments, "No Way Home" was bound to be a much-talked-about commercial success. In fact, at the time writing, "No Way Home" has amassed over $1.7 billion worldwide — a number that will only increase, seeing as the film is still playing in theaters (via Box Office Mojo). Such a huge box office haul is quite hard to wrap one's head around. As it turns out, that's true even if you're the star of the film.
In a recent interview for his upcoming new movie, "Uncharted," Holland himself expressed some disbelief over the success of "No Way Home," and his reaction has fans rewatching the interview clip over and over.
Fans love Tom Holland's shocked interview reaction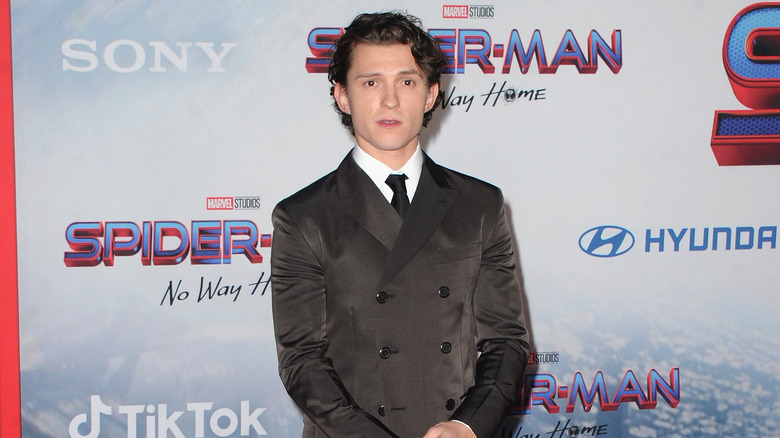 Albert L. Ortega/Getty Images
In a recent interview with BackstageOL, the interviewer tells Tom Holland that "Spider-Man: No Way Home" is "this close" to becoming "the biggest movie of all time." When Holland says they have quite a ways to go until they reach that feat, the interviewer responds that they are "20 million away domestically" from reaching what 2009's "Avatar" made. While the interviewer's statement isn't entirely accurate — "No Way Home" is nipping at the heels of "Avatar" in the U.S., but it is still over $1 billion away from catching up to its worldwide box office total (via Box Office Mojo) — Holland's reaction is priceless: stunned, he completely freezes up, his mouth making a small O, and his eyes going wide. Naturally, fans are loving the reaction.
After Discussing Film posted the clip to Twitter, fans swarmed the comments to give their take on Holland's hilarious reaction. One fan, @empireAlC, posted a shorter clip that zooms in on Holland's face, and wrote, "Meme worthy reaction." Another fan, @Ray10F04, made a joke about the way Holland froze up, writing, "They had to speed up the end of the video just to show him move." Another fan, @Swansong0110, reiterated what everyone was thinking, writing, "The gentleman was too stunned to speak." Several more posted close-up shots of Holland's shocked face for emphasis.
Additionally, several fans figured out that the interviewer's comment was wonky, prompting one, @minospw, to write, "Aww Imagine how sad he's gonna be when he finds out that's false."
All in all, most fans would definitely agree that, even though the interviewer's statement was misleading, it was worth seeing Holland's utterly surprised expression that provided some truly meme-worthy material.