John Krasinski And Emily Blunt Run A Magical Circus In Animal Crackers Trailer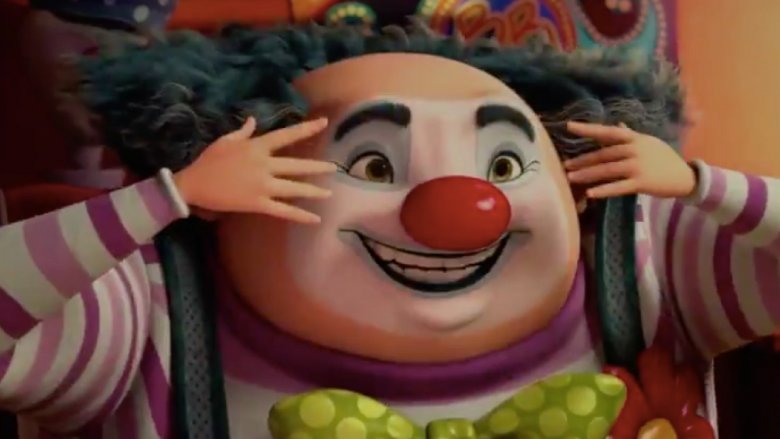 Emily Blunt and John Krasinski are the new purveyors of a magical circus in the first trailer for their upcoming animated comedy Animal Crackers. The movie stars Blunt as Zoe and Krasinski as Owen, a couple who is bequeathed an old traveling circus by their distant relative Chesterfield (Danny DeVito). Things become even more complicated when Chesterfield gives them a box of animal crackers which has the power to turn anyone who eats one into the animal the cracker shows.
The trailer, which you can watch below, begins with Owen getting tired of his current job, in which he tastes dog biscuits at the company run by Zoe's father. As Chesterfield notes, both he and Zoe work too hard, but he has just the thing to fix it– the circus. "This is what we've always wanted," Zoe says.
Owen doubts the power of the box of crackers when Chesterfield first gives it to him, but he quickly realizes that it really is special as he is turned into a guinea pig. (A human-shaped cracker later turns him back.) The crackers end up coming in handy when Owen and Zoe's first circus performance goes wrong, with the audience not responding to the clowns and acrobats the clowns bring on stage. 
At the behest of his daughter, Owen eats one of the crackers, turning himself into a horse and later a fish as he dives into a bowl as part of the trick. "They say the circus is a lot like a family," says Chesterfield. "But every family needs that special something that holds it all together." 
Ian McKellen, Sylvester Stallone, Patrick Warburton, Raven-Symone, and Gilbert Gottfried also star in the film, which was directed by Scott Christian Sava (Mighty Morphin Power Rangers) and Tony Bancroft (Mulan) based off a script from Sava and Dean Lorey (Arrested Development). The film is set for a Sept. 1 release; while we wait, see all of the other movies that will blow you away this summer.
Exclusive 'Animal Crackers' trailer: Emily Blunt, @JohnKrasinski inherit a magical circus https://t.co/1ZswriCjZV pic.twitter.com/sFRP2Ezv8q

— Hollywood Reporter (@THR) July 18, 2017