The Stand By Me Reference You Missed On Rick And Morty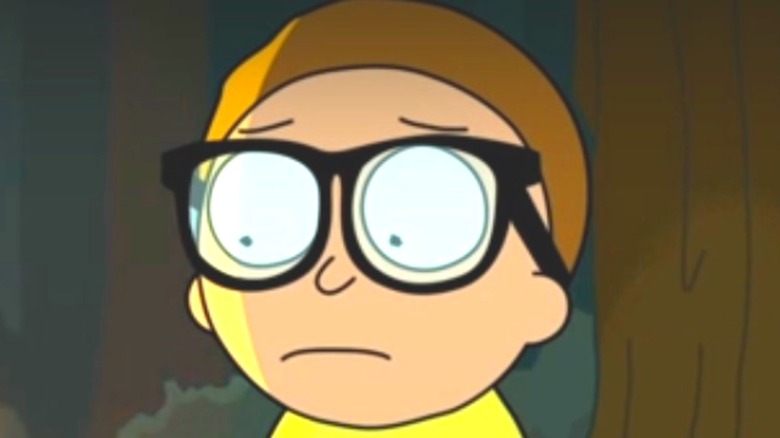 Adult Swim
Justin Roiland and Dan Harmon's animated series "Rick and Morty"  has taken on many aspects of pop culture in its time. The series itself is a play on a beloved sci-fi franchise, as Rick and Morty are incredibly heightened versions of characters in "Back to the Future." Though Rick is a selfish alcoholic as opposed to an eccentric doctor, Rick and Morty are clearly influenced by Doc Brown and Marty McFly.
From Rick and Morty encountering the Purge planet to setting up their own heist, there is no territory that the Adult Swim show is not afraid to tread. Many episodes require knowledge about some previous property, though some are more obscure than others. The show's writers seem to appreciate the properties of Stephen King, having crafted "Rick and Morty" content that is a direct reference to "Needful Things" and even "The Langoliers." But one reference is far more subtle than its predecessors.
Tales From the Citadel weaves a moving coming-of-age story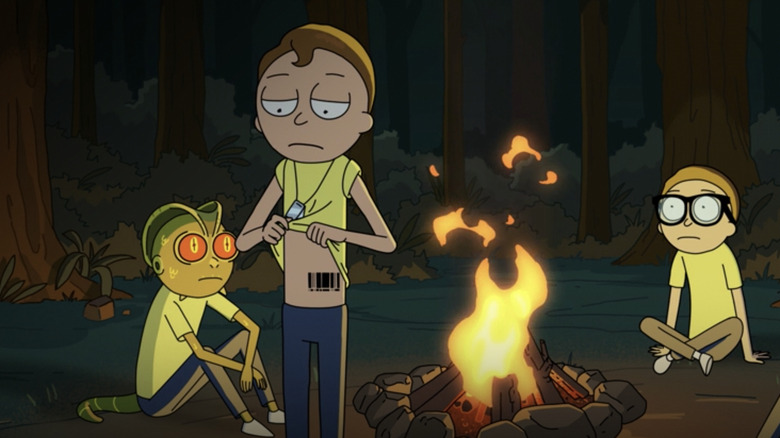 Adult Swim
"Tales From the Citadel," otherwise known as the "Ricklantis Mixup," is an impressive storytelling device. Nerdist even calls it the best episode of Season 3, and it is not hard to see why. The episode takes place on the Citadel of Ricks after our versions of Rick and Morty have essentially torpedoed their way of life. The episode follows three different stories that connect in profound ways.
One story features four boys attempting to graduate from their school and get assigned to Ricks that will send them on adventures. As they bond, they discover each other's trauma. Lizard Morty's past Rick melded his DNA with that of a lizard. The leader of the group is a cool Morty named "Slick" who was part of an experimental program that gave a group of Mortys a drama implant. It makes Slick melancholic, not believing that life can be better on the Citadel of Ricks. The subplot is essentially a coming-of-age story where the group of Mortys learns life lessons. Stephen King often depicts nostalgic stories about coming to terms with life, but there is one more thing that connects this story to "Stand By Me."
The Mortys are the boys from Stand By Me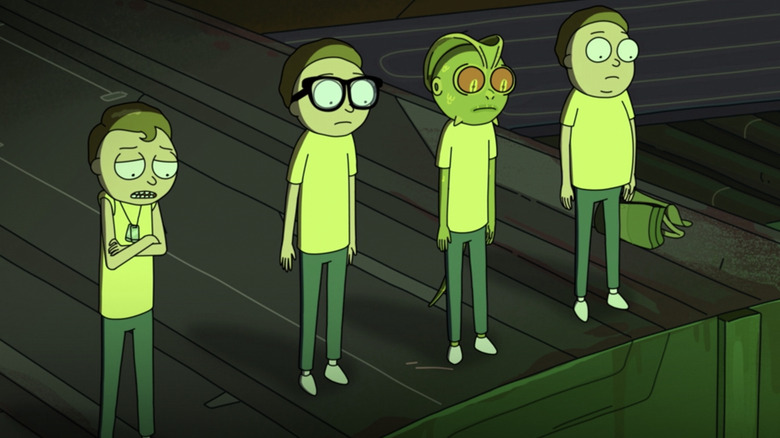 Adult Swim
Stephen King's short story collection "Different Seasons" contains many stories that have come to be well known. This is the collection that "The Shawshank Redemption" and "Apt Pupil" were adapted from. But it also contains the source material for Rob Reiner's film "Stand By Me." Originally entitled "The Body," the story depicts four friends who go on a journey of self-discovery while searching for a rumored buried body. The film became renowned and continues to be Certified Fresh on Rotten Tomatoes. This is due to the resonant themes including young people being failed by the adults in their lives. 
This is not unlike the four Mortys in "Tales From the Citadel." The Mortys are archetypes ripped straight from "Stand By Me" right down to their appearances. Slick is a reference to the cool factor that River Phoenix brought to his character, Chris Chambers. Glasses Morty is a visual copy of Corey Feldman's Teddy Duchamp. Meanwhile, Lizard Morty is seemingly a stand-in for Wil Wheaton's Gordie Lachance, while the heavyset Left-Handed Morty looks physically similar to Jerry O'Connell's Vern Tessio. The "Rick and Morty" episode evokes similar feelings of loss, and in some ways, is just as moving as the film.