Why Creator Geoff Johns Changed The Tone Of DC's Stargirl In Season 2
Proudly hosted on DC Comics' streaming service and The CW, "Stargirl" is a popular television series created by legendary DC mega-boss Geoff Johns, who also forged the comic book version of the character in the late 1990s. Based on his sister who tragically died during TWA Flight 800 in 1996, the character of Stargirl is relentlessly upbeat, caring, and born to be a hero, although she can be somewhat reckless at times. She is a potent athlete in her own right, but once she is outfitted with the Cosmic Staff and Belt, she has access to powers that include flight and energy manipulation and projection.
Johns is an immediately recognizable writer, director, and producer that has been crucial to DC Comics over the past decades, having been responsible for several comic book properties gaining in popularity, like "Green Lantern," while also aiding in the production of recent DC Comics' movies like "Batman v Superman: Dawn of Justice," "Suicide Squad," "Birds of Prey," "Wonder Woman," "Aquaman," and "Justice League." Not only has he worked on DC movies, but also on their shows as well, having co-developed "The Flash," "Titans," "Doom Patrol," and of course, "Stargirl." Speaking of the latter series, astute fans of "Stargirl" may have noticed a change in tone going from Season 1 to 2, but there is a method to the madness, according to Johns.
Geoff Johns was inspired by horror films from his childhood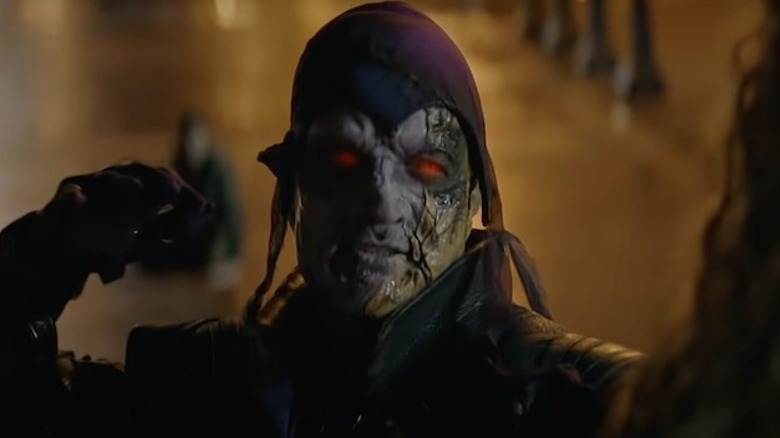 The CW
Courtney Whitmore (Brec Bassinger) first appeared in "Crisis on Infinite Earths," which was an Arrowverse-centric crossover inspired by the DC Comics event of the same name. The 1st season saw a format similar to other DC Comics properties, but the 2nd season chose to instead focus on summer break, with each episode considered part of the "Summer School" arc with members of the freshly formed "Justice Society of America" still trying to figure out their place in the world and the team, while the threat of Eclipso (Nick Tarabay) hangs heavy.
In an interview with Entertainment Weekly, Geoff Johns said he wanted to establish the change in tone right from the start of Season 2. "That first scene was purposely at the top and mysterious and both specific and vague at the same time because I wanted everyone to know there's a tonal shift this season," he said. "This season we're leaning in more to things that inspired me when I was a kid like '[The] Lost Boys' or 'Nightmare on Elm Street' or 'Young Sherlock Holmes,' which is a movie no one knows, but I loved it when I was a kid because it was a little scary." 
Blending the cosmic and divine origin of the Eclipso character and others with horror elements paid off by netting "Stargirl" Season 2 an impressive 100% critic score on Rotten Tomatoes and further cementing the popularity of the show.