Awesome Movies You Didn't Know Were Continuing With A New TV Series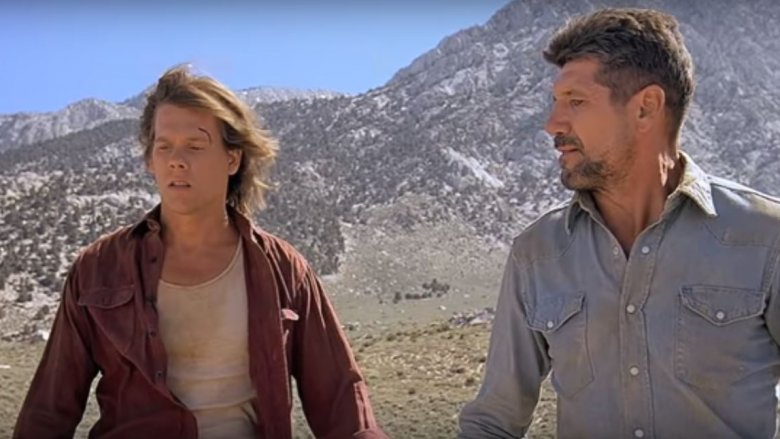 Once in a while, fun flicks like Fargo or Buffy the Vampire Slayer become well-crafted television series, which successfully build on their unique worlds and characters. So wouldn't it be great if cult classics like Tremors and Heathers were made into TV shows? Get ready to be excited. Here are a few cinematic favorites headed to the small screen. 
John Wick (2014)
Featuring the whoa-ness of Keanu Reeves, the acrobatic cinematography of co-directors Chad Stahelski and David Leitch, and a lot high-octane action, John Wick was the surprise hit of 2014. The story centers on the titular character, a retired assassin pulled back into the fold, thanks to some jerky, dog-killing thugs. As a result, Reeves' hitman turns the revenge factor up to 11 and brings his gun-fu to bear on his fellow ruthless if regulated assassins, then does it again in Chapter 2. Fans awaiting Chapter 3, which is currently in development limbo, are in for another treat: Mr. Wick, or at least the world around him, may be headed to a nearby TV screen.
Currently titled The Continental, the series will be a prequel, at least according to co-director Stahelski. He and Wick co-writer Derek Kolstad are working on a TV presence based on the eponymous hotel, which served as safe ground for the films' high-flying hitmen. The show will feature other branches of Continental around the world and explore what Stahelski calls the "Wick-ian, magical, and mysterious world of the titular hotel." The series would also give the co-director a chance to flesh out the curious cast of curious characters, with Stahelski even suggesting Reeves might drop by, if only for a moment. 
At present, the adaptation is in its earliest stages.
The Purge (2013)
Low-budget fear filmmakers Blumhouse Productions stumbled onto a successful premise with The Purge. Moviegoers sated their own blood lust by visiting the repressive, near-future society—whose citizens get 12 murder-filled hours every year to take out their neighbors. Written and directed by James DeMonaco, the franchise spawned two follow-ups, Anarchy and Election Year, pulling in over $300 million worldwide on a total budget of $22 million. With a fourth installment hitting theaters in 2018, Syfy and USA realized the dystopian land also lends itself well to world-building—something fans can soak up while awaiting the next sequel.
Deadline notes that franchise creator DeMonaco will executive produce the series, alongside production partner Sebastien K. Lemercier, with Tom Kelly as showrunner. Unlike the grim movies, which depict the "Purge Days," the series would feature the "other 364 days of the year and how the law affects people," according to Jason Blum of Blumhouse. With an intriguing world to flesh out, each episode of Purge should give fans plenty of dystopia to explore.
Currently, the series is still in its exploratory stage.
The Italian Job (1969)
The 1969 heist classic, starring Michael Caine as Charlie Croker, is a tightly wound movie about a clutch of thieves who, unsurprisingly, put together a major haul in Italy. Famous for its use of Mini Coopers as well as its sizable cast, which also included Noel Coward and Benny Hill, the film was remade in 2003. Keeping the revenge and money modus operandi, Mark Wahlberg played the shifty conman, with Charlize Theron portraying the safe-cracking daughter of their murdered "colleague." 
Years later, The Italian Job stole the curiosity of Paramount TV and NBC. As Deadline reported, Entourage producer Rob Weiss and Benjamin Brand are scheming up a series, along with remake producer Donald De Line. The TV show will change things up a little, though, as head crook Croker winds up in the pokey, and it's up to his "family" members to bust him out again—shades of Prison Break. Considering the exotic locales and explosive action of its cinematic namesakes, the episodic endeavor has some sizable loafers (and hopefully a big budget) to fill.
It's likely just a matter of time before Charlie Croker gets his TV score together.
Snowpiercer (2013)
Ever wondered what life is like aboard a massive, despotic train that circles a frozen world? If so, the 2013 film Snowpiercer should've sated your curiosity. The imaginative Korean-Czechoslovakian co-production, directed by Bong Joon-ho, starred Marvel Cinematic Universe alums Tilda Swinton and Chris Evans. Set in the ecologically devastated future, the dystopian actioner centers on Evans, who plays a lower-echelon caboose section passenger. Fed up with the iniquity around him, he brings the fight to first class, where the elite live in opulence.
Fans of the sci-fi thrill-ride are in luck, since Deadline reported on a TNT deal in 2015. Now running full steam ahead, the Snowpiercer series is guided by Josh Friedman, who also worked on Fox's short-lived Terminator: The Sarah Connor Chronicles. The adaptation will chug along with some star-power, as Doctor Strange director Scott Derrickson is helming the pilot and Oscar-winner Jennifer Connelly is leading the cast. The action will commence a few years after weather-control failure that kicked off the really long train ride. The series will also explore the sociopolitical ramifications of the environmental calamity and its train-based totalitarian regime.
The railroad class war is slated to air sometime in 2018.
In the Line of Fire (1993)
In the Line of Fire proved Clint Eastwood could still tear it up with the best of the action-hero set. The once-Dirty Harry plays former Secret Service agent Frank Horrigan, who suffers from a guilty conscience after President John F. Kennedy is killed on his watch. Fortunately, he gets an opportunity to redeem himself, since John Malkovich's ex-CIA agent plots to assassinate the current U.S. President. Although somewhat predictable, the suspenseful feature faded from pop culture for nearly two decades, at least until recently.
As Deadline reported, CSI producers Carol Mendelsohn and Josh Berman want to refurbish Wolfgang Peterson's thriller for NBC. The series would expand upon the film's premise, as two Secret Servicepersons investigate a rogue CIA agent trying to take out the POTUS—apparently, the agency's psych-checks aren't what they used to be. At the moment, the pilot remains in production limbo. But with the right cast and crew, the series could return to active duty.  
The Departed (2006)
In 2006, Martin Scorsese adapted Andrew Lau and Alan Mak's corkscrewing loyalty tale, Infernal Affairs, into the Boston mob thriller, The Departed. As Mic related, the remake was loosely based on the relationship between crooked federal agent John Connolly and mob boss Whitey Bulger. Scorsese's crime drama featured Matt Damon, Jack Nicholson, Leonardo DiCaprio, and Mark Wahlberg and landed four Oscars, including Best Picture and Director. Fans of the critically lauded picture will be excited to know that The Departed is coming to the small screen.
As reported by Deadline, Jason Richman—the talent behind Detroit 1-8-7—will write the pilot, which was picked up by Amazon Studios. The series will switch locales, from Boston to Chicago, but retain similar themes to its source material. Much like the film, a cop has to infiltrate a street gang to stop a brutal drug war. Meanwhile, a gang member worms his way into the Chicago PD to give his crew a leg up. Each episode centers on their undercover struggles, as their duplicitous worlds tighten around them.
So far, Amazon Studios hasn't set a release date. 
The Last Starfighter (1984)
Director Nick Castle and writer Jonathan Betuel first brought The Last Starfighter to the big screen in 1984. In the film, Lance Guest plays video game junkie Alex Rogan, whose arcade skills enabled him to pilot a "real starship" and take down an intergalactic empire. To make his space opera, Castle made extensive use of early computer generated imagery, in addition to practical effects. Apparently, innovation remains key to the franchise, since Betuel announced recently that he was developing a Starfighter series set in a virtual reality world. 
As Variety noted, Betuel partnered with VR developers Andy Vick and Rick Rey to fashion Starfighter Chronicles into a VR series. Since then, Tech Times also reported that Preacher creators Seth Rogen and Evan Goldberg—who'd long been interested in adapting the cult film—were developing a series called Future Man for Hulu. Starring The Hunger Games' Josh Hutcherson, the show's plot sounds very familiar, as it revolves around a professional gamer who realizes he's being trained for space combat. 
The race to create a Starfighter-inspired series, though, seems to be stuck at the gates. Neither group has announced any forward momentum on either adaptation. With VR applications in their infancy and Rogen and crew neck-deep in other projects, it's anyone's guess as to which TV series soars into the cosmos first.
Single White Female (1992)
Brimming with sultry, soap opera intrigue, Single White Female helped to define the late '80s and early '90s as a hotbed for psycho-thrillers. In the Gen-X drama, Bridget Fonda's Allie has a falling out with her boyfriend and seeks a roommate in the local free weekly—the Craigslist of the day. Unfortunately, she winds up with Jennifer Jason Leigh's Hedra, the ultimate murderously co-dependent roommate. The minor classic later landed a direct-to-video follow-up, Single White Female 2: The Psycho. Like a thriller trope, though, the franchise is set to pop up for one more scare.
According to The Hollywood Reporter, NBC has expressed interest in revisiting the tense living situation. Sony's TriStar Productions has committed to a pilot, with Eric Garcia writing and producing. The update will also relocate the antagonistic gals from New York to San Francisco. And, to keep things fresh, the roomies won't have quite the same binary moral code. Nutty Hedra will still set her sights on mild-mannered Allie, but it sounds like the wealthy professional has an agenda of her own. Naturally, their complex relationship will only devolve from there, in an appropriately melodramatic fashion no doubt.
At present, NBC hasn't updated the status of Single White Female, so keep those butcher knives and ice picks on standby.
The Dark Tower (2017)
The Dark Tower finally brings Stephen King's western-fantasy epic to the big screen. His struggle between good and evil, embodied by Idris Elba's Roland Deschain and Matthew McConaughey's Man in Black, acts as the linchpin to the author's sprawling multiverse. Building momentum through eight books, a novella, and a comic series, the overarching tale is so vast that no single movie, much less a series of films, could adequately cover it. Fortunately for King buffs, a television series is already in the works in addition to the 2017 film.
Plans for a TV-movie shared universe, built around the Tower saga, have made the rounds for years, but remain in production limbo, though, at least until the feature film gains momentum. In a recent TV Guide interview, director Ron Howard allayed fears about the companion series, claiming that, while there's no "commitment on the television side" yet, a major box office coup should start the networks drooling. After all, The Dark Tower franchise is potentially limitless. Presuming the series comes together, Howard teased a crossover with some of the film's actors, including Elba and Tom Taylor's Jake Chambers.
Heathers (1988)
To a generation of misfits, few films embodied teen angst fantasies like Heathers. Picking up on the darker threads of John Hughes' Reagan-era teen culture, loser kids J.D. and Veronica enacted the ultimate revenge on their uber-popular tormentors, the Heathers—played by Shannon Doherty, Kim Walker, and Lisanne Falk. While the '80s fashion on display comes and goes, the film's twisted wit still resonates with cult cineastes everywhere, who are probably curious about the tubular flick's upcoming TV makeover.
Variety originally reported that TV Land was developing an anthology series based on the film. Later, the revamp was reshuffled to the soon-to-be christened Paramount Network. Jason Micallef, who penned the pilot, will also act as showrunner, and plans on switching things up with the characters. The episodic "Heathers" will become the outcasts: the new clique is made up of Brendan Scannell's gender-queer Heather "Heath" Duke, Jasmine Mathews' black lesbian Heather McNamara, and Melanie Field's Heather Chandler. No word on how J.D. and Veronica will terrorize/be terrorized by the mono-monikered crew, but Shannen Doherty will make an appearance in an unspecified role.
The re-imagined Heathers already landed a ten-episode commitment and should launch alongside the Paramount Network next year. 
The Lost Boys (1987)
Director Joel Schumacher—yes, the Batman & Robin guy—blended teen heartthrobs Corey Haim and Corey Feldman with a poppy soundtrack, and then threw in a batch of bad-to-the-bone, mullet-sporting vampires, to create his horror-comedy classic The Lost Boys. When the Emerson family relocates to Santa Carla, they discover that California isn't quite so sunny, thanks to all the local bloodsuckers. When eldest son Michael falls in with a gang of blood-addicted hooligans, the family pulls together, with the help of horror hounds the Frog Brothers, to release him from their spell. After two unnecessary sequels, though, The Lost Boys seemed lost to the direct-to-video world, at least until recently.
According to Collider, the kitschy parasitic classic is flying onto the small screen, under the guidance of television creator extraordinaire Rob Thomas—best known for Veronica Mars and iZombie. Thomas noted that he's most interested in recapturing Schumacher's Peter Pan meets vampires feel, while downplaying the film's somewhat binary morality. For him, the creatures of the night aren't necessarily the villains, as much as the temptation of eternal youth—an appropriate theme for So-Cal. Thomas also mentioned that each season could feature one of numerous vampire enclaves scattered around California.
If Spoiler TV's casting call slip is legitimate, The Lost Boys series is already in progress—so start growing those undead mullets.
She's Gotta Have It (1986)
Spike Lee's acclaimed introductory picture, She's Gotta Have It, cost less than $200,000 to produce and made nearly $7 million at the box office. The 1986 film treated viewers to a generally upbeat black experience and introduced the world to Lee's powerful storytelling. It also established a new generation of black voices—with future director Ernest Dickerson acting as cinematographer on the feature—and gave indie films more credibility during an era dominated by blockbusters. The modern classic follows freewheeling gal Nola, as she deals with life's travails, including three very different suitors. She's Gotta Have It also tackles issues of sexuality, femininity, and black culture, without losing its relatively lighthearted touch.
According to The Hollywood Reporter, the acclaimed film transforming into a Netflix show. Lee's first venture into long-form television is co-produced by his wife, Tonya, who also conceptualized the adaptation. Like the movie, the streaming series centers on DeWanda Wise's Nola, an artist navigating her way through modern life and romance—and once again juggling three lovers. The first teaser-trailer was recently released and production should wrap up soon.
Netflix plans to release She's Gotta Have It on Thanksgiving Day, November 23, 2017.
Tremors (1990)
The original Tremors stranded Kevin Bacon, country singer Reba McEntire, and Michael Gross in the wilds of Nevada, pitting them against gigantic, animatronic sandworms (or "Graboids"). Beneath the goofy sci-fi tropes, director Ron Underwood crafted a taut desert thriller, which also explains its strong cult following. Fans of the campy bug-hunt are clearly hungry for more, since a sixth, presumably direct-to-video sequel is slated for release in 2018. With that kind of devotion, developing a TV series just makes sense.
Technically, the upcoming Tremors series is the franchise's second televised outing. A short-lived 2003 serial scraped its way through a season at Syfy, back when it was spelled Sci-Fi. According to Cinema Blend, the latest show has wriggled away from streaming service Amazon, winding up at Syfy once again. Best of all, Kevin Bacon will reprise his role as Valentine McKee, for the first time since the original, and also serve as an executive producer. As the update mentioned, McKee's first round with the Graboids pushed him inside a bottle. For the latest entry, he'll have to deal with his own psychological issues, in addition to his worm-killing duties.
The newest Tremors is still in the pilot stage, but a strong script and backing from Bacon should help it squirm into Syfy's regular lineup. Elephant guns at the ready.