Game Of Thrones Star John Bradley Talks Filming Premiere's Grossest Scene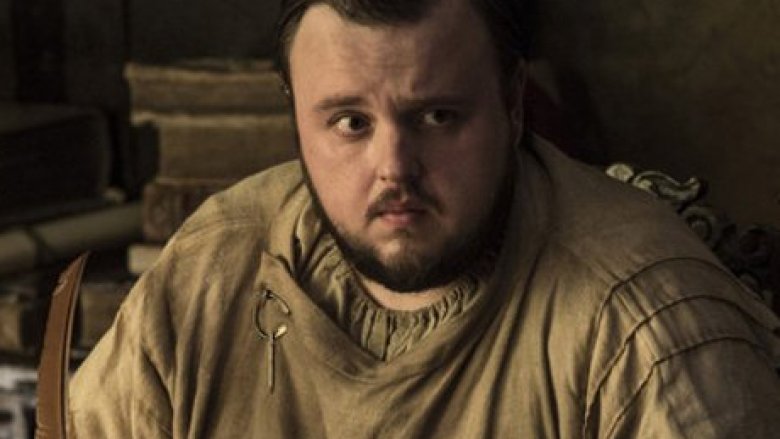 Warning: This post contains spoilers for the season seven premiere of Game of Thrones. 
In the newest episode of Game of Thrones, Samwell Tarly was down in the dumps. Literally. 
The season seven Thrones premiere featured perhaps one of the filthiest scenes in the show's history—and that's saying quite a lot given the blood-and-guts-filled moments of episodes past. In a gag-inducing montage, "Dragonstone" zoomed in on the not-so-riveting responsibilities Sam must take care of in the Citadel—namely tending to infirmary patients by cleaning out their bedpans, which double as bowls for residents' food. 
John Bradley, the actor who plays Sam on the show, sat down with The Hollywood Reporter to talk about his experience shooting that stomach-churning sequence, which took a whopping five days to complete. 
"It was quite a long time shooting it... we're talking about 50 or 60 hours of shooting all of that. It was quite an experience, really. For the first time in my career on the show, I was completely alone," Bradley said. "It was weird to be working so closely with the director and shooting that sequence in these five second bursts. It was kind of strange, just making sure you got those tiny little microscopic five second moments in the can, and then hand it over to the editors to stitch it into the montage that it became." 
Thankfully, the long hours spent scrubbing out dirty bedpans wasn't quite as disgusting as it could have been, Bradley explained. "We didn't use real human waste. It was one step down on the unpleasantness scale. We used wet fruit cake, for all of the... I don't know you say it politely," laughed the actor. "That was wet fruit cake. It smelled fine, but shooting under lights for 13 hours or so, it can get a little nasty."
In fact, Bradley's memories of filming the sequence are actually sort of heartbreaking when considering the circumstances. "While I was shooting that scene, everybody else on the cast was at the Emmys [in 2016]... everybody said, 'The cast has to go to the Emmys for a week. Which is the story that can take care of itself?' So I was left completely alone scrubbing toilets for a week while they were on the red carpet. It's hard enough to take as it is, but then watching my friends and colleagues having fun out there? It's a lot worse," said Bradley with a laugh.
Overall, Bradley took the experience in good spirits, stating that it was a memorable moment and a "real treat" to have such a unique set piece for the first episode of season seven. Hopefully things look up for Sam as the season continues.
Until the next episode of Game of Thrones airs on HBO, find out why Sam is even more important than we originally realized.