Who Plays Cad Bane In The Book Of Boba Fett Chapter 6?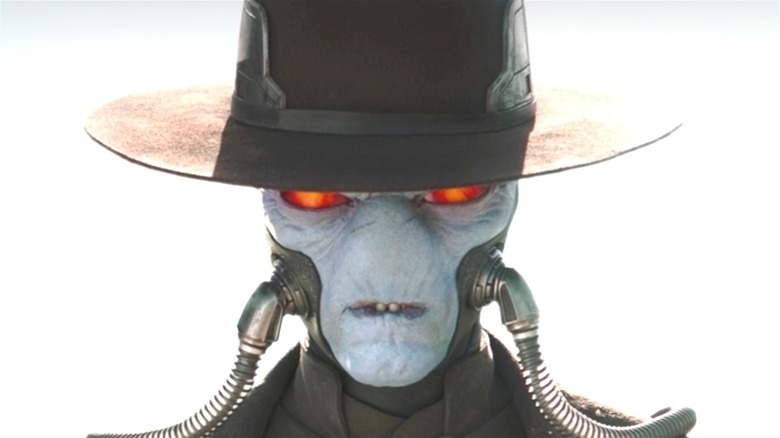 Lucasfilm/Disney+
Contains spoilers for "The Book of Boba Fett" Chapter 6
"Star Wars" aficionados are always on the lookout for cool cameos and nods to the grander scheme of things, and between "The Mandalorian" and "The Book of Boba Fett" they have no shortage of either. Still, was anyone truly prepared for what "The Book of Boba Fett" Chapter 6 throws at viewers? The episode is a non-stop festival of extremely high-profile guest stars and cameos, as Luke Skywalker (Mark Hamill), Grogu the "Baby Yoda," Ahsoka Tano (Rosario Dawson), Din Djarin (Pedro Pascal), and even Cobb Vanth (Timothy Olyphant) make glorious appearances.
While the episode features plenty of Luke, Ahsoka and Grogu's Jedi antics, the impeding battle between Boba Fett's (Temuera Morrison) organization and the Pykes is the more immediately impactful plotline — and, as Vanth finds out to his misfortune, the enemy now have the dangerous Cad Bane on their side. 
A veteran of "Star Wars: The Clone Wars" and "Star Wars: The Bad Batch," Bane is a feared Duros bounty hunter with a neat Western theme, ruthless demeanor, and such great fighting skills that he can battle skilled Jedi masters. The inclusion of this ice cold killer character in the live-action "Star Wars" universe is a pretty big deal — but who plays him in "The Book of Boba Fett?" 
Voice actor Corey Burton has an extensive resume
It's only natural that Cad Bane's iconic voice actor, Corey Burton, once again provides the instantly recognizable voice of the bounty hunter in "The Book of Boba Fett." Burton is a seasoned vocal talent whose first credited performances date all the way back to 1979, and who has been voicing numerous legendary characters over the decades. 
In the 1980s, he voiced Lizard in the animated "Spider-Man" show, Tomax in "G.I. Joe." You recognize him as a whole bunch of robots and people in various "Transformers" shows — including Megatron himself as well in the late-2000s "Transformers: Animated." He's the guy behind that creepy high-pitched voice The toon form of Judge Doom (Christopher Lloyd) uses in "Who Framed Roger Rabbit?" He's Disney's go-to voice actor for numerous roles, including Ludwig Von Drake, Professor Owl, and until recently, Dale from "Chip 'n' Dale Rescue Rangers." He's voiced Brainiac in multiple DC animated shows. You get the idea — the guy is as prolific as it gets.  
If all of that wasn't enough, Burton is also a seasoned "Star Wars" veteran. Apart from Bane, he's voiced a number of other characters in the "Star Wars" animated shows, most prominently Count Dooku. As such, one thing is certain. While there's no way to know how prominent a character Cad Bane will be in the various Disney+ "Star Wars" shows, you can be absolutely sure that his voice acting will be on point.