The Surprising Sopranos Star Who Thought He Blew The Audition
Few shows can stand the test of time like David Chase's "The Sopranos." It's been 15 years since 11.9 million viewers (via Vulture) thought their cable went out when the screen abruptly cut to black during the finale, but it remains a hot button topic of conversation. Did Tony Soprano (James Gandolfini) get killed in front of his family at Holsten's by one of those suspicious patrons? Or did this intense scene symbolize that he'll have to look over his shoulder for the rest of his life?
This open-ended conclusion to the six seasons of "The Sopranos" is one of many reasons why it continues to be rewatched by original fans and binged by a new generation. Another reason is its intense plot, which only thickens with each episode. For anyone who's not familiar, "The Sopranos" centers on mob boss Tony as he struggles to balance his two families –- wife Carmela (Edie Falco) and children, A.J. (Robert Iler) and Meadow (Jamie-Lynn Sigler), and his mob crew – all while battling panic attacks and attending therapy with Dr. Jennifer Melfi (Lorraine Bracco).
However, a top reason for the success of "The Sopranos," which earned 21 Emmys, is the lineup of talented actors in the cast, especially those closest to Tony in the DiMeo crime family. These men include Tony Sirico as Paulie "Walnuts" Gualtieri, Dominic Chianese as Corrado "Junior" Soprano, Steven Van Zandt as Silvio Dante, and Michael Imperioli as Christopher Moltisanti.
It's impossible to imagine "The Sopranos" without any of these "made men," but one was convinced he blew his audition and wouldn't be offered the part.
Michael Imperioli didn't think he got the role of Christopher Moltisanti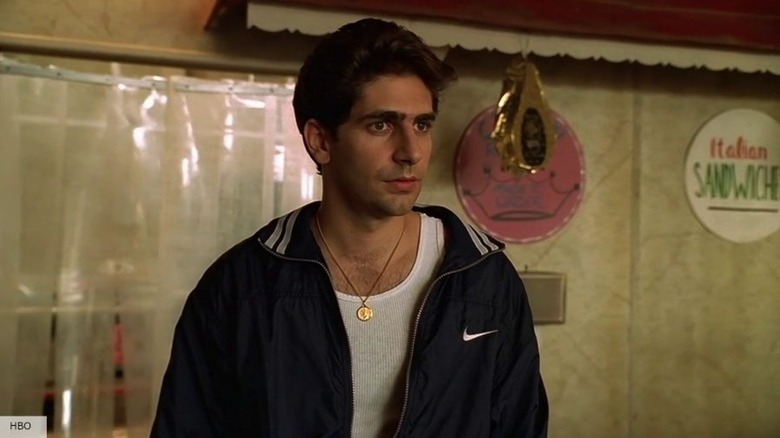 HBO
Since "The Sopranos" ended, Michael Imperioli has expanded his horizons as an author ("The Perfume Burned His Eyes"), co-host of the "Talking Sopranos" podcast with Steve Schirripa, who played Bobby Baccalieri, virtual meditation instructor, and member of indie-rock band ZOPA. He's also married and a father of two. But through it all, diehard fans of "The Sopranos" will never forget him as Christopher Moltisanti, the drug-addicted nephew of Tony and abusive boyfriend of Adriana La Cerva (Drea de Matteo) with dreams of a career in Hollywood.
Imperioli made Christopher an extremely dynamic character. Despite his many flaws, he was funny and sarcastic and viewers couldn't help but root for him. It seems impossible that there was any doubt regarding Imperioli's casting, but he was convinced he failed his audition (via Vanity Fair). "Anything I could remotely be right for, I would get an audition for," Imperioli recalled. "They brought me in and I met with David. I thought he hated my audition because David's a poker-faced guy. He kept giving me notes and giving me direction and I walked out of there and I was like, 'I blew that one.'"
Needless to say, Imperioli did not blow the audition. But he did smash up a Lexus (via Page Six) while filming one of Christopher's first scenes -– driving Tony around –- after failing to mention his inability to drive. Luckily, Gandolfini was a good sport and Imperioli wasn't fired. "He just looks at me and starts cracking up laughing and we both just broke down hysterically and I thought, 'OK, this is going to be a good ride,'" he said. "That was a bonding moment."