The Winter Soldier Won't Appear In Black Panther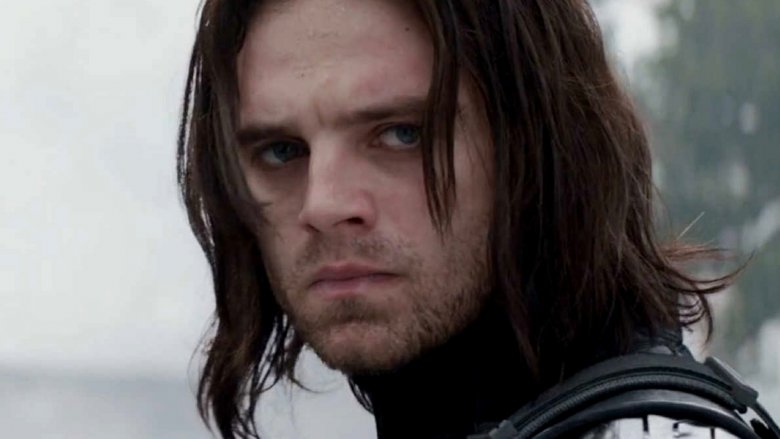 Black Panther will have plenty of enemies in his upcoming solo film, but the Winter Soldier won't be one of them. Sebastian Stan recently revealed on Good Morning America that he does not have a role in the upcoming movie, despite Bucky and T'Challa's epic face-off in Captain America: Civil War.
Bucky and T'Challa were at odds throughout Civil War, but the character eventually wound up asleep in a cryo-chamber in Wakanda as an effort to deal with his brain washing. While Bucky is confirmed to appear (hopefully in an awake state) in Avengers: Infinity War, Stan says we'll have to wait past the events of Black Panther to see exactly what happens. "I am not in Black Panther," he said. "I did not have any relation with Black Panther... but that gets resolved in [Avengers: Infinity War]." 
While it's sad to hear that Bucky won't be in Black Panther, it does make sense, as the movie already has quite a bit of ground to cover even without him present. (And a surprise appearance in a post-credits scene is still possible.) The film will focus on Chadwick Boseman's T'Challa returning home to the technologically advanced African nation of Wakanda, where he will now take his place as king. 
However, his mettle both as king and as hero will be tested as  he faces off against a number of foes, including the dissident Erik Killmonger (Michael B. Jordan), who believes he can rule better than T'Challa, and the Vibranium poacher Ulysses Klaue (Andy Serkis), who presents a threat to the Wakandan way of life. He will also have to deal with Winston Duke's M'Baku, who is part of a mountain tribe that threatens T'Challa's power.
T'Challa will have plenty of support along the way, though, with Letitia Wright joining the film as Shuri, his tech-genius sister, and Angela Bassett playing his regal mother and advisor Ramonda. The film also features Lupita Nyong'o as Nakia, a Wakandan spy; Danai Gurira as Okoye, the head of T'Challa's all-female secret service the Dora Milaje; Forest Whitaker as the shaman Zuri, who provides a father figure for T'Challa; Daniel Kaluuya as T'Challa's best friend W'Kabi; and Martin Freeman reprising his Civil War role as Everett K. Ross. 
Ryan Coogler directs Black Panther based on a script he co-wrote with Joe Robert Cole. The movie is due out on Feb. 16, 2018; in the meantime, prep by reading up on the character's insane history.