War For The Planet Of The Apes Tops Spider-Man: Homecoming At Weekend Box Office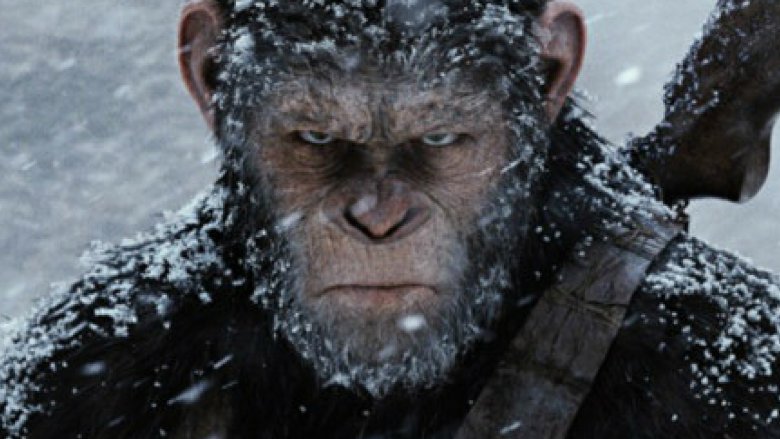 Spider-Man is no match for Caesar. According to Box Office Mojo, War for the Planet of the Apes has defeated Spider-Man: Homecoming at the box office, with the new release bringing in $56.5 million compared to Marvel and Sony's $45.2 million haul.
War for the Planet of the Apes, which sees Caesar and his apes facing off against Woody Harrelson's ruthless Colonel, was a success story for 20th Century Fox, who, like many, expected the film to fall much closer to Homecoming's totals. However, it is still a disappointment when compared to the rest of the franchise thus far, falling 22 percent from Dawn of the Planet of the Apes' $72.6 million despite holding positive reviews. Its total, which puts it in the same boat as Rise of the Planet of the Apes' $54.8 million, is also slightly below $60 million initial expectations. 
Still, War's performance is impressive, especially in a summer where the domestic box office has been largely unkind to sequels and reboots, of which War is both. Fox distribution president Chris Aronson said in a statement to The Hollywood Reporter that the company is happy with the film's performance, adding, "This movie is going to play the rest of the summer and have a huge multiple." 
Homecoming, meanwhile, saw a much sharper drop than expected. The movie fell 61.4 percent to $45.2 million, bringing it to a domestic total of $208.3 million but representing a larger drop than similar recent films like Guardians of the Galaxy Vol. 2 (56 percent) and Wonder Woman (43 percent). However, the drop is on par with many other comic book movies, including Avengers: Age of Ultron (59.4 percent) and Captain America: Civil War (59.5 percent), and the movie should still end up being a huge profit generator for Sony.
Despicable Me 3 took the third spot in its third weekend with $18.9 million, while Baby Driver took number four with $8.8 million. Kumail Nanjiani's romantic comedy The Big Sick was another impressive story this weekend, pulling in $7.7 million in its first weekend nationwide after a multiple-week limited run. This haul was good for a $16 million gross thus far and put the film in fifth place.
"It's amazing that this independent film has found its footing as a family movie among all the summer blockbusters," said Amazon Studios' marketing and distribution chief Bob Berney in a statement to Variety about the success of The Big Sick, which follows the story of an unconventional interracial romance. "The comedy and universal themes are connecting with audiences across the country."
Things did not go as well for this weekend's other new wide release, Wish Upon. The Joey King horror movie fell in seventh place behind Wonder Woman (out of the top five for the first time), bringing in only $5.5 million. The film features King as a young girl who is given a magical music box by her father that grants her every wish, with spooky consequences. It earned a 20 percent on Rotten Tomatoes.
You can view this weekend's full box office results below.
Top 10 Weekend Box Office Gross
1. War for the Planet of the Apes: $56,500,000 (–), $56,500,000 Total Domestic Gross  
2. Spider-Man: Homecoming: $45,200,000 (61.4 percent), $208,270,314 Total Domestic Gross 
3. Despicable Me 3: $18,947,840 (-43.6 percent), $187,989,990 Total Domestic Gross 
4. Baby Driver: $8,750,000 (-32.7 percent), $73,151,857 Total Domestic Gross 
5. The Big Sick: $7,600,000 (+112.5 percent), $16,036,824 Total Domestic Gross 
6. Wonder Woman: $6,885,000 (-29.9 percent), $380,686,078 Total Domestic Gross 
7. Wish Upon: $5,586,748 (–), $5,586,748 Total Domestic Gross 
8. Cars 3: $3,167,000 (-41.2 percent), $104,031,500 Total Domestic Gross 
9. Transformers: The Last Knight: $2,780,000 (-56.4 percent), $124,888,619 Total Domestic Gross 
10. The House: $1,795,000 (-62.4 percent), $23,129,558 Total Domestic Gross