How Accurate Is Pam & Tommy's Courtship In Episode 2?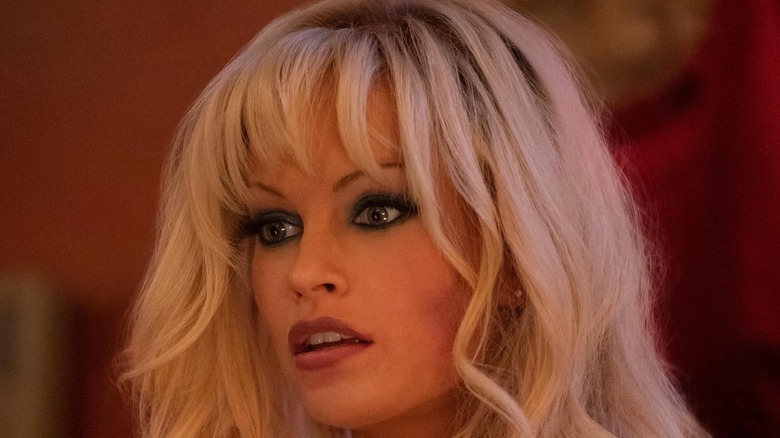 Erin Simkin/Hulu
By the end of the second hour of Hulu's "Pam & Tommy," audiences have learned a great deal about "Baywatch" star Pamela Anderson (Lily James) and Mötley Crüe drummer Tommy Lee (Sebastian Stan). In addition to the details behind the unauthorized leaking of their sex tape, flashbacks also reveal the origins of the famous couple's relationship. 
In Episode 2 ("I Love You, Tommy"), Pam and Tommy meet each other for the first time in a club in February of 1995. Tommy slowly approaches Pam and, without saying a word to her, introduces himself by licking her face. The two proceed to enjoy a wild night of partying, but Pam departs sometime before 4 a.m., much to Tommy's dismay. Only a few hours later, however, Tommy calls Pam and explains that he has followed her to a "Baywatch" press tour in Cancún. What follows can only be described as a night of drug-induced debauchery, filled with rather dramatic portrayals of both celebrities' best-known bodily properties. After another night of parties, Tommy publicly proposes marriage and Pam quickly accepts. The next morning, the two are married on a beach. Certainly a whirlwind by anyone's definition!
Of course, like any Hollywood production, certain creative licenses are taken with this story. Additionally, it has been reported that neither Anderson nor Lee were involved in the production of the series (via The Hollywood Reporter). So, just how much of this narrative is true?
Mostly accurate, with a few notable exceptions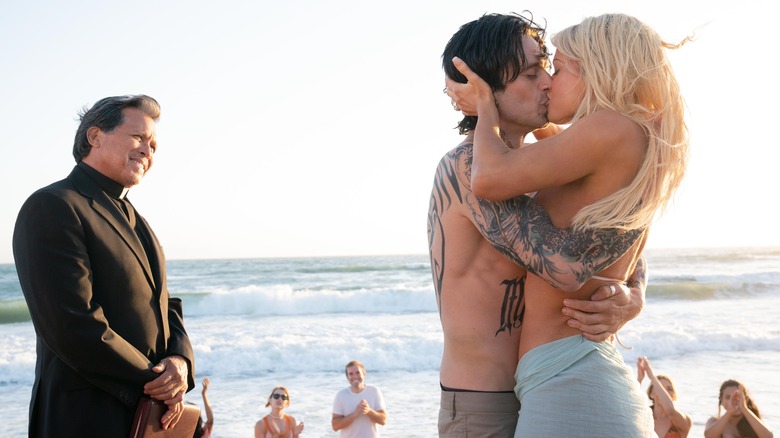 Erin Simkin/Hulu
Just as the series portrays, the real-life Pamela Anderson married the real-life Tommy Lee on a beach in Cancún on February 19, 1995 (via Ultimate Classic Rock). It's also entirely true that their first encounter involved face licking. However, a few of the events in this story have been condensed with a light dose of added drama (as if this tale needed anymore).
According to Us Magazine, Anderson and Lee first met at a club in Hollywood on New Year's Eve in 1994. Contrary to what we see on the screen, Lee has previously indicated that Anderson was actually the first one to introduce herself. Anderson ordered Lee a drink and he responded with the aforementioned face lick, still a rather drastic escalation, if not exactly as portrayed on screen. Based on this interaction, Lee's immediate infatuation with Anderson appears to be entirely accurate. According to Lee, there's another reason for that. "On Ecstasy, Joan Rivers looks like Pamela Anderson, so imagine what Pamela Anderson looked like," Lee said in an interview with Rolling Stone (via Ultimate Classic Rock). "I just stared at her all night, and she just stared back."
Unlike in the series, a whole six weeks passed before the couple's second date (via Mirror). With work commitments keeping them both busy, Lee sprung at the opportunity to follow Anderson to a photoshoot in Cancún (via Esquire) and, less than 96 hours after he surprised her there, the two wed on a beach, just as is portrayed in the series (via Snakkle). However, there doesn't seem to be any indication that the real-life proposal was anywhere near as public or dramatic (via People).
New episodes of "Pam & Tommy" drop every Wednesday on Hulu.