Is 4 Privet Drive From Harry Potter A Real Place?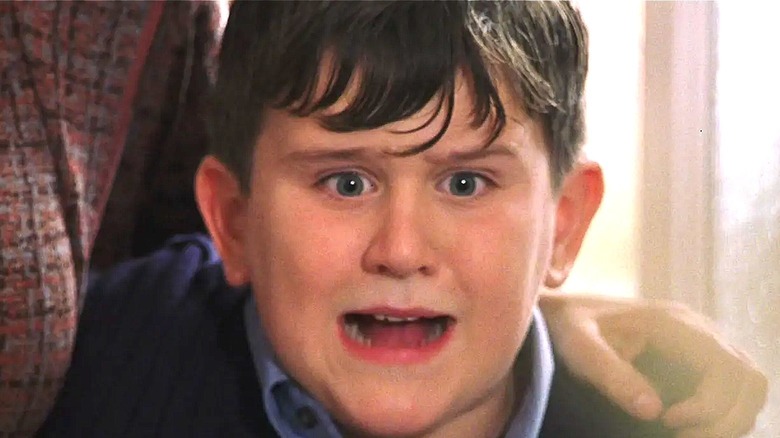 Warner Bros. Pictures
The very first location viewers are introduced to in "Harry Potter and the Sorcerer's Stone" is 4 Privet Drive in Little Whinging, Surrey, England. The iconic address, home to the Dursley family, is usually where audiences first see Harry Potter at the onset of each book and the eight films based on J.K. Rowling's wildly successful novels.
Of course, 4 Privet Drive rarely feels like home to Harry Potter. When the series starts, 10-year-old Harry lives in a cupboard under the stairs of his aunt and uncle's house. His existence is largely treated with contempt by Uncle Vernon, Aunt Petunia, and his cousin, Dudley. As Harry comes into his own identity as a wizard, he grows to largely disregard Privet Drive and his extended family's scorn, and his summer stays at their home morph away from blatant neglect and into a bizarre understanding between the boy wizard and his Muggle relatives.
Harry returns to 4 Privet Drive for each summer break between school years at Hogwarts, providing some of the series' most iconic moments along the way. The home and surrounding neighborhood are where Hogwarts delivers Harry an onslaught of acceptance letters, where Harry meets fan favorite Dobby the house-elf, and where Harry saves Dudley from Dementors in "Harry Potter and the Order of the Phoenix," to name only a few classic moments.
Given how large a role 4 Privet Drive plays in the series, many "Harry Potter" fans might wonder whether the address and house exist in real life.
The actual address isn't real, but the first movie filmed in a real neighborhood
Unfortunately, 4 Privet Drive, Little Whinging, Surrey, England, is not a real address. Little Whinging is a fictional town, and Rowling said on Wizarding World Digital that she gave the home address the number 4 simply because she "has never been fond of the number." According to Google Maps, there is a house at 4 Privet Drive in Bristol, England, but that's not the location that Warner Bros. used for the Dursleys' home.
During the production of "Harry Potter and the Sorcerer's Stone" in 2000 and 2001, the studio shot at 12 Picket Post Close in Bracknell, Berkshire, for the Dursley home (via BBC). It was then re-created at Warner Bros. Studios Leavesden in Watford, England, for subsequent appearances.
12 Picket Post Close was last put up for sale in 2016, sparking global interest, according to the BBC. Interested Potterheads would do well to keep an eye on future listings for the address should they want to live like the Dursleys — or perhaps fans would be more interested in sleeping in the cupboard under the stairs. The house is just one of many real-life locations that appear in the movies.