Kristen Stewart Confirms What We Suspected All Along About Nicole Kidman's On-Set Behavior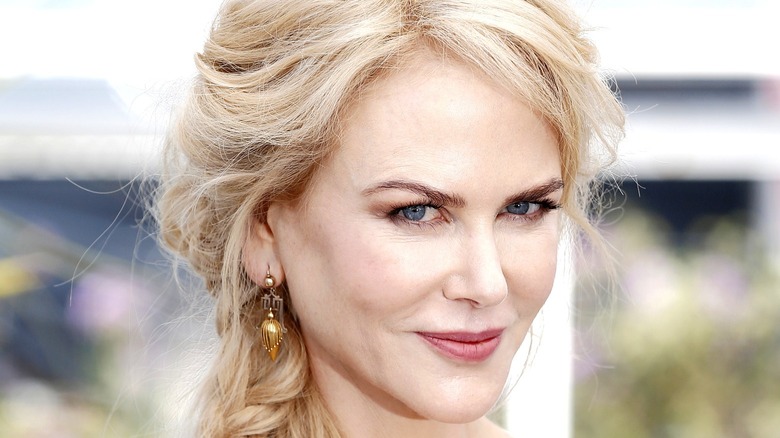 Andrea Raffin/Shutterstock
When people talk about child actors who successfully made the transition to adult Hollywood stars, one name that's certain to come up is Kristen Stewart. After a handful of minor parts, Stewart quickly caught audiences' attention at the age of ten with her breakout role in David Fincher's 2002 thriller "Panic Room." Stewart played Sarah Altman, who spends much of the tense film in the titular panic room with her mother Meg (Jodie Foster) after burglars break into their home. There was no looking back for Stewart, who went on to international stardom thanks to movies like the "Twilight" saga, "Clouds of Sils Maria," and most recently, "Spencer," in which she portrays Princess Diana.
What you may not know is that Stewart's original "Panic Room" co-star was none other than Nicole Kidman. The original mother-daughter pairing of Kidman and Stewart actually spent two weeks together on the set of "Panic Room" before an injury caused Kidman to pull out, paving the way for Foster.
Kidman and Stewart recently reunited for Variety's "Actors on Actors" series to discuss their latest projects, as well as their "Panic Room" memories. During their reminiscing about that film, Kidman received nothing but praise from Stewart, who recalled their brief time on-set together with fondness. 
Kristen Stewart says Nicole Kidman 'was so nice to me'
Almost twenty years after they briefly worked together on "Panic Room," the "Actors on Actors" series gave Kristen Stewart an opportunity to tell Nicole Kidman and the world how impactful the Oscar-winning actor was during a formative time in Stewart's young career. "I was a little guy ... but I have a vivid memory of it because the way you treat kids is so telling," Stewart told Kidman. She continued on to say, "You were so nice to me. It was a short period of time but I was always like, 'Oh yeah. She's one of my friends.'"  
Stewart even reminded a bemused Kidman, "You gave me walkie-talkies for Christmas!" 
Kidman was equally gracious in her recollection, enthusing, "I remember David Fincher saying, 'Oh, my God, we have discovered the most incredible actress.' And then I got injured and ended up not playing your mama." The "Panic Room" director was even brought in on the love-fest when Kidman observed, "Here we are decades later, hanging in there. And you're amazing; Fincher was right, as he always is." 
After sharing their memories and first impressions from "Panic Room," the pair went on to express their mutual praise and respect for each other's talents and careers. Stewart admitted, "You've made some of my favorite movies," while Kidman responded, "I've watched what you've done, and how you've been so unusual with your career path and your choices and your artistry ... I'm here always to support you." They then went on to a fascinating discussion about each others' processes, motivations, and choices, including in regards to their most recent projects: Kidman's performance as Lucille Ball in "Being the Ricardos" and Stewart's as Lady Di in "Spencer."
It seems Kidman can add "mentor" to her already enviable list of credits.