The Surprising Connection Between Adventure Time And Bob's Burgers
With their bright colors and simple, but stylized hand-drawn animation, "Bob's Burgers" and "Adventure Time" became two of the most popular Western animated series of the last decade. Their wacky humor has delighted both adults and children alike, but their settings couldn't be more different: Where "Bob's Burgers" grounds itself in a setting mostly limited to a burger shop and the surrounding town, "Adventure Time" spins its tales in the fantastical Land of Ooo, where a dog can change shape at will and sentient bubblegum rules over her Candy Kingdom. But pull back the (animated) curtain and you'll find a surprising link between the two shows.
Obviously, with animation, audiences can't simply recognize the face of an actor from their other favorite series. Instead, it's all in the voice: "Bob's Burgers" fans may have heard two unique, but familiar voices amidst the guest cast of "Adventure Time," giving a fun Easter egg connection between the series.
Siblings across animated universes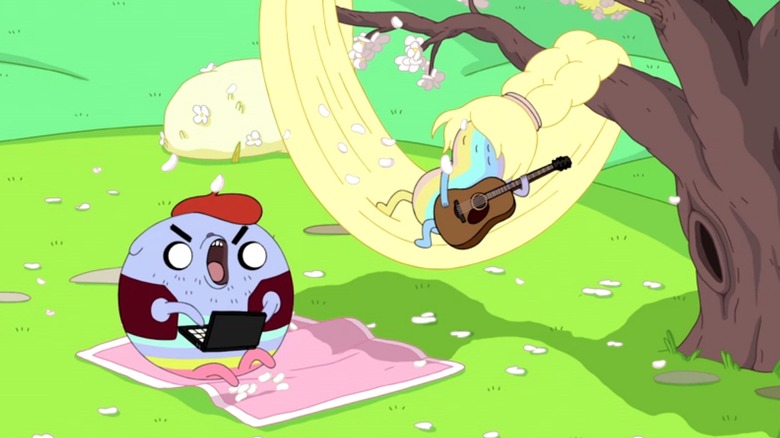 Cartoon Network/HBO Max
The voices of the "Bob's Burgers" sisters Tina and Louise Belcher make cameos in "Adventure Time" as another pair of siblings: Jake the Dog's (John DiMaggio) kids, TV and Jake Jr. They're first introduced in Season 5 when Jake and Lady Rainicorn (Niki Yang) have a litter of five pups that are part rainicorn, part dog-shape-shifter, and all different shapes, colors, and sizes. They go from newborn to mature very quickly, developing personalities and independent lives, only coming into the story on occasion.
The rainbow peanut-shaped one with a blond ponytail — Jake Jr. — is the first of Jake's pups to speak in the episode "Jake the Dad," and she's got the voice straight out of the animated mouth of little bunny-eared, wily Louise. Actress Kristen Schaal plays both of them, so it's probably no coincidence that Jake Jr. is into wacky shenanigans befitting the tricksy Louise, like faking her own kidnapping in "One Last Job." Schaal is only in four episodes of "Adventure Time," but she's done her fair share of voice acting — she was Mabel Pines on "Gravity Falls" and Sarah Lynn on "BoJack Horseman."
It's not until the episode "Jakesuit" that we hear the round, purple pup named TV speak in the unmistakable drawl and groan of awkward teenager Tina — aka Dan Mintz. In Mintz's four "Adventure Time" episodes, TV is revealed to be a reclusive gamer, prone to complaining and still living at home with Lady Rainicorn. However, he becomes an imaginative romantic just like Tina when he reads a teenage girl's diary in "The Diary." It's almost like the two characters were communicating with each other across the multiverse.