The Kelsey Grammer Sitcom You Likely Forgot Starred 5 Huge Marvel Stars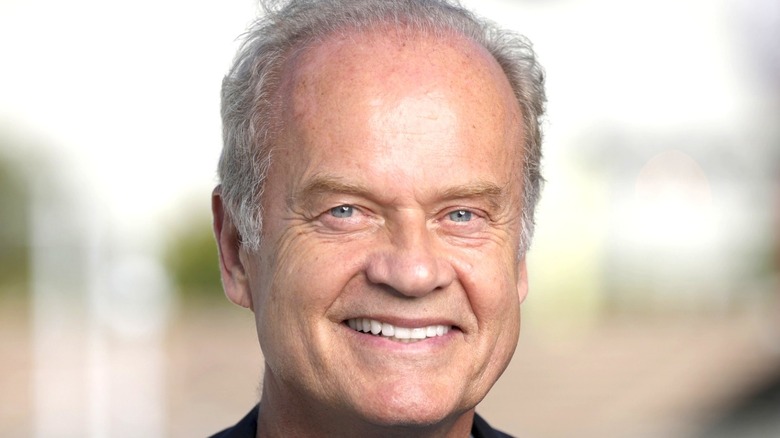 Rich Polk/Getty Images
Kelsey Grammer, who has been working in Hollywood for over four decades, has a whopping 122 acting credits to his name (via IMDb). Grammer got his big break when he landed the role of psychiatrist Frasier Crane on the popular sitcom "Cheers," a character that began as a love interest to Diane Chambers (Shelley Long). Then, when "Cheers" ended in 1993, Frasier's story was expanded on in one of the most successful spin-offs ever, "Frasier." Once "Frasier" ended, his television career only continued on, as he went on to star in two short-lived dramas, "Boss" in 2011 and "The Last Tycoon" in 2017. He also had a recurring voice role on "The Simpsons" as Sideshow Bob, as well as having guest roles on shows such as "Modern Family," "Unbreakable Kimmy Schmidt," and "30 Rock."
It's an impressive filmography for sure, one that many likely expected following his breakout role in "Cheers." What may not have been as expected is that one of these shows alone contained appearances from a whopping five future Marvel actors ... which is only fitting, of course, since Grammer himself has something of a Marvel history. 
As for which show was the most Marvel-ous of them all? Well, naturally, it was Grammer's longest running series — and what he is most known for — "Frasier," which spanned 11 seasons from 1993 to 2004. Fans of "Fraser" know that, through the 11 seasons, the show had plenty of exciting guest appearances. All five of the aforementioned Marvel actors showed up on screen in "Frasier," and here's where they were.
Venom, Spider-Man: Homecoming and Loki actors make appearances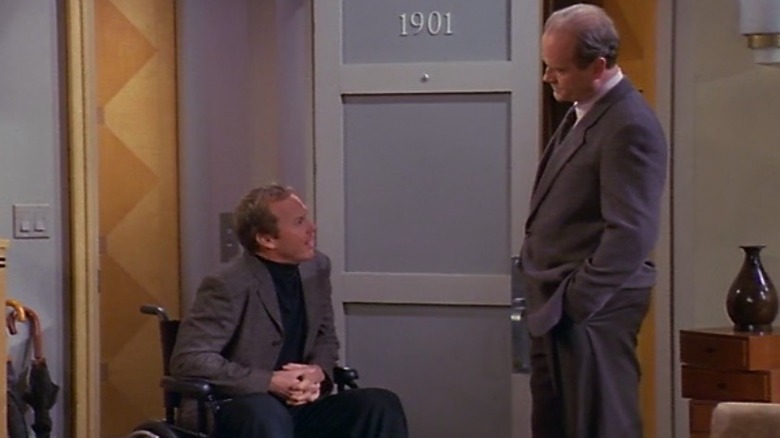 NBC
Firstly, Woody Harrelson, who recently starred in 2021's "Venom: Let There Be Carnage" — a Sony Pictures film in association with Marvel — is no stranger to Frasier Crane. Harrelson was a regular on "Cheers" for eight years as Woody Boyd. In 1999, Harrelson reprised his "Cheers" role to make a guest appearance in an episode of "Frasier," titled "The Show Where Woody Shows Up." In the episode, Woody and Frasier reunite and are excited to catch up — only to soon realize they no longer enjoy each other's company, as they have nothing in common.
"Frasier" also featured another Marvel actor in Michael Keaton, who played Adrian Toomes aka the Vulture in 2017's "Spider-Man: Homecoming," and appears set to return in the upcoming "Morbius." In "Frasier," Keaton plays Blaine Sternin, the half-brother of Frasier's ex-wife Lilith (Bebe Neuwirth). In "Wheels of Fortune," Blaine, a known con artist, claims to be a changed man following a car crash that led to him being in a wheelchair, in what turns out to be an elaborate scheme to prank Frasier.
Additionally, Richard E. Grant, who joined the MCU in 2021 to play the elderly "Classic" Loki on the Disney+ series "Loki," has the most subtle guest appearance on "Frasier." Grant plays Stephen Moon, one of Daphne's (Jane Leeves) many brothers, in one episode in the last season (although his character is mentioned on several occasions). In a previous episode, "And The Dish Ran Away With The Spoon: Part 2," Stephen is played by a different actor, but all of the brothers mostly just appear in passing or in the background, so it's not a noticeable actor change.
Two X-Men actors also show up in Frasier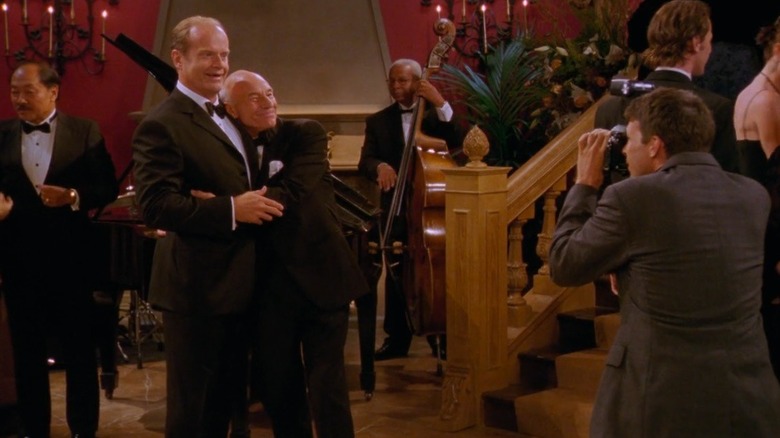 NBC
Patrick Stewart began his Marvel run in 2000, when he brought the iconic figure of Professor Charles Xavier, or Professor X, to life in 20th Century Fox's "X-Men." He then went on to reprise the role for six following films, including the grand finale of the franchise, "Logan," in 2017. 
In 2003, the same year that "X2" was released, Stewart also appeared in an episode of "Frasier" titled "The Doctor is Out" in Season 11. In the hilarious episode, a caller "outs" Frasier after seeing him at a gay bar, without knowing that Fraiser was trying to prove that Roz's (Peri Gilpin) new boyfriend is gay. Stewart plays Alistair Burke, a prominent opera director who, under the impression Fraiser is gay, begins inviting him to exciting events as his date — except, because Alistair has not tried any physical advances, Frasier doesn't realize the mix-up at first. Once he does, Frasier then finds himself so enamored by the benefits of being in a "power couple" that he is reluctant to tell Alistair the truth.
Finally, the last Marvel actor to appear in "Frasier" is, well, Frasier himself. Kelsey Grammer appeared as Dr. Hank McCoy, aka Beast, in 2006's "X-Men: The Last Stand" and 2014's "X-Men: Days of Future Past," both of which Stewart also starred in.
Who knew "Frasier" was so Marvel-filled? If you'd like to check out these Marvel appearances, "Frasier" is currently streaming on Hulu.