The Book Of Boba Fett Chapter 5 Starfighter Detail That Has Mandalorian Fans Buzzing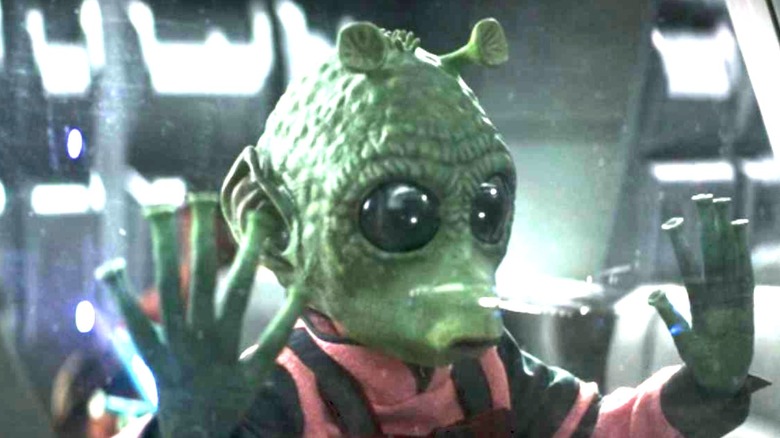 Lucasfilm/Disney+
(Contains spoilers for Chapter 5 of "The Book of Boba Fett.")
While fans are gearing up for "The Mandalorian" Season 3, they have a few things to tide them over. Din Djarin (Pedro Pascal) makes an exciting appearance in "The Book of Boba Fett." After Boba Fett (Temuera Morrison) decides he needs more muscle, Chapter 5 details what The Mandalorian has been up to since Season 2. Din Djarin has the main motivation of the episode, with little Boba Fett to be seen. Life is still interesting for The Mandalorian as he learns to wield the Darksaber and reunites with Peli Motto (Amy Sedaris).
One of his most pressing issues is finding a ship to replace the one he lost — the Razor Crest, the ship that Din Djarin spent most of "The Mandalorian" cruising around in. It did not survive Season 2 of the show after being reduced to charred ash (via Inverse). Peli helps The Mandalorian with his search by finding him a starfighter. This ship hearkens back to many easter eggs, but there is a specific detail that is warming fans' hearts.
Din Djarin may not be flying alone
Din Djarin's replacement for the Razor Crest is a Naboo starfighter that should look familiar from "The Phantom Menace." This is the same type of ship that Anakin pilots during the Naboo resistance. But there is something else special about the ship. Eagle-eyed fans on Reddit noticed that there is an astromech port that may have significance down the line.
"Grogu is definitely going in that astromech spot," posted u/SickBurnBro. The port where astromech droids can go is perfectly Gorgu-sized. Last the audience saw, The Mandalorian had to part ways with his charge in a heartbreaking scene. Grogu's destiny was to train to become a Jedi and Din Djarin had to let Luke Skywalker take him. It would be devastating if The Mandalorian never saw The Child again, as relationship between the two is the driving force in "The Mandalorian." The appearance of the new starfighter is a reminder that Grogu is still important to the bounty hunter. The Child is still in The Mandalorian's thoughts as he requests a token be made for Grogu. These two aspects imply that the two will be reunited again one day.