Who Plays Butchie In Pam & Tommy?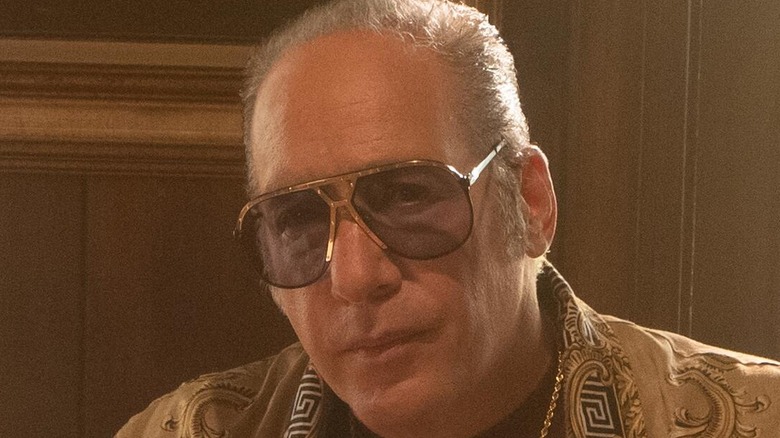 Kelsey McNeal/Hulu
"Pam & Tommy," Hulu's miniseries about the tumultuous three-year marriage between "Baywatch" star Pamela Anderson (Lily James) and Mötley Crüe drummer Tommy Lee (Sebastian Stan), boasts a spectacularly star-studded cast. In addition to the titular couple, the eight-part miniseries features the notable talents of performers like Seth Rogen, Nick Offerman, and Taylor Schilling.
For the debut of the series, Hulu opted for a supersized premiere, releasing the first three episodes all at once on February 2. We're guessing most TV fans quickly recognized a majority of the stars, but there are also a handful of smaller, yet notable roles some may have missed. In the third episode, Rand Gauthier (Rogen) and Uncle Miltie (Offerman) meet with a variety of pornographers in the hopes of selling Pam and Tommy's sex tape. Unfortunately for them, most potential buyers quickly dismiss them once they realize the tape is stolen.
That is, until Miltie introduces Rand to Louis "Butchie" Peraino, the real-life producer of 1972's "Deep Throat," one of the most famous pornographic films of all time. Though he is initially skeptical, Peraino eventually recognizes there is money to be made and agrees to bankroll the operation for a substantial sum of the profit, despite the obvious legal implications.
If you recognized the actor playing the part of Peraino, it's probably because he's a memorable comedian. 
Andrew Dice Clay plays Butchie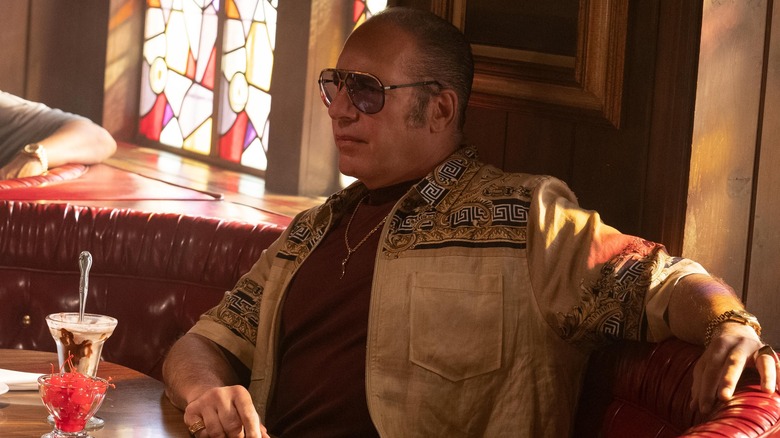 Kelsey McNeal/Hulu
The actor playing the part of Louis "Butchie" Peraino is none other than "The Diceman" himself, comedian Andrew Dice Clay. 
Clay became famous in the 1980s with a series of stand-up routines that earned him nearly as much infamy as they did genuine fame. Since 1988, Clay has released a total of ten different comedy albums (via AllMusic) and is perhaps most well-known for his intentionally crude twists on classic nursery rhymes. A performance of these jokes at the 1989 MTV Video Music Awards earned him a lifetime ban from the network (via COED). Though the comedian has said that the ban was removed in 2011, his notoriety goes well beyond MTV. Critics have labeled Clay's stand-up routines as homophobic and misogynistic (via ComedyHistory101). 
Clay's fame peaked in 1990 with two consecutive sold-out nights in Madison Square Garden (a first for any comedian at the time) (via NYFacts). That same year, Clay hosted an episode of "Saturday Night Live." Though Clay's hosting of the episode resulted in a boycott by "SNL" cast member Nora Dunn and "SNL" musical Sinead O'Connor, it also returned the highest ratings of the season (via Vulture). 
In addition to his comedy, Clay is also known for a handful of notable film and television roles. To name only a few, he's appeared in a 1982 episode of "M*A*S*H," 1986's "Pretty in Pink," 2013's "Blue Jasmine," and 2018's "A Star Is Born." He also starred in his own series, "Dice," on Showtime in 2016 (via IMDb).