The Worst Storyline In Blue Bloods Season 2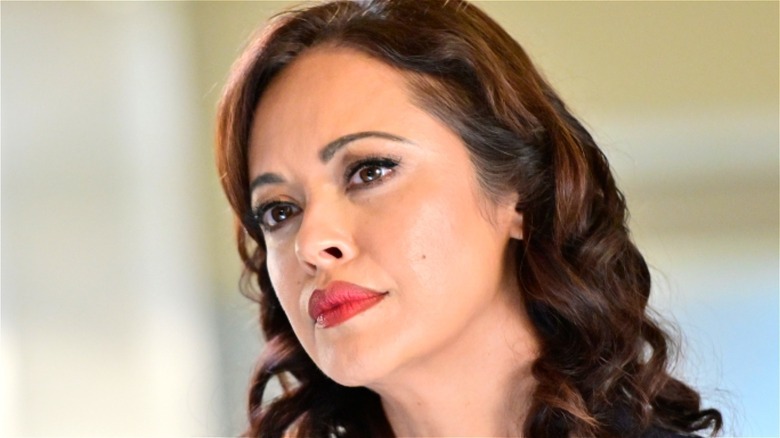 CBS/John Paul
For the most part, "Blue Bloods" has offered a consistently high level of entertainment throughout the last decade. It's easy to get audiences invested when you have such an intriguing family at the center of every major crime taking place in New York City. The Reagans know how to get the job done, and they'll use every last resource and bit of intuition to bring closure to murders, thefts, and every other crime out there.
The show has hundreds of episodes to its name, so that's a lot of time the Reagans have spent on the streets trying to make the world a safer place. While many of those episodes are captivating tales interwoven with facets of police procedurals and family drama, not all of them can hit it out of the park. Some plots just aren't as engaging as others, and while the good certainly outweighs the bad, fans have no problem letting their feelings known when they feel "Blue Bloods" can do better. That's why for many, the sourest note played during Season 2 was the episode "Leap of Faith."
Fans didn't care for Leap of Faith's B-story
The driving force of Season 2's "Leap of Faith" involves a woman turning up dead and Danny Reagan (Donnie Wahlberg) going on the case. While it's initially reported as a heart attack, the woman's daughter claims that she got a message from God telling her that her stepfather was actually behind the death. Judging from reviews on the episode's IMDb page, fans assumedly thought that plotline was fine, but the B-story really seemed to have gotten under people's skin.
It's worth noting the episode has the lowest overall IMDb score — 7.4 out of 10 — out of any other episode that season, and when reading reviews, it becomes apparent why. The secondary story involves Frank Reagan (Tom Selleck) investigating a deceased priest who's up for sainthood to see if he should qualify. According to fans, the episode didn't do a good enough job of adequately conveying what's part of the canonization process. As one user wrote, "The parts regarding Catholicism were really dreadful. Didn't anyone do some serious research for this episode? Canonization begins, not with miracles, but with a careful examination of a person's entire life for virtues." 
Fans seem to think that, seeing how Catholicism is an integral part of the Reagan family's identity, those aspects of the show should hold up to scrutiny. Someone else commented, "When is Hollywood going to stop depicting Catholics as though we're still in the '50's? I don't know even any IRISH Catholic family that looks and acts like these people." Granted, the show has earned some positive reviews as well, but when looking at the season as a whole, it appears a lot of people don't hold "Leap of Faith" in high regard.