What Is The Song In Apple's New I Look Real Good Today Commercial?
The iPhone 13 came out in September 2021, so now that it's been a few months, you might actually be able to get your hands on one. In case you've forgotten you're in need of an upgrade, Apple has come out with a new commercial promoting the phone, and the biggest selling point in the ad is the fact this new phone apparently offers a longer battery life. To show this, they have a kid riding his bicycle around the cul-de-sac all day long while recording himself, and his phone doesn't die once. 
It's a fun ad that gets straight to the point of why it's worth investing in the iPhone 13, but the song may have too entranced you to pick up on it. It's not super well-known, but once you hear it, you'll undoubtedly have a hard time getting it out of your head. The song in question is "I Look Good" by O.T. Genasis.
Check out O.T. Genasis' hilarious video for "I Look Good"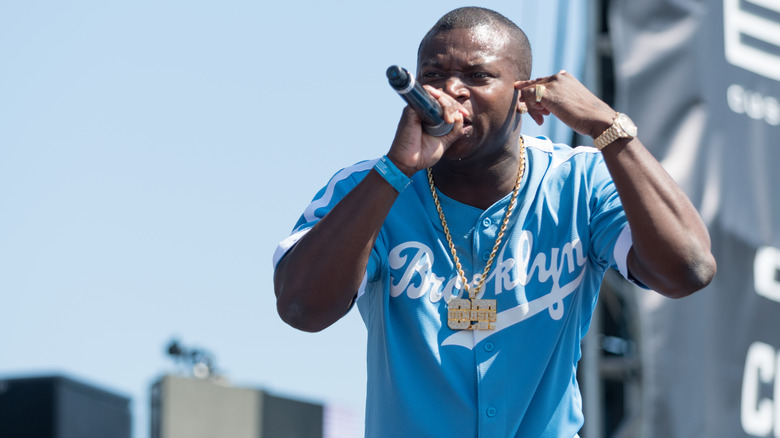 Betto Rodrigues/Shutterstock
You may not have heard the name "O.T. Genasis" until now, but if you've spent any amount of time on social media, you've likely heard at least one of his songs before. The rapper is perhaps best known for his 2014 hit "CoCo," which blew up on the scene and was ultimately certified platinum by the Recording Industry Association of America (via XXL Mag). 
In 2019, O.T. Genasis broke out in the mainstream once again with another tongue-in-cheek hit titled "I Look Good." In 2020, he released a music video for the track that was all too relatable as it opens with the rapper stuck inside his house in quarantine when he decides to film a music video all by himself. He then takes viewers on a tour of the abode, showing his fans everything from his kitchen to his yard. 
Hot New Hip Hop calls O.T. Genasis "one of the funniest rappers in the game," so it should come as no surprise that a company as big as Apple would take notice and include his catchy track in one of its commercials.