The Incredibles Character Possibly Based On A Real Person
Action-packed yet filled with family values and scenes that cause full-bellied laughter, the 2004 animated movie "The Incredibles" is a timeless classic from Pixar Animation Studios. Audiences of all ages find something in the movie to enjoy as Bob Parr, aka Mr. Incredible (Craig T. Nelson), attempts to go from superhero to everyman when he is forced to live a normal life with his wife, Helen, aka Elastigirl (Holly Hunter), and three kids.
One character in the movie, Edna Mode (Brad Bird), is a hilarious roller coaster of personality that the story just wouldn't be the same without. As the superhero's super suit designer, Edna Mode knows the ins and outs of every hero's powers and identities. Her dazzling diva attitude perplexes the heroes while allowing them to place their complete faith in her abilities.
The character of Edna Mode isn't just anyone. Hollywood legends inspired her appearance and personality. Real people have been the models for fictional characters for a long time, with beloved animated personalities such as Bugs Bunny being based on Clark Gable, for example. The Hollywood personalities who inspired the fashionista that is Edna Mode might be surprising.
Edna Mode was inspired by Hollywood legend Edith Head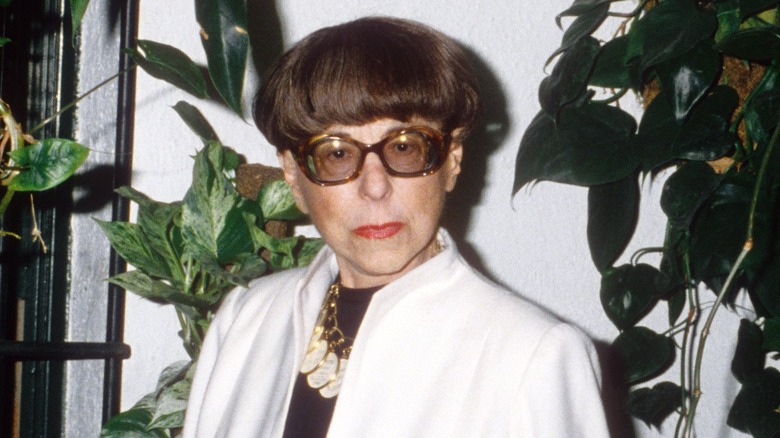 Michael Ochs Archives/Getty Images
Not only did Brad Bird direct "The Incredibles," but he is also the voice of Edna Mode. Bird has mentioned that the sleek and technological fashion-forward Edna Mode was inspired by the character Q from the "James Bond" movies (via Entertainment Weekly). Q, portrayed by numerous actors from 1962 to the present, provides Bond with all the necessary gadgets and gizmos he needs to have a successful mission. This is similar to the way Edna Mode designs the super suits with the hero's specific powers in mind and reinforces them to withstand not only the powers of the person wearing it but also anything that a devious villain might conjure up to take them out.
According to Bryn Imagire, the film's shading art director, Edna Mode's style, meanwhile, is based on that of fashion icon Edith Head (via New York Post). Head, a costume designer, spent her life pouring her heart and soul into creating beautiful wardrobes that can be seen in just about every Hollywood movie from that time. She worked on hundreds of films and won multiple Academy Awards for her designs (via IMDb). Mode's talents and capabilities when it comes to creating a flawless super suit that is as stunning as it is functional can be attributed to Head's impact on the design world.