The Real Reason Bill Skarsgard Did Most Of His Own Stunts In IT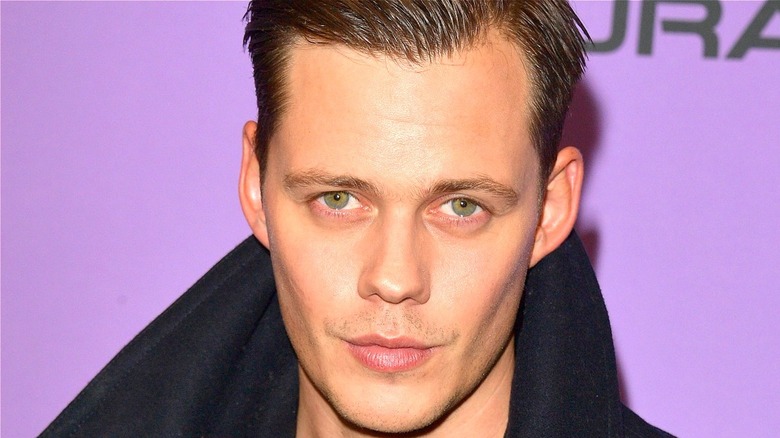 Warner Bros.
While horror fans always had Tim Curry pegged as the quintessential Pennywise when it came to a live-action version of Stephen King's "IT," the modern iteration conjured by Bill Skarsgård certainly earned its praise and a few air-freezing chills in the process. Andrés Muschietti's two chapters of the enormous story followed a band of children fighting back an evil that fed on fear — and earned over $1 billion collectively (via The Numbers). A lot of those box office dollars were made thanks to Skarsgård's remarkable performance and the unnerving additional ticks he gave one of Stephen King's most iconic monsters.
The newly polished Pennywise gave it his all in this epic horror story, from the uncontrollable drooling to the eye drifting off before he devoured his victims. Like many movie monsters, though, there were some sequences in both chapters of "IT" that demanded a little extra oomph — stunts that Skarsgård wanted to handle himself rather than the trained professionals on standby. So why put himself at risk for scenes that someone else could tackle for him? As it turns out, the main reason was that when audiences felt true dread in the theatres, he wanted to be sure he was the cause of it.
Skarsgård did his stunts in IT because no one else could move like Pennywise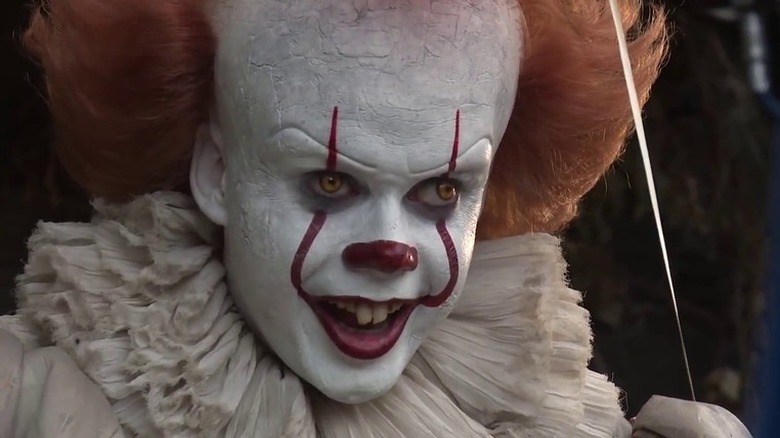 Warner Bros.
Besides being one of the scariest villains in horror, Pennywise is unquestionably one of the most active. Able to contort and camouflage himself to ensnare his victims, Skarsgård was set on giving it his all for the role, regardless of the toll it took. Speaking to the New York Times, the actor admitted that it was undoubtedly his most demanding role on screen. "Everything I did took 100 percent of my energy," he said. "It was by far the most exhausting character I've ever done, physically and mentally."
The most exerting elements of the performance were during some of its action-packed sequences, which Skarsgård was determined to do on his own for as much as possible. In the Blu-Ray featurette "Pennywise Lives" the actor behind the clown said, "there's so much about some of the fight sequences in the movie where Pennywise's physicality must be Pennywise's physicality, and I wanted to bring my movement and physicality in as much as I could." With that said, even Derry's deadliest inhabitant had to accept he had his limits sometimes, admitting that stunt teams were used for the most dangerous stunts and fight sequences.