Here's How Jason Momoa Responded To A Question About That Scene From Game Of Thrones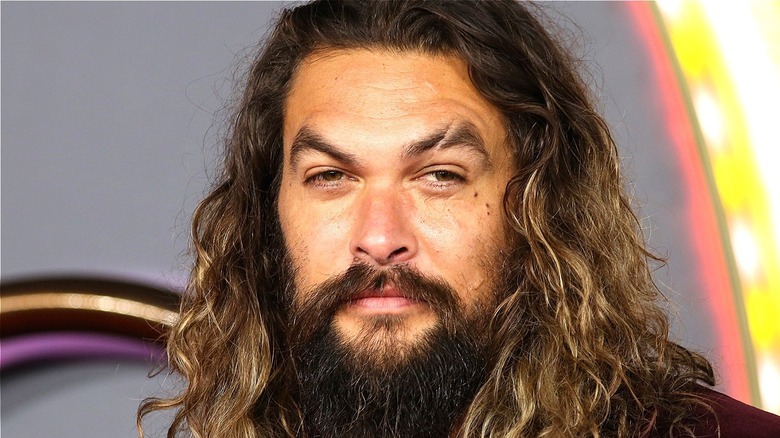 Lia Toby/Getty Images
Jason Momoa played the Dothraki chieftain Khal Drogo on the first two seasons of "Game of Thrones," and it turned out to be a breakthrough role for the actor. It's very possible that without Drogo, we wouldn't have Momoa's memorable turns as other (decidedly more heroic) characters like Aquaman or Duncan Idaho, or any of the exciting work he's sure to do while playing these characters in the future. For viewers used to seeing Momoa in those good-guy roles, some of Drogo's actions during "Game of Thrones" can be jarring –- in particular, an infamous sequence depicting Drogo's rape of Daenerys Targaryen (Emilia Clarke) in the show's pilot.
"Game of Thrones" wasn't on TV so long ago, but some attitudes about the depiction of sexual violence in fictional contexts have changed in that intervening time. But Momoa took issue with a question posed by a New York Times reporter in March of 2021 regarding this notorious sequence on the show.
If you or anyone you know has been a victim of sexual assault, help is available. Visit the Rape, Abuse & Incest National Network website or contact RAINN's National Helpline at 1-800-656-HOPE (4673).
Momoa called the question 'icky'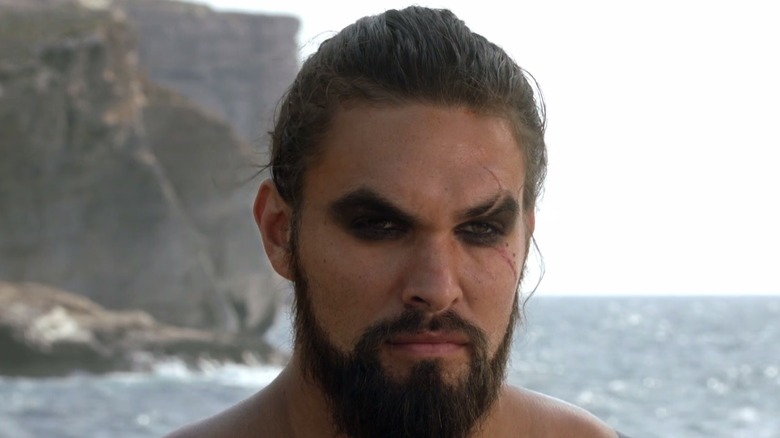 HBO
In an interview with The New York Times, Jason Momoa was asked a question about the "depiction of scenes of sexual assault and its treatment of women generally" on "Game of Thrones." Momoa answered the question, saying that "it was important to depict Drogo and his style. You're playing someone that's like Genghis Khan. It was a really, really, really hard thing to do." 
Momoa went on to say that he didn't feel it was his job as an actor to make moral judgments about the things his character does over the course of a story. "It's not my job to go, 'Would I not do it?' I've never really been questioned about 'Do you regret playing a role?' We'll put it this way: I already did it. Not doing it again," he said. That might have been that, but he "circled back" to the question at the end of the interview, saying that the question had "left a bad feeling in my stomach."
Momoa went on to point out that actors in the position he was in on "Game of Thrones" don't really have input into creative decisions behind the scenes, and that instead the onus of such regret over a certain scene should instead fall on the show's producers and writing staff. As an actor, Momoa says, "you don't get to come in and be like, 'I'm not going do that because this isn't kosher right now and not right in the political climate.' That never happens."
The question, according to Momoa, felt "icky," a word he uses twice during the conversation, so it's clear that it didn't sit right with him. But he also seemed to suggest that the sequence wouldn't be something he would ever play today.