The Don Rickles Joke You Probably Missed In Toy Story As A Kid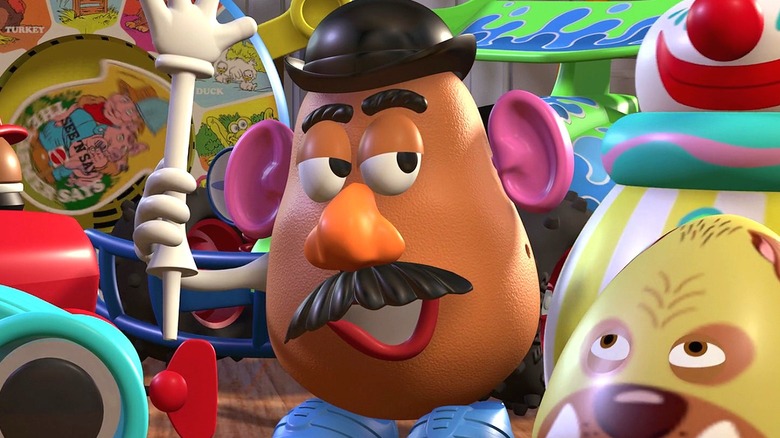 Walt Disney/Pixar
From Nala flirtatiously batting her eyelids at Simba as Elton John's "Can You Feel the Love Tonight" plays in the background to Shrek suggesting that Lord Farquaad is "compensating for something" by owning a massive castle, there are many subtle mature moments in youth-geared movies that flew over our heads as kids. Disney and Pixar's "Toy Story" series is no exception.
Released in 1995, the first "Toy Story" chronicles the adventures of Woody (Tom Hanks), Buzz Lightyear (Tim Allen), and a hodgepodge of other dolls and action figures owned by an imaginative young boy named Andy (John Morris). One of his beloved toys is Mr. Potato Head, voiced by legendary comedian Don Rickles, who became a staple of the franchise. Rickles passed away in 2017 at the age of 90 before production was able to begin on 2019's "Toy Story 4". Director Josh Cooley combed through 25 years of unused content recorded by Rickles (per Entertainment Weekly), allowing the beloved comedian to reprise the role one last time.
While deep down, Mr. Potato Head has a heart of gold, especially when it comes to Mrs. Potato Head (Estelle Harris) and his three adopted alien children, he's best known for his cynicism, sarcasm, and insults, some of which are intended for an older audience.
One of Mr. Potato Head's insults is an ode to Don Rickles' comedy routine
Ethan Miller/Getty Images
Before Don Rickles lent his vocal talents to the animated Playskool character, he was taking the stage as one the first comics to specialize in the art of insults. According to NBC Sports, Rickles began using the phrase "hockey puck" in the 1950s to serve as a zing against certain show attendees. In fact, his 1975 Las Vegas stand-up special is entitled "Buy This Tape, You Hockey Puck."
One scene in the original "Toy Story" makes a direct and clever reference to Rickles' iconic line. In the scene, Mr. Potato Head rearranges his removable facial features and says to his piggy bank buddy Hamm (John Ratzenberger), "Hey Hamm, look, I'm Picasso!" Hamm responds that he doesn't get it and walks away. A noticeably grumpy Mr. Potato Head turns to look at someone off-camera and says, "What are you looking at, ya hockey puck?" As the screen pans, we see that he's talking to another of Andy's toys –- an actual hockey puck that shrugs in confusion as Mr. Potato Head stomps away in annoyance. 
It's likely that very few (if any) kids grasped this cheeky nod to Rickles' stand-up career while watching the film, especially those among the newest generation of Disney and Pixar fans. For them, it's probably just another humorous scene of Mr. Potato Head being his usual cranky self. But for adults, especially longtime followers of Rickles' work, it's a genius addition to the film and one that will allow Rickles' favorite insult to be revisited for years to come.