Things You Need To Know Before Watching Season 4 Of The Marvelous Mrs. Maisel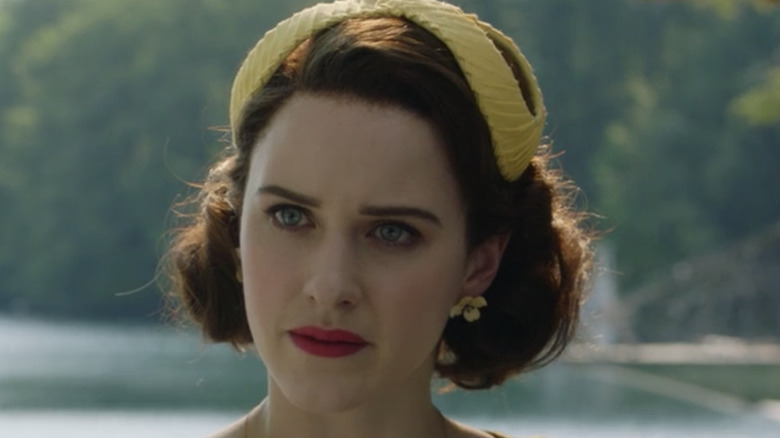 Amazon Prime
The last time we saw Miriam "Midge" Maisel, protagonist of Amazon Prime's "The Marvelous Mrs. Maisel," the comedian was drying her tears as her budding career experienced a major setback. Undoubtedly, fans of the smash-hit dramedy have felt her pain, given that more than two years have passed between Seasons 3 and 4.
The series spotlights Midge (Rachel Brosnahan) as she tries to pursue her life's passion in the late 1950s and early 1960s in New York City. Other names to know are Midge's fiery manager, Susie Myerson (Alex Borstein); her ex-husband, Joel Maisel (Michael Zegen) who is struggling to find his own identity; her sometimes-supportive parents, Abe and Rose Weissman (Tony Shalhoub and Marin Hinkle); and a host of other memorable characters.
The sharp writing, excellent acting and mesmerizing cinematography are just three reasons "The Marvelous Mrs. Maisel" has attracted so much attention. Though with great success come greater expectations, especially after such a lengthy hiatus. With that in mind, here are the things you need to know before you jump back in for Season 4.
Mrs. Maisel is dusting herself off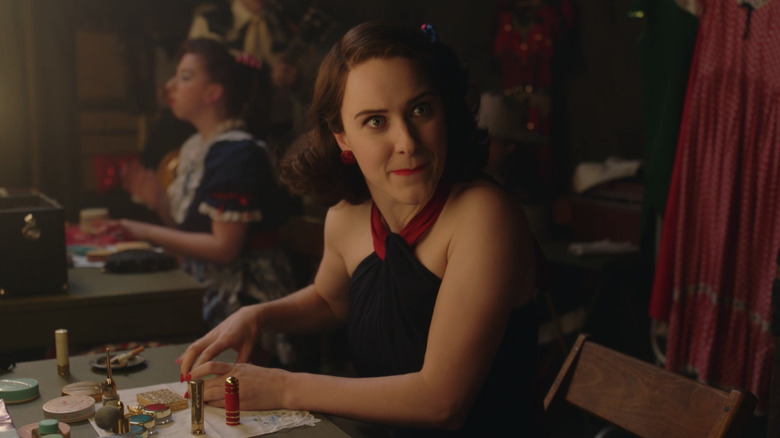 Amazon Prime
After paying her dues in a business not known for being kind to women, everything surrounding Midge's career came up roses in Season 3. She lands a swell gig opening for singer Shy Baldwin on tour. They begin to bond as show business underdogs, winning over crowds in Vegas, Miami and everywhere in between. When she isn't on stage, she's building her brand with radio commercials — even if some of them do pay in syrup.
It all comes crashing down, however, in one night at the Apollo Theater when Midge roasts Shy's cheekbones, makeup routine and flamboyant wardrobe. She thinks the Harlem theater-goers are aware Shy is gay, and that she is connecting with them on a deeper level. In fact, she is virtually pushing him out the closet door. Just like that, she's no longer Shy's opening act, and all the momentum Midge built has slammed into a brick wall.
The fallout could be especially painful for Midge, at least in the short term. Burning bridges can be tough to overcome, especially when it's a female comedian trying to build them. But instead of throwing in the towel, it would appear Midge is thinking bigger than ever. In one Season 4 trailer, she tells Susie she's done playing second fiddle. "No more opening-act gigs. I will only do gigs where I can say what I want." A bold approach, to be sure. In Season 4, it seems, it will be time will tell whether the gambit pays off.
Susie Myerson is moving up in the world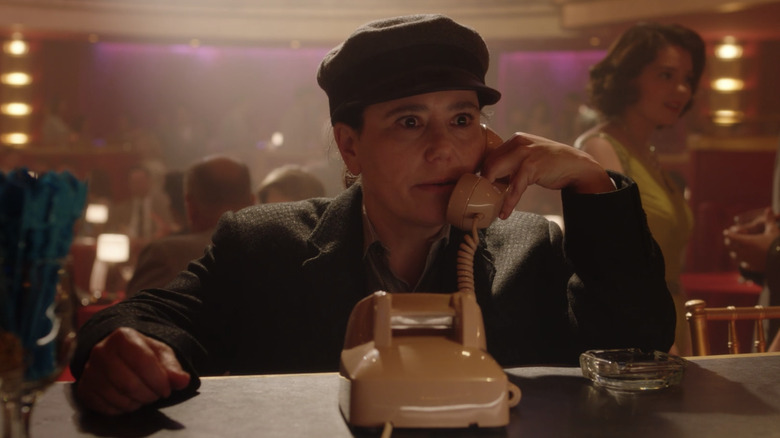 Amazon Prime
Rooting for Susie was a no-brainer from the get-go. Anyone who lives in a one-bedroom apartment where the Murphy bed blocks the door from opening is about as sympathetic as you can get.
Fortunately for the viewers, she's the scrappiest person on the planet, refusing to back down from anyone who tries to intimidate her, emerging as one of the few people who see limitless potential in Midge. Now, Susie would do well to kick her gambling habit, but so far that vice is more amusing for the viewers than it is detrimental to the manager or her friends.
To say Susie won't take no for an answer is like saying Elvis Presley was popular. Only someone with acutely honed people skills can charm two rugged henchmen so thoroughly that not only do they refuse to rough her up, but they treat her to dinner and send her home with leftovers.
These likable lackeys, Nicky and Frank, become key allies for Susie in addition to solid comic relief. In a trailer for Season 4, they help "Susie Myerson and Associates" — one of the series' running gags — settle into a new office/apartment with hopes her talent agency can take off. It's a huge step up for her, even if she has to cover up some poor sap's dried blood with a ratty rug. Susie's even shown interviewing potential employees. On that note, the audience can't wait to see who her new clients will be.
Fellow comedian Sophie Lennon is lurking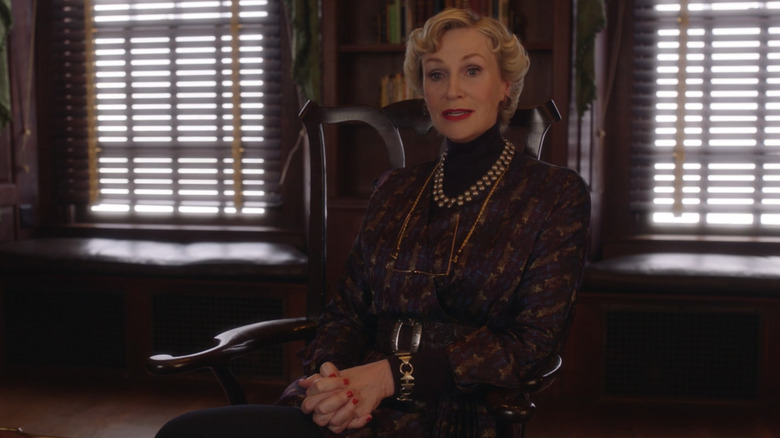 Amazon Prime
In the Maisel-verse, Sophie Lennon (five-time Emmy winner Jane Lynch) is a trailblazer, one of the few women of her era making a living in comedy. The downside: Although Lennon oozes sophistication offstage, in front of audiences she is "Sophie from Queens," a crass, cartoonish character who aims only for low-hanging fruit.
Her quest to become a serious actress leads her to hire Susie as her manager, who claws tooth and nail to get her cast in a Broadway play. Much to the surprise of everyone in Sophie's orbit, all signs point to a breakout hit. Until she chokes. Big time. Halfway through opening night (near the end of Season 3), Sophie devolves into her bread-and-butter persona, trashing everything Susie had set up for her.
Although Sophie is many things — successful, funny, filthy rich — she is not self-aware. She blames her meltdown on Susie, asserting unironically that she favors her other client, Midge. Susie fires back, calling Sophie a fraud who "didn't have the stuff to make it on Broadway." Twisting the knife, she knocks Sophie down a few more pegs, telling her, "You're a star, for now, but (Midge) is gonna be a goddamn legend."
That sets a hell of stage for Season 4, and a trailer confirms Sophie is back in the fold. Chances are she'll be a headache for Susie and Midge, which is hardly a stretch given Sophie's wealth and influence. She's a pro at holding a grudge, so a showdown feels imminent.
Joel Maisel's club is taking off, and there is a new woman in his life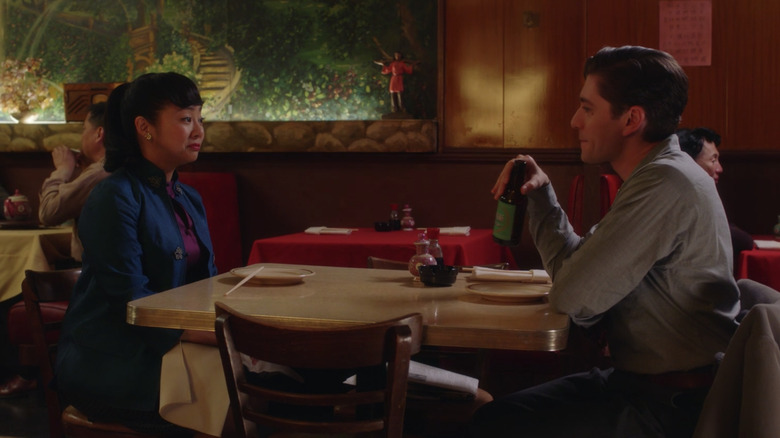 Amazon Prime
Ever since Midge first grabbed a microphone, Joel has felt like he's been living in her shadow. Much of his hardship has been self-inflicted, most notably the backlash he suffered after cheating on and then leaving Midge. He has been working to better himself throughout the show's run, first throwing himself into his father's dressmaking business before scraping up enough money to buy a club — albeit a fixer-upper — in Chinatown.
It's there that he meets his new girlfriend, Mei (Stephanie Hsu). Other than snapping at her for surreptitiously helping his club secure a liquor license, their relationship has been smooth sailing despite her mysterious nature.
Season 4 finds Joel hoping to introduce Mei to his parents. The trouble is, she's not having it, and she's seen bolting from Joel's apartment in one trailer.
"You can't just run. I know where you live!" he says as Mei makes her escape.
"No you don't!" she yells back.
"No I don't. F— me," he says to himself. His exasperation is the audience's delight.
By the way, it should not be overlooked that similar to the arc involving Shy and his entourage, the nightclub/Mei storyline brings some sorely-needed diversity to "Marvelous Mrs. Maisel."
Midge's parents are having money problems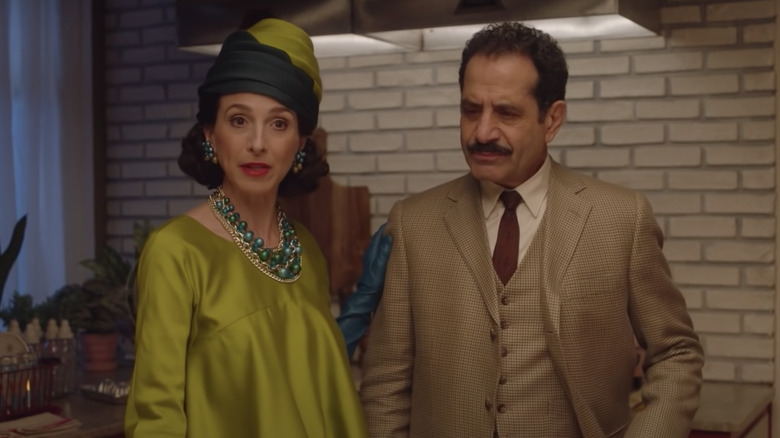 Amazon Prime
Abe and Rose Weissman are accustomed to the high life. They raised Midge and her brother in an enormous apartment on the Upper West Side of Manhattan, with frequent assistance from their housekeeper, Zelda. Over the course of the series, however, life gets tougher for the Weissmans.
Unbeknownst to Abe, who has made a decent living as a Columbia math professor, their lifestyle is financed primarily by Rose's trust fund, courtesy of her oil-rich family in Oklahoma. But upon visiting her siblings, she is infuriated by their overt sexism, compelling her to leave her trust fund in the rear-view mirror.
Entering Season 4, Abe and Rose are seen moving in with Midge — though if anyone asks, it's the other way around. You see, they just couldn't possibly be seen by those in their social circle as needing their daughter's support.
Their fortunes may be improving, however. Towards the end of Season 3, Abe lands a job as the theater critic for the Village Voice. There's a good chance that storyline will continue. More importantly, will Abe be asked to review a certain comic's show at some point? That could be very interesting.
Midge's toughest critics are her parents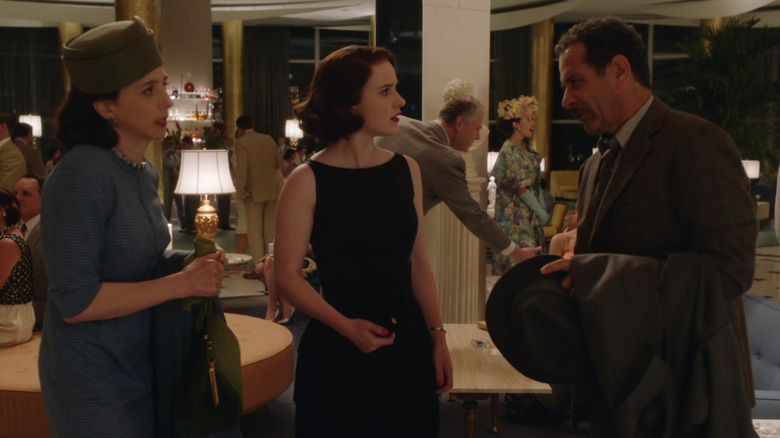 Amazon Prime
A husband. A nice place to live. Children. Maybe a part-time job. These are the things Abe and Rose want for their daughter. A comedy career — or anything straying from "traditional" female roles — never enters their minds. In fact, whenever the subject arises, they make no effort to hide their disdain.
Take, for example, a poolside breakfast in Miami, where they're visiting her on tour. When Midge says she hopes to join her parents for their summer vacation in the Catskills, Abe shoots her down with a figurative slap in the face: "You're on tour. You're working, so you say."
Midge's mother, meanwhile, would prefer her daughter were curating Shy's wardrobe rather than telling jokes: "Costumes is so much more ladylike, don't you think?" Rose snipes, earning an icy glare from Midge.
Abe and Rose do attend one of Midge's shows in Miami, and her father thaws somewhat. Her mother, on the other hand, ends up getting so drunk she can't remember any of it. The bottom line is, there's a long way to go before they're openly cheering her on.
"Thank you for making me look good in front of my parents," Midge says to thunderous applause at the conclusion of her set. "I'm sure it will change absolutely nothing."
Midge's love life might be heating up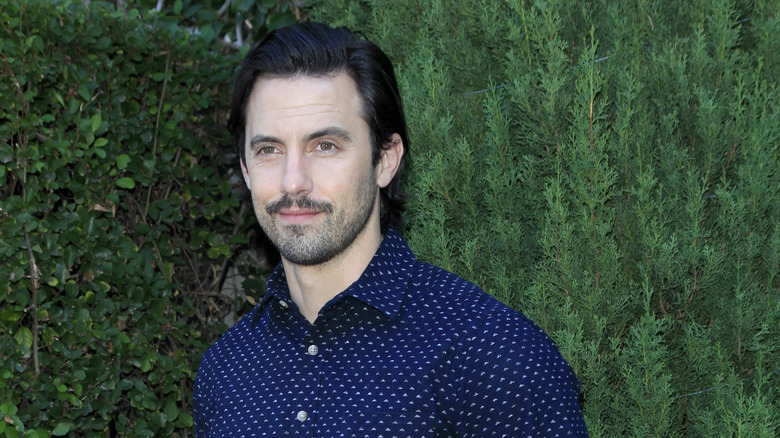 Kathy Hutchins/Shutterstock
Midge's relationship with Joel, her ex-husband and the father of their two children, is complicated, but she hits Shy with a nutshell version late in Season 3:
"Married, broke up, unbroke up, got divorced, got remarried, now we're filing for divorce again."
Other than a romance with Dr. Benjamin Ettenberg (Zachari Levi) nearly going the distance, Midge essentially has put matters of the heart on the back burner as she chases her dream. That's rarely easy, as she constantly has to brush off her mother's dismay: "If that f—ing Shy Baldwin hadn't called, you'd be married by now."
It could be a head fake, but the show spends a fair amount of time on flashbacks of Midge and Joel during their courtship. Why tease viewers with glimpses of the couple's high notes if they're not going to eventually reconcile?
Setting that aside for the moment, Midge's next love interest could be around the corner in the form of Milo Ventimiglia; the actor is on board for at least three episodes in Season 4. Photos of the duo filming could support the theory that they will be more than casual acquaintances.
Lenny Bruce is still in Midge's sights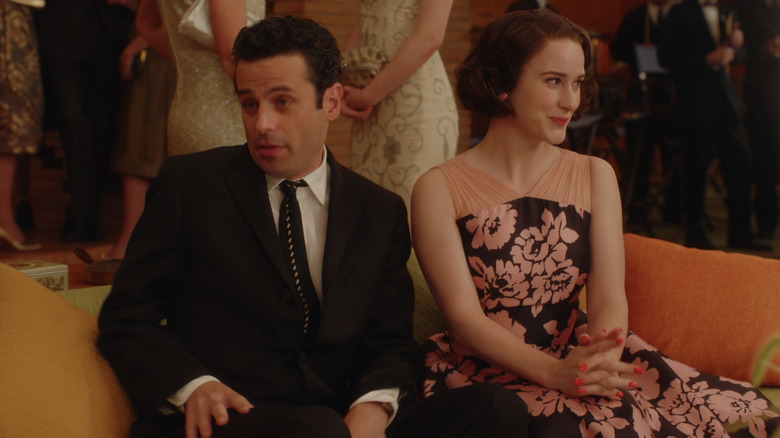 Amazon Prime
The first trailer released for Season 4 focuses on Midge plotting her comeback, and the masterful way fellow comedian Lenny Bruce pushes the envelope is the standard to which she aspires.
Bruce (Emmy winner Luke Kirby) is based on the real comedian of the same name who died in 1966 at age 40. His vulgarity and willingness to tackle third-rail topics such as religion, race and sex put him in law enforcement's crosshairs. He was convicted in a landmark obscenity trial in 1964, though he received a posthumous pardon. As REM once famously sang: Lenny Bruce is not afraid.
This fictionalized Bruce also makes his living as a rabble-rouser, getting arrested frequently for zooming past the moral boundaries of the era. It's Bruce who bails out Midge after she goes topless in her first trip onstage, quickly becoming a mentor and a friend. The show also takes the pair to the brink of a tryst in Season 3, though they have yet to become more than close confidants.
The show makes it clear that Bruce would prefer not to fade from Midge's life. He is always a welcome sight for Midge as well, and the fact he's mentioned so prominently in the trailer suggests whatever direction the series heads, Lenny Bruce will be there.
Kelly Bishop and John Waters are on board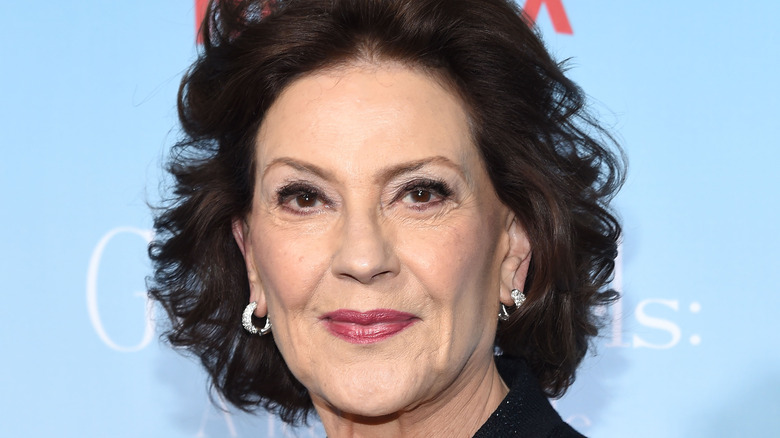 DFree/Shutterstock
When a series receives a certain amount of hype/gains a formidable level of acclaim, it's a good bet the star power will be amped up at every turn. Among the "Mrs. Maisel" notable guest stars to date: Sterling K. Brown (a three-time Emmy winner), Wanda Sykes (an Emmy winner) and Jason Alexander (an eight-time Emmy nominee).
Bumping up the wattage in Season 4 — in addition to the aforementioned Ventimiglia — are Kelly Bishop, a veteran actress known for her longtime role on "Gilmore Girls," and John Waters, best known for his work as director ("Pink Flamingoes," "Hairspray") but who also has a fair number of acting credits to his name.
Because every studio wants to avoid spoilers, almost nothing is known about what roles Bishop and Waters will play. What we do know is like Ventimiglia (and an adorable pup), Waters was spotted on set with Brosnahan.
As for Bishop, she has long been connected to "Marvelous Mrs. Maisel" creator Amy Sherman-Palladino via "Gilmore Girls" and "Bunheads," two other series she helped bring to the small screen. Bishop's case might have been aided by a pitch she made on People TV: "I should show her something from 'Private Parts' because I don't think Amy sees me as a New York Jew," she said. "I should send her that tape."
Regardless of how they landed on "Marvelous Mrs. Maisel," Bishop, Waters and Ventimiglia all have big shoes to fill.