Why The Scorpion In Spider-Man: Homecoming Looks So Familiar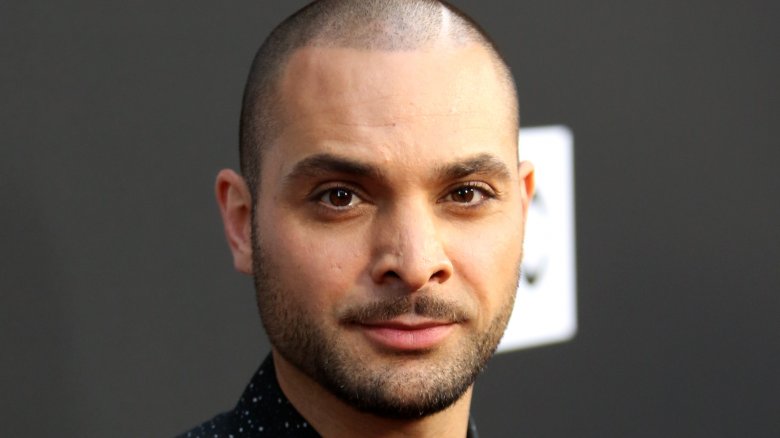 Getty Images
Michael Mando took the road less traveled on his way to Hollywood, turning to acting only after his hopes of graduating from the University of Montreal ended during a bar fight in West Africa. Mando (who is of Mexican Canadian descent and speaks French as his first language) was visiting his mother in the Ivory Coast when he was shot in the knee during an altercation, forcing him to give up his scholarship. When he got back on his feet he decided to enroll in a cheap theater program because he "didn't feel like getting a job," though it proved an inspired decision—his teachers recognized his raw talent and encouraged him to pursue a career in the industry.
Less than a decade later he became a cast member of Hollywood's biggest franchise, entering the Marvel Cinematic Universe as Mac Gargan in the critically acclaimed Spider-Man: Homecoming. We should see more of him in later MCU entries as his character develops into classic Spidey villain the Scorpion, but you're probably wondering why he already looks so familiar. Here's where you might have seen Mando before.
The Border (2008, 2010)
Canadian cop drama The Border aired for three seasons between 2008 and 2010, and Mando appeared in guest roles on the show during two of them. He made his screen debut as Mirza in "Prescriptive Measures," a season 1 episode in which fictional government agency the ICS (Immigration and Customs Security) investigate the death of an American rock star after he overdoses on black market counterfeit meds. 
Mando's second appearance on The Border was a little more memorable than the first—partly because it was well-acted, and partly because of his crazy face tattoos. In the season 3 episode "No Refuge," he plays Marco, a member of the notorious international gang MS-13. Marco finds himself hauled in for questioning after ICS get wind of a deal he's about to make with Mexican cartel Los Zetas, though their attempts to get more information about the details of the arrangement fall on deaf (and inked) ears.
Territories (2010)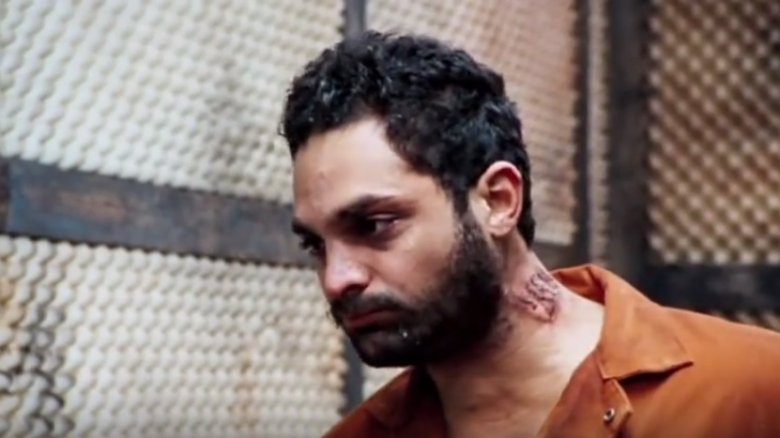 Mando made his feature film debut in 2010, when he took on the lead role of Jalii Adel Kahlid in Territories, another story centered around the US-Canada border. 
Kahlid, his white girlfriend, and three of their friends are returning to the States from a wedding in Canada when they're stopped by a customs officer with a shaved head and bad intentions. The officer and his equally hostile partner take an instant dislike to Kahlid on account of his race and when they find a small amount of marijuana in one of his passengers' backpacks, all five are caged up in the middle of the woods and the movie quickly descends into torture porn. "This is a Backwoods Brutality film that has been rewritten post-9/11, which gives it some fascinating resonances," one review argued. "Territories rapidly becomes the first film to dig into the dark side of the fortress state that the US has become."
Les Bleus de Ramville (2012)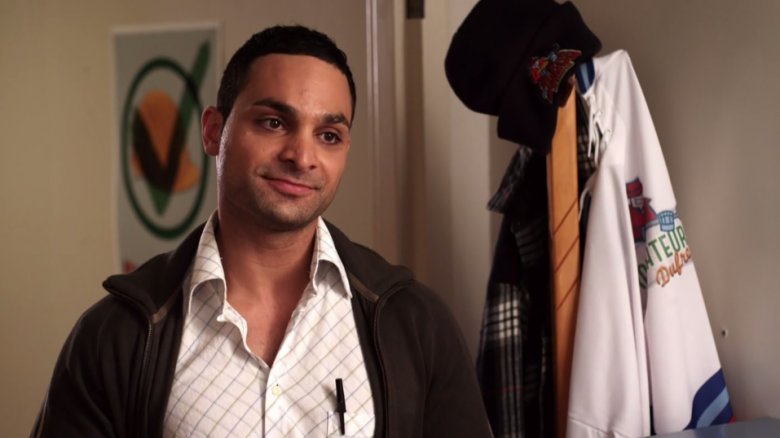 While the English-language version was more widely seen outside of Canada, a French version of Territories was also shot, and that wouldn't be the last time Mando would act in his native tongue. Set in a small fictitious municipality in northern Ontario, Les Bleus de Ramville is a French-language ice hockey comedy drama that aired on Canadian network TFO between 2012 and 2013, with Mando appearing in 8 episodes as Marc-André David. 
The show focuses not on the exploits of Ramville's senior ice hockey squad, but instead follows the most prominent members of the team's fan club, who take their roles more seriously than the players. Their passion soon becomes their day job when the stationery factory that employs half the town starts laying people off, with David (Mando) the one charged with delivering the bad news. He makes his first appearance in the season 1 episode "La Consigne."
Far Cry 3 (2012)
In 2012 Mando answered a casting call for Ubisoft's Far Cry 3, and while his performance as unhinged pirate lord Vaas was ultimately well received, he was initially met with rejection. "When I originally auditioned for Ubisoft, the character Vaas did not exist. The part was originally written as 6'6", 280 pounds, very sociopathic, stoic, unemotional," he later recalled. "I gave them everything but what they were looking for, and obviously I didn't get the part." Mando made an impression on the developers, however, and a few weeks later, he got a phone call saying they were creating a new character based on his audition.
Using motion capture technology, Ubisoft put Mando in the game exactly as he was that day, and while he was technically the secondary antagonist, Vaas stole the show. The character became the face of the game, featuring heavily in promotional material including a web series called Far Cry Experience. Mando plays Vaas in person, capturing a hapless Christopher Mintz-Plasse after he and a cameraman land on his island to film a documentary.
Rookie Blue (2013)
Mando returned to TV in 2013, making a guest appearance on the cop show Rookie Blue. The Toronto-set police academy drama was shown on ABC in the States, airing for six seasons before it was cancelled in 2015. Rookie Blue went out on a high, winning the Golden Screen Award at Canada's most prestigious awards ceremony in 2015. It was the second year running that the show was up for honors, with Mando previously there to represent it after being nominated in the Best Performance in a Guest Role category for his work in season 4 episode "The Kids Are Not Alright." Mando shows his sensitive side as Cesar Medina, an ex-gang member who cooperates with police after learning that his young cousin has been murdered.
Orphan Black (2013-2014)
One Mando character that certainly doesn't have a sensitive side is Vic, the drug-dealing ex-boyfriend of Sarah Manning, who's just one of many characters played by Tatiana Maslany in Orphan Black. Airing on BBC America south of the border, this Canadian sci-fi series follows Sarah as she discovers she's one of many clones being hunted by an unknown enemy, raising some interesting ethical questions about genetic cloning along the way. While Maslany was considered the star of the show (she bagged the award for Outstanding Lead Actress in a Drama Series at the 2016 Emmys), Mando provided the perfect foil as the violent and abusive Vic. "He's trying his best with the hand he's been dealt," Mando said when asked if the character is truly a bad guy. "And I think he's got a serious lack of education in terms of dealing with people and how to behave in the world."
Better Call Saul (2015-present)
The role Mando has become best known for is that of Nacho Varga, a calculating career criminal working for (and more recently against) the Salamanca family in AMC's Breaking Bad prequel Better Call Saul. The recognition he's received for his performance in the show has been a long time coming, as Nacho's arc has been a bit of slow burner. "He was a peripheral character in the first two seasons," Mando told Variety. "I remember Vince [Gilligan] and Peter [Gould] calling me halfway through seasons one and two and telling me, 'Don't worry... We'll get there.'"
The showrunners made good on their promises towards the back end of season 3, writing the character into a situation where he had to try and kill his boss Don Hector with bogus heart pills before the volatile drug lord turned on Nacho's law-abiding father. "There's a part of Nacho's trajectory that's got me very worried for him," Mando revealed in an interview with Vulture. "We see a man who's put himself in a position where he's accepted that the possibility of death is very high, but has committed to putting his father's love above self-love."
The Crossroads of History: Columbus (2016)
After the success of their first-ever drama Vikings, the History Channel recently decided to expand into comedy with The Crossroads of History, a scripted series that takes an alternate look at some of history's most pivotal moments. Mando was cast as an indigenous American named Guam in an episode that pokes fun at Christopher Columbus' accidental meeting with a now extinct native tribe, but it was his co-star Lou Diamond Phillips that won most of the praise.
The Philippines-born actor was nominated for an Emmy for his deadpan portrayal of a Taino chief, though he gave all the credit to the writers. "Comedy sometimes can be very loose and improvisational," Phillips said. "We stuck to the script because it was so well written, and approached it as if we were doing a drama. We basically let the comedy speak for itself." The miniseries also covers the night Lincoln was shot, the struggle for women's rights, and Hitler applying to art school.
Rent-a-villain
While his guest spots on The Border and Rookie Blue are perhaps his best known, Mando has been cast in a number of other TV shows. He was still relatively new to the industry when he landed a minor part in NBC's archaeological adventure special The Last Templar, though for the most part he's been used as a perp in police dramas, a part he can probably play with his eyes closed at this point. On top of the aforementioned shows, Mando has been hired for single-episode stints on Flashpoint, The Bridge, King, The Killing and Covert Affairs—and those are just the out-and-out cop shows. The mean-looking actor has also popped up in some weird and wonderful places as a goon, including the South Korean-funded 2013 dance flick Make Your Move, which starred K-pop icon BoA and American ballroom dancer Derek Hough.