The Truth About The Death Of Meat Loaf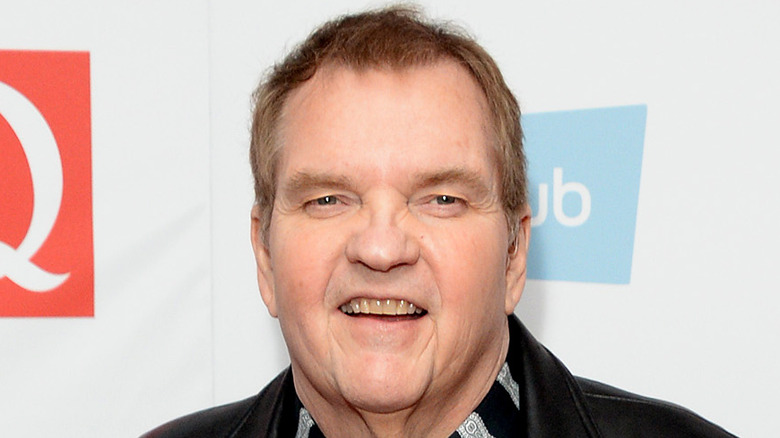 Anthony Harvey/Getty Images
Actor and musician Meat Loaf is dead, as reported on the evening of January 20, 2022 by Deadline. The news broke in a statement from the artist's family, released and circulated by his agent Michael Greene.
"We know how much he meant to so many of you and we truly appreciate all of the love and support as we move through this time of grief in losing such an inspiring artist and beautiful man," the statement reads. "From his heart to your souls... don't ever stop rocking!"
Meat Loaf, whose real name was originally Marvin Lee Aday — which he later changed to Michael Lee Aday, per The New York Times — was a successful musician and actor, arguably best known for his "Bat Out of Hell" album trilogy. Notably at the center of his success as a rock musician was his operatic singing voice. Many of his hit songs match early heavy metal-influenced guitars to musical theater-esque compositions, amounting to a signature rock 'n' roll sound like few artists to come before or since.
He is survived by his wife, Deborah, as well as his daughters, Pearl and Amanda.
Meat Loaf was a successful singer and actor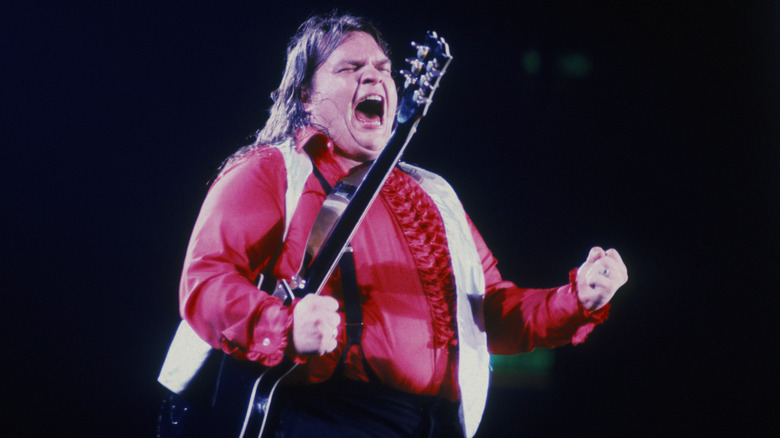 Keystone/Getty Images
Meat Loaf hit the rock star jackpot with his very first album, "Bat Out of Hell," which came out in 1977 and yielded five singles, including "Two out of Three Ain't Bad" and "Paradise by the Dashboard Light." The "Bat Out of Hell" album, in fact, is one of the best-selling albums of all time, ranking 33rd on a list by Business Insider published in September 2021. Its sequel, "Bat out of Hell II: Back into Hell," granted him his biggest hit in the chart-topping "I'd Do Anything for Love (But I Won't Do That)." On a subsequent tour for those albums, Meat Loaf became known for his rowdy on-stage antics on top of his music. Finally, in 2006, he wrapped up the trilogy with "Bat out of Hell III: The Monster Is Loose." Apart from this three-album opus, he released numerous other albums over the course of his career, like the concept album "Hang Cool Teddy Bear" in 2010.
The artist was also a well-known actor with over 100 acting credits to his name (via IMDb). His early career is arguably defined by his role as the greaser Eddie in the 1975 cult musical, "The Rocky Horror Picture Show." At a few points in the film, he lends his pipes to its iconic soundtrack, most notably on "Hot Patootie – Bless My Soul," which he performs solo (via IMDb). Meat Loaf also portrayed Robert Paulsen in 1999's "Fight Club." Viewers familiar with the film will remember the subsequent invocation of his name as a sort of justification for the anarchic behavior of antagonist Tyler Durden (Brad Pitt)'s Project Mayhem group. Other notable movies to feature a Meat Loaf performance include "Wayne's World," "Spice World," and "Tenacious D in The Pick of Destiny."
According to sources, COVID caused Meat Loaf's death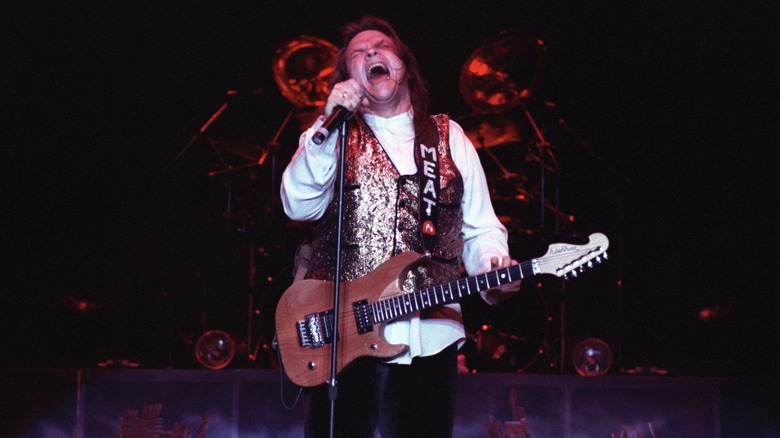 Jim Steinfeldt/Getty Images
While Deadline's report asserts that "a cause of death is not being released," they reference a claim by TMZ that Meat Loaf died from complications resultant from a COVID-19 infection. According to TMZ, "sources with knowledge" told the outlet that "he was supposed to attend a business dinner earlier this week for a show he's working on — 'I'd Do Anything for Love' — but the dinner was canceled because he became seriously ill with COVID." Later, "that condition quickly became critical." He then spent his final moments alongside his wife and two daughters, as recounted by his manager Michael Greene.
A wide variety of musicians paid tribute to Meat Loaf on social media in the wake of his death, including generational pop artist Cher, rock singer Lenny Kravitz, country star Travis Tritt, Jack Black's comedy rock duo Tenacious D, and thrash metal titans Anthrax, among plenty of others. Actors to memorialize Meat Loaf include Mistress of the Dark Elvira, "Star Trek" actor George Takei, and comic performer Thomas Lennon, the latter of whom recounted working alongside him on the pilot for sketch comedy series "The State." Judging by the varied backgrounds of each of these performers, Meat Loaf's influence prior to his death, purportedly caused by COVID-19, was about as wide-ranging as could be.
Our thoughts are with the artist's family and friends during their time of loss and grief.