What's The Song That Plays When Rand Finds Pam & Tommy's Tape In Episode 1?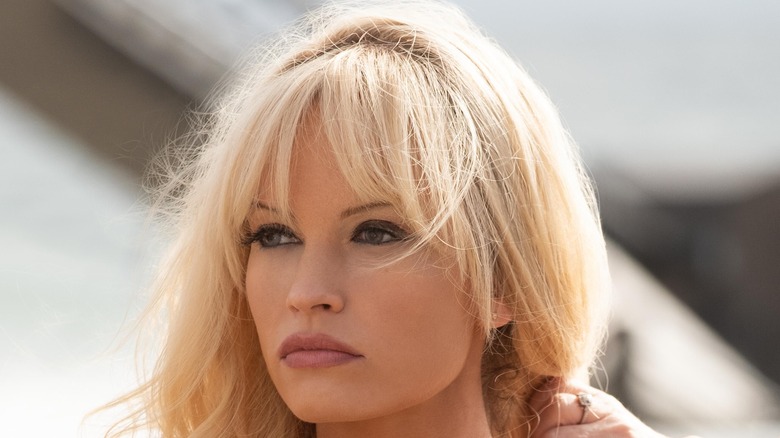 Erica Parise/Hulu
Any television series with a rockstar as a main character is surely destined to have more than its fair share of catchy tunes, right? That assumption is quickly proven correct during the first hour of "Pam & Tommy," the brand new eight-episode miniseries from Hulu which focuses on the tumultuous three-year marriage between "Baywatch" star Pamela Anderson (Lily James) and Mötley Crüe drummer Tommy Lee (Sebastian Stan). Though it seems doubtful that Mötley Crüe would ever sign off on any of the band's songs appearing in the series (neither Anderson nor Lee are involved in the production (via The Hollywood Reporter)), the show's soundtrack doesn't seem to be suffering for it.
Episode 1 ("Drilling and Pounding") features a wide variety of songs, including tracks by Fatboy Slim (in the first scene), Nine Inch Nails (during the planning stage of "Operation Karma"), Beti Webb (during the end credits), and plenty more. During a memorable montage sequence in which Rand Gauthier (Seth Rogen) peruses the contents of Tommy Lee's safe, a song with lyrics clearly meant to reference one of the main characters plays in the background. So, what is the name of this catchy tune?
The song name is Movin' On Up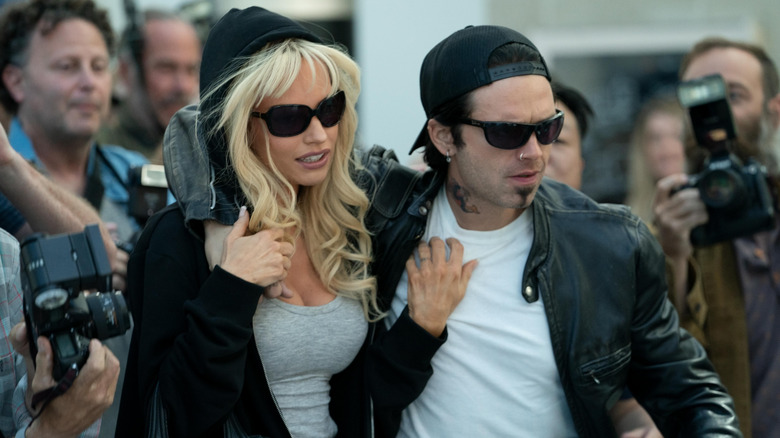 Erin Simkin/Hulu
As Rogen's disgruntled carpenter reaps the rewards from successfully stealing the self-absorbed rockstar's safe, a song called "Movin' On Up," by Scottish rock band Primal Scream, plays underneath (via YouTube). 
In the middle of the song, lead singer Bobby Gillespie proclaims, "I'm movin' on up now. Gettin' out of the darkness. My light shines on." These lyrics obviously refer to someone who is suddenly succeeding after a long and disheartening string of failures, a description which certainly fits Rand' at the end of Episode 1. After Tommy rips him off by refusing to pay for a multitude of unfinished renovations, Rand is forced to confront a series of his own unpaid bills which leave him without cable and little hope for any direction in life. However, his theft and subsequent profit prove to suddenly brighten his spirits, just as the song's lyrics indicate.
Primal Scream released this song as the first track on a 1991 album called "Screamadelica," the group's third studio album and their first to turn a profit (via Discogs). Upon the album's initial release, "Movin' On Up" proved especially popular with audiences in the United States, peaking in second place on Billboard's Modern Rock Tracks chart. 
Primal Scream continues to release music and perform publicly today (via PrimalScream.net). The group's last album, "Chaosmosis," was released in 2016 (via Discogs).
New episodes of "Pam & Tommy" drop every Wednesday on Hulu.