What Happened To Mix Bikini After Shark Tank?
ABC's "Shark Tank" bills itself as a show where small-time entrepreneurs can get their big break by making a winning pitch to a group of multi-millionaire investors, a.k.a. "the sharks." In the show's 13 seasons and 281 total episodes, the sharks have invested in 270 total companies, which is more than half of the total pitches they've heard (via Sharkalytics).
But how much has "Shark Tank" actually helped the business owners it claims to assist? While the seed money and the TV exposure are both undeniably helpful, not every business that went on "Shark Tank" can say it's doing well today. Some "Shark Tank" businesses have thrived, but others not so much.
Take Mix Bikini. Co-owners Frank Scozzafava and Adam DiSilvestro appeared on "Shark Tank" to pitch their business during the show's third season in 2012. Mix Bikini bills itself as the world's first interchangeable swimsuit company. Customers can mix and match designs to create unique swimwear. 
Barbara Corcoran loved the concept and invested $50,000 in exchange for 25% equity. The very next day, she began having concerns.
Mix Bikini has undergone an evolution, but it's doing well today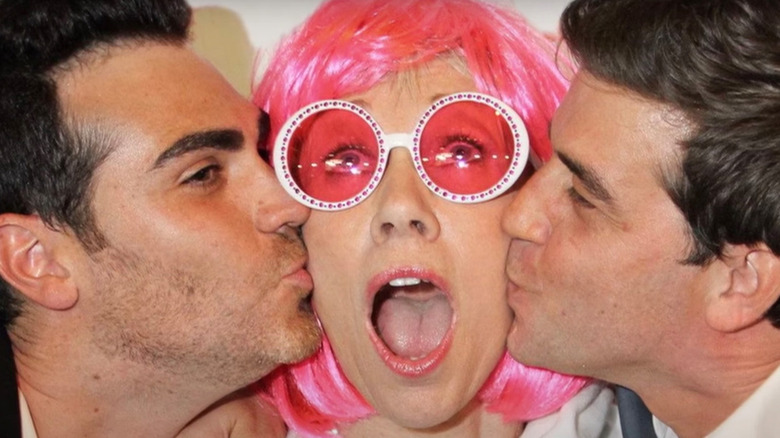 ABC/YouTube
As Corcoran explained on "Beyond the Tank," the night of their "Shark Tank" appearance, Scozzafava and DiSilvestro threw a massive party, and Corcoran attended at the guest of honor. The following morning, Corcoran learned that her entire investment had gone into the shindig (via YouTube). 
Worse, when the famed "Shark Tank effect" kicked in and drove thousands of customers to Mix Bikini's website the night of the airing, the traffic uptick crashed its website. Mix Bikini was down for more than a week and cost the company an estimated $200,000 in sales. Corcoran withdrew her support, and the company shuttered
Fortunately, one of the company's creative partners, Kelsey Duffy, teamed up with former "Project Runway" contestant Amanda Perna to revive the brand, renaming it "Versakini." Versakini launched in 2015 and today it brings in an estimated $5 million annually (via Shark Tank Blog and kelseyduffy.com).