The Worst Storyline In Blue Bloods Season 1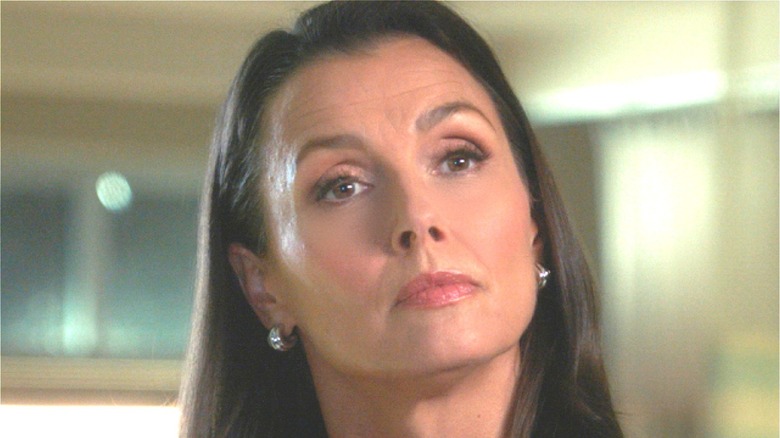 CBS
"Blue Bloods" has gone strong on CBS for over a decade. There's a seemingly limitless number of stories you can tell with the Reagan family, led by patriarch Frank (Tom Selleck). Many of the other Reagans have entrenched themselves within New York City law enforcement, so they're all hard at work keeping the streets safe while still finding the time to have dinner with one another every Sunday night.
With hundreds of episodes under its belt, it's safe to say the Reagans have witnessed every kind of crime imaginable. They've stopped drug dealers and investigated murders, all while keeping their composures and maintaining level heads. In many instances, these crimes pull viewers in, taking you to the seedy underbelly of New York along the way, but not every case can be a winner. Over the years, even "Blue Bloods" has had some misses, even early in the show's run. In particular, there's a Season 1 episode that most fans probably skip on rewatches
Fans don't care for the Season 1 episode, 'Model Behavior'
"Blue Bloods" has enjoyed relative critical acclaim throughout its run, but that's not without a few dimmer spots. Based on IMDb ratings, the worst episode of Season 1, with a ranking of 7.2 stars out of 10 with 389 votes total, is "Model Behavior." To be fair, a 7.2/10 isn't bad by any metrics; it's still a solid C-, but it's a noticeable dip compared to a decently strong opening season. 
In this episode, the Reagans get wrapped up in the drama of the modeling world when several models collapse during a fashion show. It's up to Danny (Donnie Wahlberg) and Jackie (Jennifer Esposito) to figure out who's behind the poisoning. While all that's happening, there's a B story involving the Reagan family priest being accused of improper conduct and facing relocation to another country. 
One review from IMDb sums up many viewers' frustrations with the episode: "Though adequate in structure, we have come to expect a lot more from this excellent series." The review goes on to mention how the Reagans always manage to find themselves at the center of practically every crime in New York, which requires some suspension of disbelief. Plus, a poisoning at a fashion show seems a bit extravagant for the show, which had stayed relatively grounded with street-level crimes until that point. It sounds as if it was a bit too much too soon, but if you look through the ratings, you'll find plenty of people have given the episode high reviews, as well.
It's all a matter of personal preference, but when looking at "Blue Bloods" Season 1 as a whole, "Model Behavior" drags the series down a peg.